Whether you're at a baseball game, a Fourth of July celebration, a barbecue, or a pool party, there's no more quintessential summertime food than a hot dog. But meat hot dogs contain gross ingredients, such as carcinogens, bugs, bone, pig anuses, and an endless amount of cruelty. For more delicious and compassionate options, we put together a list of the best veggie dogs in the U.S. Check these out, and get grilling!
Orlando, FL
Top pick: Junk Yard Dog
As its name states, this food cart is 100 percent vegan, and it has been a local favorite in Orlando for 15 years. Enjoyed by vegans and nonvegans alike, the Holiday Dog starts out with a Loma Linda Big Frank poached in vegetable stock with garlic, black pepper, and onions. Next, house-fried sweet onions are added, which are then covered with cranberry sauce made from scratch. Homemade Carolina mustard barbecue sauce and fresh parsley top it all off. Yum!
Columbus, Ohio
Top pick: Rockaway Beach
Dirty Frank's Hot Dog Palace offers many interesting choices. There's truly something for everyone, from the Seoul Dog with Korean kimchi, vegan mayo, and Sriracha drizzle to the Hot Bollywood dog, topped with spicy Indian mango chutney. The best of the best is the vegan Rockaway Beach dog, complete with sweet-hot cabbage and carrot-mustard slaw.
Los Angeles
Top pick: Patt Morrison Baja Vegan Dog
Not only is Pink's celebrating coming in at number three on our list, it's also enjoying another milestone: This year marks its 77th anniversary! Located in Hollywood, Pink's opened in 1939 and has been visited by hundreds of celebrities ever since. What's the best choice there? The Patt Morrison Baja Vegan Dog, which is named after a famous vegetarian journalist in L.A. It comes topped with guacamole, onions, and tomatoes. Delicious!
New Orleans
Top pick: Vegan House Special
Located in the historic French Quarter, Dreamy Weenies offers up hot dogs with a New Orleans–style twist. You can pick your own dog, from falafel to vegan kielbasa to vegan Italian herb. There are also a number of vegan toppings to choose from, including chili. Our winner is the vegan House Special, which comes topped with vegan cheese and avocado!
Denver and Boulder, Colo.
Top pick: Soy Veggie Dog
Mustard's Last Stand makes a special point to offer its vegan customers as many delicious choices as possible. Top your veggie dog with any of the vegan options and chow down! Mustard's suggests adorning your Soy Veggie Dog with mustard, relish, onions, tomatoes, pickles, hot peppers, and sauerkraut.
Honorable Mentions
Dogtown
Rochester, NY
Top pick: Calcutta Cur
Not only does Dogtown offer at least 15 veggie dog options a day, it's also got a special vegan burger deal on Thursdays. But in the case of its hot dogs, the real standout is the Calcutta Cur, a veggie dog topped with Indian-style mango salsa. But there's no need to limit yourself. You can ask for a veggie dog and go crazy with your own choice of toppings!
DC-3
Washington, D.C.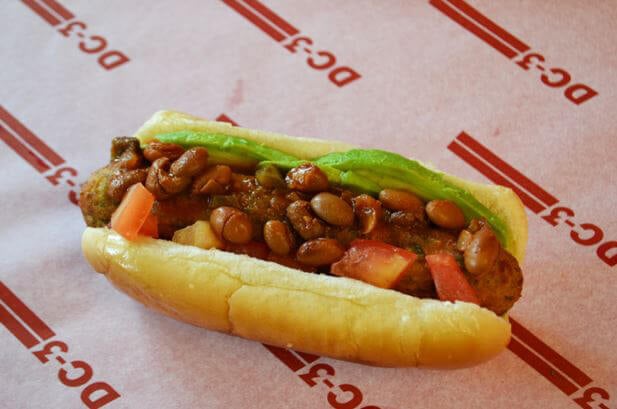 Top pick: California Left-Winger
While Washington, D.C., is home to both political parties, we have to admit that we're partial to DC-3's California Left-Winger, a housemade falafel dog topped with avocado and diced tomatoes. Ask for the scrumptious vegan chili instead of tzatziki sauce. In addition to the Left-Winger, you can request a soy dog in place of any of the meat options—just remember to order it with no butter to ensure that you get a tasty, totally vegan treat!
You don't have to dine out to get a delicious meat-free dog. For at-home grilling this July 4, try Tofurky Franks or Yves' Good Dog. Or if you'd like to make your own veggie dog, check out PETA's delicious recipe!