Top Six Tips for Becoming Vegetarian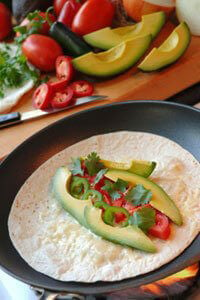 We've listed our top six tips for making your transition to a vegetarian diet easy and delicious. We have also provided some "everyday eating" ideas for each meal (and snack!) of the day. If you want more help making the transition, take our Pledge to be Vegan for 30 Days.
1. Make vegetarian versions of your favorite meals
There are vegetarian versions of almost every meal you can think of (really!). "Veg up" your favorite recipes simply by replacing the meat. Here are some ideas:
Replace the beef in burritos with beans and grilled veggies, or try vegetarian beef crumbles from Morningstar Farms or Boca.
Top baked potatoes with margarine, vegan sour cream, soy bacon bits (Bacos are vegan!), or salsa.
Make homemade pizza with soy cheese (or just skip the cheese and add extra garlic and spices), meatless pepperoni, and vegetable toppings.
Create a Mexican dip for tortilla chips with refried beans, salsa, guacamole, and diced peppers and onions.
Make spaghetti with marinara sauce and add roasted vegetables or veggie meatballs (try Nate's brand or Gimme Lean sausage-style).
The possibilities are endless—check out our Everyday Eating page for more easy vegetarian meals.
2. Explore thousands of delicious vegetarian recipes.
We have thousands of kitchen-tested recipes to choose from! You'll be amazed by the variety of tasty vegan options, from classic American dishes to Italian to Creole.
If you'd rather thumb through a cookbook, check out some of our favorite vegetarian cookbooks, or you can borrow a cookbook from the library. There are vegetarian cookbooks for people who don't like to spend more than 10 minutes preparing dinner, and there are vegetarian cookbooks for gourmet chefs, so no matter how experienced a cook you are, it's easy to make great-tasting vegetarian meals.
Also take a look at our two-week sample menus, and our vegetarian shopping guide.
3. Try some tasty faux meats and dairy alternatives.
You can find faux meat products—including veggie burgers and hot dogs, faux turkey deli slices and chicken patties, and meatless barbecue riblets—at almost every grocery store. Dairy alternatives like soy milk, vegan cream cheese, soy yogurt, and nondairy ice cream are also widely available.
As the interest in humane, healthy food has grown, the popularity of these foods has soared—sales of mock meats in the last decade have skyrocketed and now constitute a billon-dollar industry. Not only are these foods delicious and cruelty-free, they are also usually high in healthy plant protein and low in saturated fat, and they contain zero cholesterol. Some of the most popular brands include Boca, Gardenburger, Yves, andMorningstar Farms.
4. Sample vegetarian microwaveable meals and convenience foods.
Always eating on the run? There are tons of vegan microwavable meals and convenient snacks available everywhere—here's a tiny sample:
Amy's Black Bean Enchilada With Spanish Rice
Fantastic Foods' Vegetarian 3-Bean Chili
Yves' Thai Lemongrass Veggie Chick'n
Any of the vegetarian soups by Progresso, Amy's Organic, or Campbell's (like lentil, tomato, split pea, and hearty vegetable)
Basics like fresh fruit and PB&J
Tofurky Jurkey (vegan jerky)
Silk Live! soy yogurt smoothies
Tofutti Cuties (soy ice cream sandwiches)
Oreos (yep, several flavors are vegan!)
Check out full lists of all our favorite convenience products and quick-and-easy vegetarian snacks.
5. Search online for the best vegetarian-friendly restaurants in your area.
Whatever your budget and wherever you live, you can enjoy great vegetarian meals. Burger King, Ruby Tuesday, and Johnny Rockets are just a few of the national chains selling tasty veggie burgers and other meatless options. Locally owned restaurants around the country are also selling an exciting array of vegetarian meals to please every palate. Browse reviews of some of the hottest vegetarian-friendly restaurants in the country and get links to the best online restaurant guides in our Dining Out page.
If you find yourself dining at a behind-the-times restaurant that doesn't have decent vegetarian options on the menu, ask the server if the cook can prepare a vegetarian dish without eggs or dairy. Restaurants are glad to accommodate special requests, and most chefs get bored making the same menu items all the time, so they love the chance to get creative and make something new! Of course, you can always call ahead to ask about vegetarian options if you want to choose where to eat before you leave home.
6. Explore the amazing variety of meat-free ethnic foods
While you can make vegetarian versions of all your favorite classic American dishes, delight your taste buds by also choosing from the huge variety of vegetarian ethnic foods, such as these:
Hummus (a tangy spread made from chickpeas), falafel (a spicy mix of beans that can be made into patties and "meatballs"), and dozens of other meatless Middle Eastern foods
Grilled vegetable (and/or bean) fajitas, burritos, enchiladas, and tacos
Sushi with avocado, carrots, or cucumber in place of raw fish
Chinese spring rolls, tofu (sometimes called "bean curd" in Asian restaurants) and noodle dishes, and vegetable fried rice
Thai coconut curry and tofu pad Thai
Vegetable samosas (deep-fried dumplings filled with curried vegetables), pakoras (deep-fried fritters), and many other delicious Indian dishes
Although ethnic restaurants in your area are sure to offer these tasty vegetarian selections (and many more!), you can also make these dishes at home: Check out our recipe search engine and search by cuisine type.
Respond
In This Section