Haunting Halloween Treats
Written by
PETA
|
October 30, 2007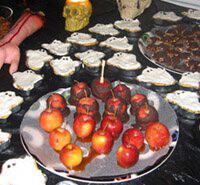 My Halloween spread includes caramel apples and chocolate-covered apples, eye canapés (made from pesto, pie dough, and olive slices), spinach dip that comes oozing out of a sourdough "head," and pecan spiders. I had to omit the vegan candy corn from the feast because my candy ended up as a pile of sugar crumbles that were certainly not edible. But that's O.K.—there's always next year. Enjoy!
Pecan Spiders
1 1/2 cups toasted pecans
1 cup MimicCreme or non-dairy creamer
1 cup granulated sugar
1/2 cup light corn syrup
2 Tbsp. margarine, in pieces
1/4 tsp. salt
1 tsp. vanilla extract
5 oz. thin black licorice strands, cut into 2-inch pieces
6 oz. semisweet chocolate, chopped
4 oz. dark chocolate, chopped
Chocolate curls or jimmies (optional)
Line two baking sheets with waxed paper and lightly spray with nonstick spray. Place the pecans on the baking sheets in small mounds, spaced a couple of inches apart.
Warm the MimicCreme over low heat and keep warm while cooking the sugar.
Put the sugar and corn syrup in a large, deep, heavy-bottomed saucepan. Cook over medium heat, stirring occasionally, until the sugar dissolves. Raise the heat to medium-high and simmer for approximately 7 minutes, or until the sugar reaches the "hard-crack stage," about 305°F on a candy thermometer.
Whisk the margarine and salt into the sugar mixture. Gradually pour in the warm MimicCreme and the vanilla.* Reduce the heat to medium and continue to cook, stirring occasionally, for approximately 5 minutes, or until the mixture reaches the "soft ball stage," about 2407°F on the thermometer. Immediately remove from the heat and let cool for a minute.
Ladle a couple of tablespoons of the warm caramel over some of the nut clusters to make the spider bodies. Press six pieces of licorice into the warm caramel to make the legs. Repeat with the remaining caramel and licorice. (It's helpful to have an extra hand here, since the caramel can set quickly. If the caramel hardens, warm over very low heat.) Let the spiders cool for 15 minutes.
Meanwhile, put the semisweet and dark chocolate in a medium heatproof bowl. Bring a saucepan filled with 1 inch or so of water to a very slow simmer. Set the bowl over, but not touching, the water. Stir the chocolate occasionally until melted and smooth. (Alternatively, put the chocolate in a medium microwave-safe bowl. Melt at 50 percent power in the microwave until soft, about 1 minute. Stir and then continue heating until completely melted, about 2 to 3 minutes more.)
Spoon about 1 tablespoon of the melted chocolate on top of each spider. Sprinkle with the jimmies or chocolate curls, if desired. Let cool until firm.
*Note: The mixture will bubble up, so be sure to add the MimicCreme a little bit at a time.
Respond