Vegan
Stuffed 'Eyeballs'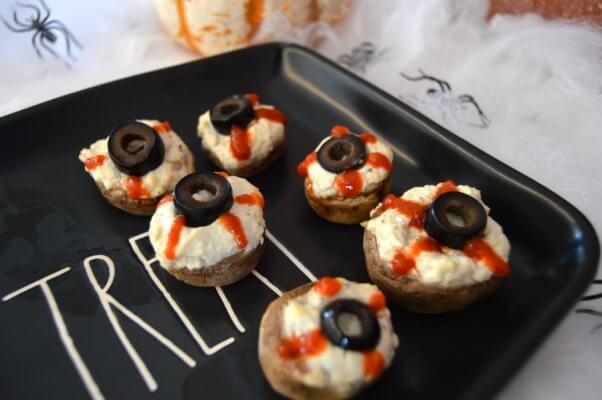 Print
Ingredients
1 10-oz. pkg.

whole button mushrooms, rinsed and stemmed

1 block

extra-firm tofu, drained, not pressed

1 clove

garlic

1/2 tsp.

onion powder

1/2 tsp.

salt

1/2 tsp.

black pepper

1 5-oz. can

black olives, sliced

Sriracha or hot sauce, for decoration
Instructions
Preheat the oven to 350ºF.
Place the mushroom caps on a baking sheet and set aside.
Purée the tofu, garlic, lemon juice, onion powder, salt, and pepper in a blender or food processor until smooth. Place the mixture into a piping bag or a large sandwich bag with the corner cut off.
Pipe the mixture into each mushroom cap, filling to the top. Place an olive slice on top.
Bake for 10 to 15 minutes, or until the mushroom caps start to wrinkle.
Drizzle with Sriracha (or your fav hot sauce) for a spooky touch.
Makes about 10 eyeballs