Vegan
Black Widow Cupcakes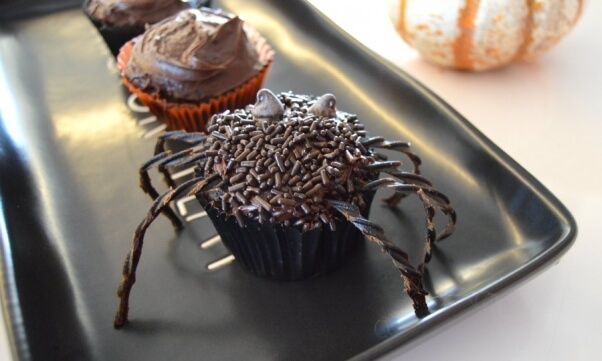 Print
Ingredients
1 pkg.

accidentally vegan store-bought cake mix

3/4 cup

applesauce

1/3 cup

oil

1 pkg

black licorice

1 can

accidentally vegan store-bought frosting

sprinkles, for decorating
Instructions
Preheat the oven to 350ºF. Place cupcake liners in your favorite 12-cup muffin pan.
In a large bowl, stir together the cake mix, applesauce, and oil, making sure there are no lumps. Pour the mixture into the cupcake liners, dividing evenly among the 12 cups. Bake for 18 to 21 minutes. Remove from the oven and allow to cool.
Cut each licorice piece in half, then cut lengthwise into thinner strips. These will be the "legs" for your spider cupcakes. You will need 8 strips per cupcake.
Decorate the cupcakes with the frosting and sprinkles. Top each with 2 chocolate chip "eyes" and add the licorice "legs." Enjoy!
Makes 12 cupcakes