Wildlife Parks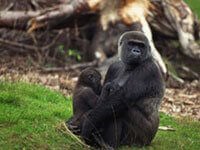 On the surface, drive-through wildlife parks look like havens. But while a collection of baby animals attracts customers through the front gate, in many parks animals are quietly shipped out the back gate, sometimes by the hundreds, to be discarded or sold to exotic-animal dealers.
Lion Country Safari in Florida advertises that it "provides a habitat in which many endangered or threatened species live and reproduce." They reproduce so well, in fact, that the park keeps animal brokers busy taking its excess animals. Lion Country Safari has sent newborn lions to a broker, endangered Brazilian tapirs to a private collector who sells to hunting ranches, chimpanzees to a dealer who advertises them for sale in the Animal Finders' Guide, and endangered Indian pythons to one of the nation's largest pet trade wholesalers.
Bear Country U.S.A. in South Dakota sends bears to slaughterhouses for butchering and sale to the exotic-meat trade. Wildlife Safari in Oregon sends exotic hoofed animals to a dealer who sells them at auction. Six Flags Wild Safari in New Jersey has sold surplus baboons to a firm that supplies animals to biomedical researchers and sends exotic hoofed animals to die at hunting ranches. And Hostetler Wildlife Farms in Missouri sells surplus animals, including camels, zebras, baby monkeys, and giraffes, to any interested parties.
Animal care is often lacking at game parks. In one three-month period, 26 animals died at Six Flags Wild Safari. During a 10-month period, 564 animals died at the now-defunct International Wildlife Park in Texas. Causes of death have ranged from neck and skull fractures to hypothermia, tetanus, pneumonia, infection, and drowning.
Next time, instead of going to a wildlife park, take your family to one of the great national parks around the country where everyone, both human and nonhuman, can enjoy the freedom of nature.