Words matter, and the language that we use to talk about other animals has the power to help them or hurt them. PETA has collected numerous examples of phrases used by experimenters attempting to sanitize the atrocities they inflict on animals in laboratories. They—along with their true meanings—are being compiled in an ever-lengthening list that we're calling the "Devil's Dictionary."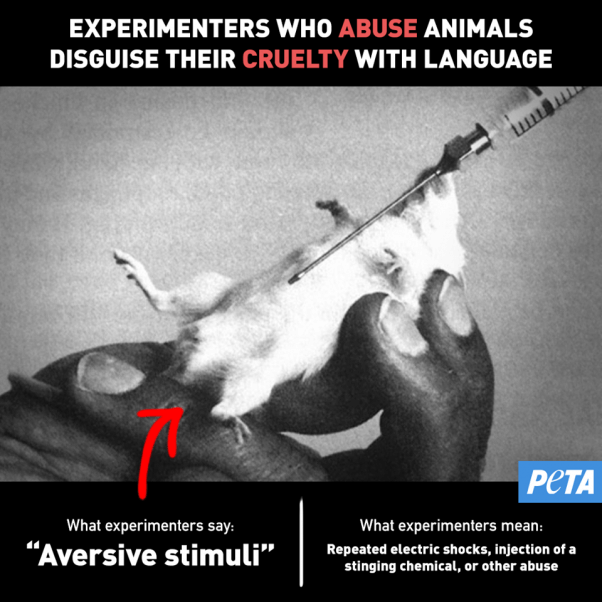 Materials
Sandwich-size plastic baggies
The following terms and their definitions, printed out on paper and cut into individual pieces (be sure to separate the term from the definition)
PARTNER IN RESEARCH
ANIMAL WHO IS TORMENTED AND KILLED IN AN EXPERIMENT
ENRICHMENT
PLASTIC TOYS, SCRATCHED MIRRORS, OR OTHER OBJECTS GIVEN TO ANIMALS  IN BARREN LABORATORY CAGES
AVERSIVE STIMULI
DELIBERATELY INFLICTED PAIN, LIKE ELECTRIC SHOCKS OR INJECTIONS THAT BURN
SUBJECT OR RESEARCH TOOL
ANIMAL
THERMALLY INJURE
BURN
VOCALIZATION
CRY OF PAIN OR DISTRESS
AFFILIATIVE BEHAVIOR
THE WAY ANIMALS WHO ARE FRIENDS TREAT EACH OTHER
PRODUCE LETHALITY OR TERMINATE
KILL
Warm-Up Activity
Start by displaying the following sentences using a projector, or write them on your whiteboard or chalkboard, being sure to underline or otherwise emphasize the bolded terms. Ask for a student volunteer to read the sentences aloud.
Our partner in research was given enrichment following the aversive stimuli sessions. It was noticed that the subject was thermally injured, partially explaining its vocalizations and increase in affiliative behavior. While the incident was not serious enough to produce lethality, the research tool may be terminated after the sessions are completed.
Explain that this short paragraph uses actual terms taken from published materials describing wasteful and cruel experiments on animals in laboratories. Define the bolded (or underlined) terms as "euphemisms" designed to hide the misery and torment of animals in laboratories from the public—which pays for many of the experiments that they're subjected to.
Then divide students into small groups and provide each one with a plastic baggie of terms and definitions. Challenge them to match each term with the correct definition as quickly as possible. Once a group successfully matches the entire set (or after about 10 minutes), review each term and its definition as a class.
The Power of Language
In the same groups, have students use the list of euphemisms and their definitions to rewrite the paragraph from the warm-up. It should end up looking something like this:
The victim, a tormented monkey, was given a scratched mirror in an otherwise barren cage following the electroshock sessions. The experimenter saw that the terrified animal was burned, partially explaining his crying out and his desire to be comforted by his cagemate. While the incident wasn't serious enough to be fatal, we can kill him and cut him up when we no longer have any use for him.
Then have students discuss the following questions in their groups:
How does the tone of the paragraph change when you replace the euphemisms with their true meanings? What impact does this have on the reader? (Possible answer: The tone of the paragraph that uses the euphemisms is cold and indifferent, whereas the paragraph that replaces the euphemisms with their true meanings is honest and objective. The reader of the first paragraph might not even realize that it's about an animal who is being tortured, whereas the reader of the second paragraph can tell that the monkey is being harmed.)
Why do you think experimenters use these euphemisms instead of accurately depicting what takes place in their laboratories? (Possible answer: Experimenters probably use these euphemisms because it's common to disregard animals' well-being in the laboratory—otherwise, it would be more difficult to subject them to painful tests. They may also want to hide the truth about their actions because many experiments on animals are funded by taxpayers, who would be outraged if they knew what really happens to animals in laboratories and demand that they stop.)
Can you think of other instances in which language is used to justify the mistreatment of animals? (Answers will vary. If students can't think of an answer, have them consider the fact that slaughterhouses are often called "processing facilities" or that many people refer to animals as "it" as if they were inanimate objects.)
Reconvene the class and have students share their responses and any other insights that the activity may have given them. Explain that every year around the world, millions of animals are killed in cruel and painful product and cosmetics tests—they never make it out of the laboratory to feel the sun on their faces, explore their natural surroundings, burrow into the cool soil, build dens with their families, or do any of the other things they would naturally do. Life for an animal in a laboratory is traumatic, terrifying, and miserable. Let students know that it's up to us to change this.
How to Help Animals Used in Experiments
Empower students to exercise their civic duty and speak up for animals used in experiments through letter writing. Using the information provided in PETA's latest action alert, have students send letters to their congressional representatives urging them to stop the funding of cruel, dead-end animal experiments and instead to direct tax dollars toward promising, modern, non-animal methods of research.
Voting With Your Dollars
Your students may not be old enough to vote, but chances are they like to go shopping! Explain that every time they buy something, they're letting companies know what they value, and if that company tests on animals, their purchases are funding that cruelty. Show students PETA's Beauty Without Bunnies cruelty-free database, which includes nearly 4,000 compassionate companies that refuse to harm animals for their products and makes it super-easy to figure out which brands to buy—and which to leave on the shelf. You and your students can also order a free copy of PETA's "Cruelty-Free Shopping Guide," download the Cruelty-Free app, and look for PETA's cruelty-free label.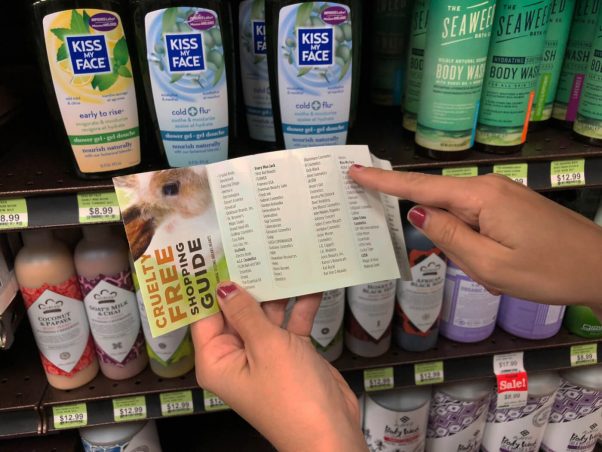 Extension Activity
Provide students with PETA literature and art supplies to design the cover of their own "Devil's Dictionary" to keep as a reminder of the power that we all have to use our words in ways that help animals.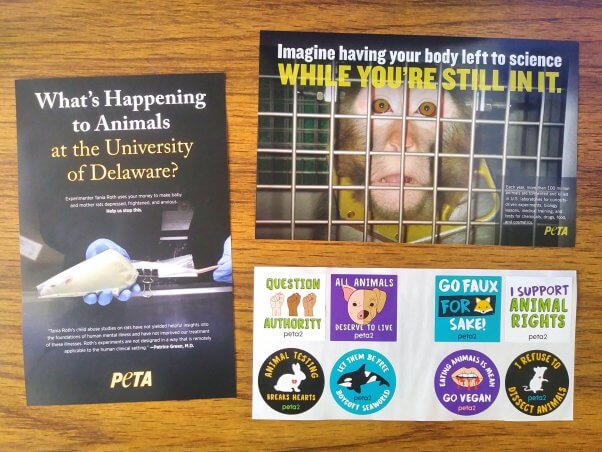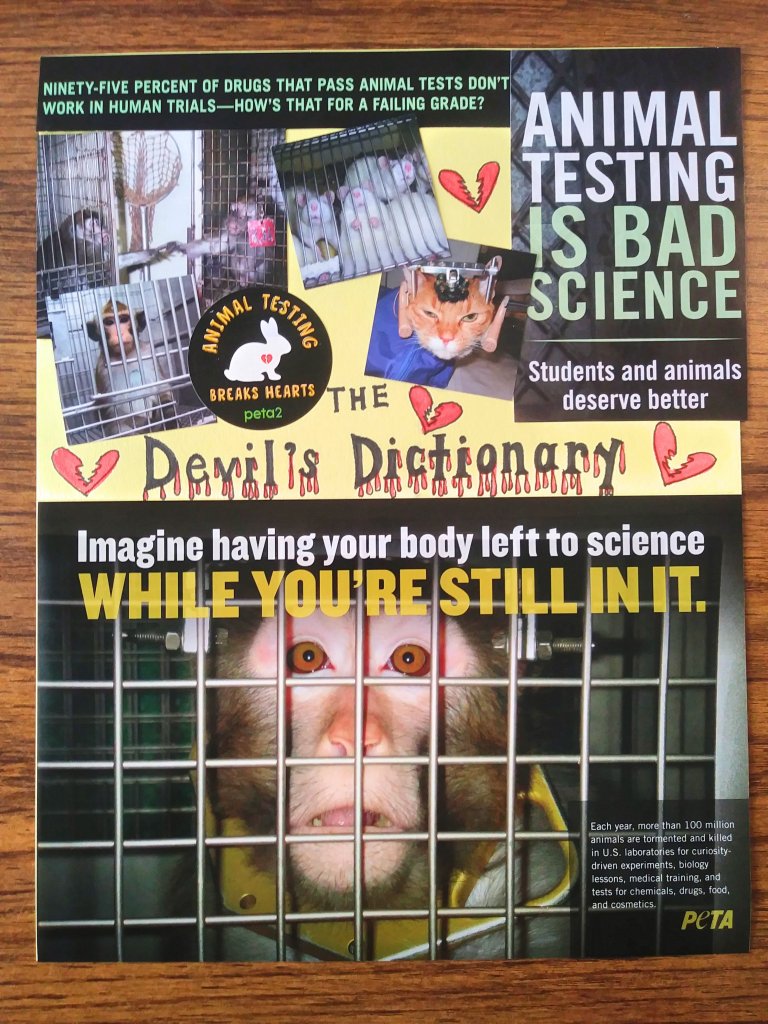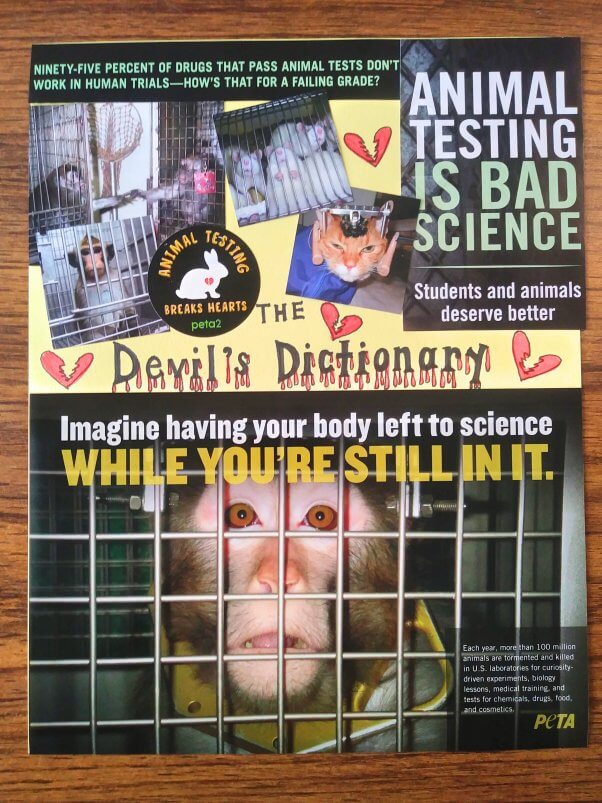 Continue the conversation about the cruelty of using animals in experiments by hosting a debate in your classroom. Use TeachKind's debate kit, which includes a variety of resources that can be shared with students to support the argument that animals shouldn't be used in experiments.
Like these ideas? Stay up to date with new TeachKind content and promotions by signing up for TeachKind News today!
By submitting this form, you're acknowledging that you have read and agree to our privacy policy and agree to receive e-mails from us.