It takes a village … to run a village! Teaching your students about the importance, responsibilities, and unique contributions of different roles within a community is a fun way to meet common core standards and review basic skills as well as helping children understand how different professions make a community function. As you discuss various types of jobs and the roles that those doing them play in the community (e.g., construction workers build the buildings that we live in and doctors and dentists keep us healthy), take the opportunity to highlight the ways in which these community helpers can (and do!) help animals, in addition to helping the humans in the community. For example, police officers and firefighters are responsible for protecting us from harm or helping us if we're in danger—so it makes sense that they often go out of their way to help animals, too!


Share the following inspiring stories about community helpers—from police officers and firefighters to electricians and government workers—who have used their positions to help animals as well as people.
Community Helpers Saving Animals
The members of the Abingdon Volunteer Fire and Rescue team in Virginia were called to a house fire, and at first, they were thankful, because it looked as though no one was home. But when next-door neighbors let them know that there were two dogs trapped inside the house, they jumped into action. One of the dogs, Roxy, was buried under a pile of broken furniture and barely alive—but she made it through, and so did her sister Daisy. These firefighters saved their lives!
When a 4-year-old bald eagle got his wing entangled in fishing line near the shore of the Minnesota River, firefighters with the Mankato Department of Public Safety used a rescue boat to get to the eagle to save him. They cut the fishing line, pulled the bird from the water, and rushed him to a special veterinary clinic, where he received treatment for his injuries.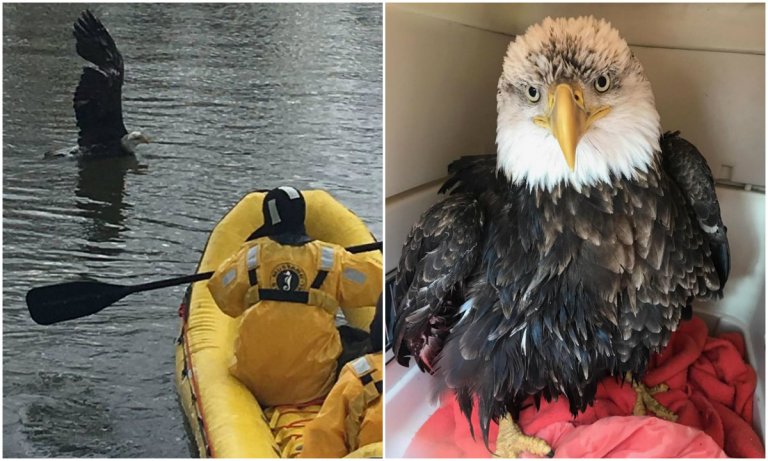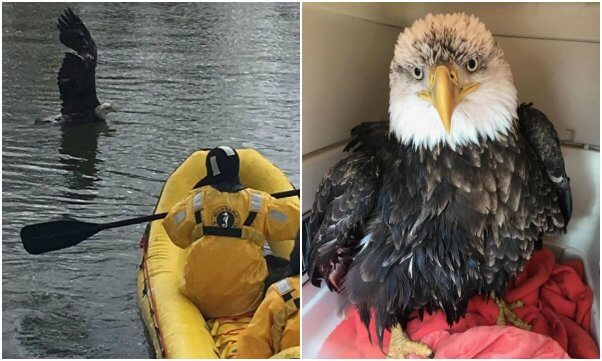 Images: Nicollet County Sheriff's Office
When a dog named Phelps was found struggling in a lagoon in Wisconsin, police officers with the Milwaukee Police Department pulled him out at the water's edge. But then, Phelps jumped back in and swam to the center of the lagoon, where he started to struggle—he was tangled in weeds and fishing line. But one of the officers came to his rescue a second time: He jumped into the water, swam through the muck to free him, and pulled him back to shore. These police officers saved Phelps twice in a row!
Officer rescues dog from lagoon, twice

MILWAUKEE POLICE OFFICER RESCUES DOG FROM LAGOON, TWICEMilwaukee Police Officers Joe Spingola and Mike Smith were in McGovern Park, on the city's north side, around 6 p.m. Wednesday evening helping some kids who got their fishing gear tangled in the weeds of the lagoon. That's when they heard a splash. Looking around to find what it was, they saw movement below the weeds and lily pads. A small dog had fallen or jumped into the lagoon.Officers Spingola and Smith ran over to it and Officer Spingola managed to reach in and pull the dog out of the water. As soon as the dog's feet hit the ground, without so much as a thank you, it ran off towards the tot lot where several families were playing.Minutes later, there was another splash. The dog jumped back into the water. This time it swam straight out to the middle of the lagoon.Their snare was too short to reach the dog. A county parks employee had a net, but it too was too short. The owners were nowhere to be found. Officer Smith radioed for the Milwaukee Fire Department to bring a boat or a ladder truck that could extend out above the water.While waiting for the fire department, the officers were trying to coax the dog back to shore. After a few minutes the officers could see the animal was starting to struggle in the thick weeds and muck. That's when Officer Spingola said he had to go in.As Officer Spingola was swimming towards the dog, the dog was struggling to keep afloat. When he reached him, the dog was wrapped up in the weeds, tangled in fishing line and had a hook and bobber hanging from him. Officer Smith kept a watchful eye on his partner from the shore.A few feet off the shoreline the water is only a few feet deep, but then there is a huge drop off to an unknown depth. Deeper than the officer is tall, requiring him to swim. Swimming back to shore with the dog, Officer Spingola kept getting tangled up in the weeds too.The dog was taken to the Milwaukee Area Domestic Animal Control Commission to be checked out. It appears to be a happy and healthy, eight year old, brown poodle mix. MADACC is hoping the owner will come forward. If this is your dog you can contact MADACC at 414-649-8640.

Posted by Milwaukee Police Department on Thursday, July 6, 2017
A family got into a car accident in Vail, Colorado, that flipped the vehicle upside down. When firefighters got there, they were told by the young boy in the car that his turtle (named Turtle) was still in the car and that he was very worried about him. The firefighters searched and searched for Turtle, and eventually, they found him—but he was frozen in his terrarium water. However, the firefighters didn't give up on him. They used lukewarm water to revive him, and he was reunited with his family.
You don't have to be a police officer or a firefighter to save animals. When a cat named Juno fell out of her guardian's van and became lost on Christmas Day, her worried family members canceled their holiday travel plans in order to look for her. They put up "missing" posters and spent days searching, but they weren't able to find her. Nine days later, electricians found a cat hiding on a metal beam 80 feet above the ground and recognized her from the posters—so they bought some cat food, lured her into a worker's arms, and lowered her safely to the ground. They reunited Juno with her family the next day.
A family of ducks was discovered nesting on the balcony of the sixth floor at the Library of Congress in Washington, D.C. There was no water source on the balcony, and the ducklings were in danger of falling off the building, so employees of the library and others helped police get the mother duck and her ducklings into boxes. They were taken to the Capitol Reflecting Pool, where the Architect of the Capitol workers built a ramp for the ducklings.
Thank you to @uscapitol @capitolpolice for helping @librarycongress staff rescue these ducklings and their mother from the roof. pic.twitter.com/Hy11Nu64OL

— Carla Hayden (@LibnOfCongress) May 16, 2017
A man named David Rooks and his dog, Petey, were stuck inside their car in Colorado after rushing water suddenly flooded a creek and trapped them. The Florence Fire Department Swift Water Rescue Team came to the rescue—for both David and Petey. The fire chief used a ladder truck to reach them and get them both to safety, making sure that Petey was comfortable—and he even visited them both a few days after the rescue.
AMAZING swift water rescue by Florence Fire Department swift water rescue team! The man and his dog were saved from the water after parking in a dry creek bed that quickly became flooded after today's rains off Phantom Canyon Rd. Huge THANK YOU to the following who helped: BLM Florence Police Department – ColoradoFremont County Emergency Management Fremont County Road and Bridge And all the civilians who helped out. #WaterRescue #FlashFlood #SamePurposeDifferentPatchVideo by FCSO Sgt. Megan Richards

Posted by Fremont County Sheriff's Office – Colorado on Sunday, July 30, 2017
A horse named Lucky in Eagle, Idaho, found himself in trouble when he escaped from his enclosure, wandered down the street, and then fell through the ice into a backyard swimming pool. Neighbors discovered Lucky, and firefighters arrived at the scene and used chainsaws to cut a pathway through the ice. After guiding him out of the pool, rescuers used blankets and straw to warm him up. After the veterinarian confirmed that he was healthy, he was taken back home to his stable.
Horse rescue out of swimming pool

Great job by Eagle Fire Department saving a 5-year-old horse who fell into a swimming pool Saturday afternoon at a Foothills home north of town.

Posted by Eagle Police on Monday, February 13, 2017
A squirrel in Enfield, Connecticut, got her head stuck inside a plastic yogurt cup and was struggling to free herself. Thankfully, two paramedics worked together, very gently, to free her—and they likely saved her life.
https://www.facebook.com/enfieldems/videos/1017297411721328/?hc_ref=ART3ifvTv20k4MkKmkdkhgcccb9HNRr0jI5EbmT44xjh0oHVrSplK8cHcj9OM6iYOhU
A dog named Milo fell through the ice on a lake after wandering off while his family was tobogganing nearby, and city and county firefighters in Fairfax, Virginia, jumped to the rescue. Even though the windchill was well below freezing, firefighters wearing special ice-rescue suits jumped into the lake and pulled Milo to shore, where he was warmed up inside a medical unit before being returned home to his family.
In Ontario, Canada, a skunk with a cup stuck on his head was spotted by two paramedics who were pulling into their station's parking lot—and they rushed to help him. To avoid being sprayed by the skunk—who was very scared—one paramedic wore a protective suit and spoke softly to the animal in order to get close enough to remove the cup and set him free.
Our 'Rescue' this morning: a skunk with a cup stuck on its head @Peel_Paramedics help all sorts of "Patients" pic.twitter.com/HMd8zuwx9Q

— Justin Mausz (@Prof_Dewey) August 7, 2016
Two marines in the U.S. Marine Corps noticed that some homeless cats were hanging around their base in Afghanistan, so they took the animals in and nursed them back to health, letting the cats sleep with them in the barracks. Then, they arranged for the animals to be transported to the U.S. to live with their families. Thanks to these marines, these two lucky cats, now named Kiki and Keykey, have been rescued.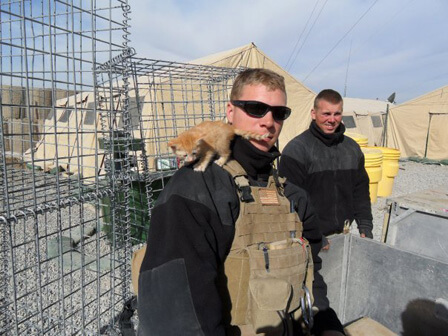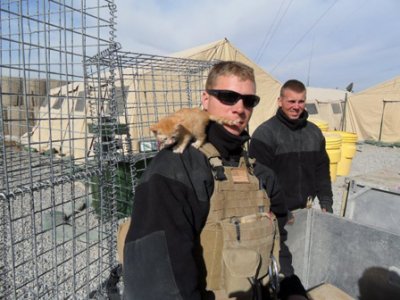 A man and his dog, named Duke, were stuck in dangerous rising floodwaters in McKinney, Texas, and the man called 911 from a tree. The firefighters showed up and saved both their lives with a long ladder. As you can see in the picture below, Duke the dog jumped up and thanked his rescuer with a big "kiss."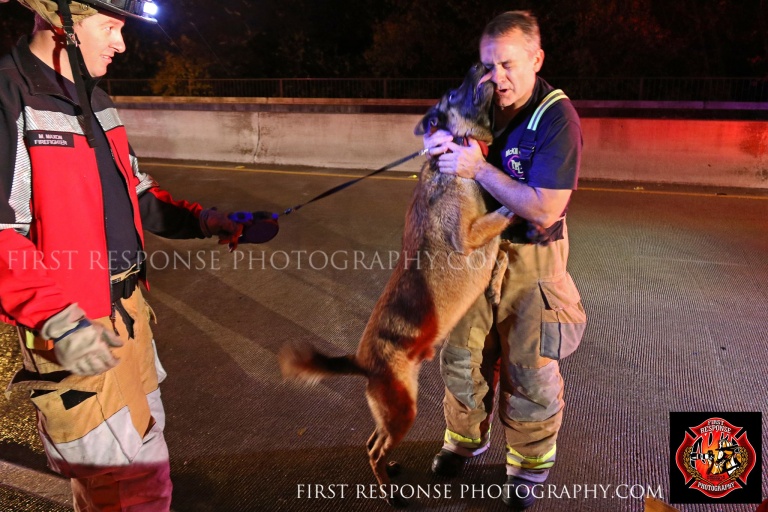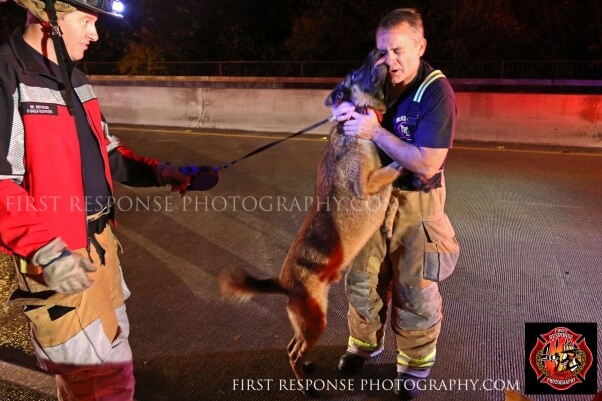 First Reponse Photography
A great horned owl was entangled in a broken kite near the Jackson Township Fire Department in Ohio, and he was exhausted from trying to free himself. A police sergeant saw the owl in need, and firefighters stepped in to remove the kite from the bird's wing. The owl was taken to the Stark Parks Wildlife Conservation Center, where he received treatment for his injuries.
Activity: Community Helpers in Action
Have students choose any type of community helper. On a sheet of paper, have them write at the top "A [police officer, nurse, teacher, firefighter, etc.] helps animals." Then ask them to write a sentence (or more) describing how this community helper can help animals. Beneath the sentence, have the students draw a picture of their community member of choice helping an animal in some way. Ask them to draw inspiration from the stories you discussed as a class about the different ways that people have helped animals in need. Once the students have finished their drawings, have them take turns sharing their pictures in front of the class and describing how the community helper is helping an animal in the image.
Discussion Questions
After discussing each anecdote and viewing the corresponding videos and photos as a class, ask students the following questions and either discuss their responses aloud or have them write down their answers:
Can you think of any jobs that directly help animals every day? (Veterinarians, animal control officers, animal shelter workers)
Can you still help animals if you have a job that normally helps humans? (Of course! Anyone can help animals—and everyone should.)
What are some things that you can do to help keep animals safe? (Never litter, since litter can hurt animals, and take good care of your animal companions at home.)
Remember: Kids Can Help Animals, Too!
Explain to your students that while grown-ups and professionals have a responsibility to help animals, anyone—even kids—can be a community helper for animals by looking out for ones in need. Explain that if students ever see or hear of an animal in danger, they should tell their parents, a teacher, or another adult immediately.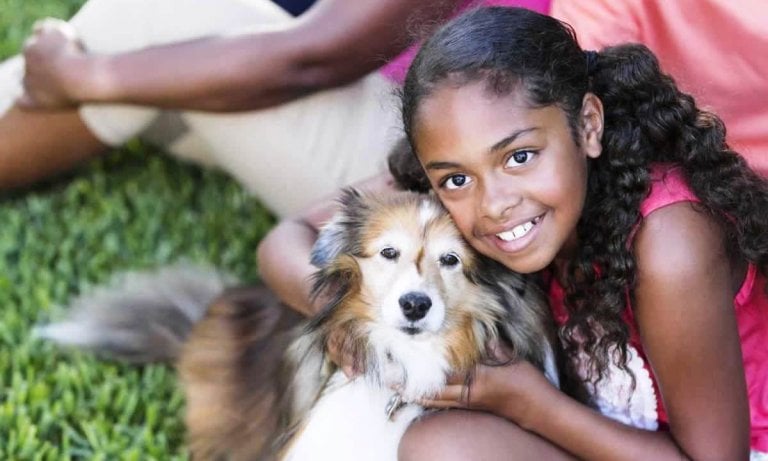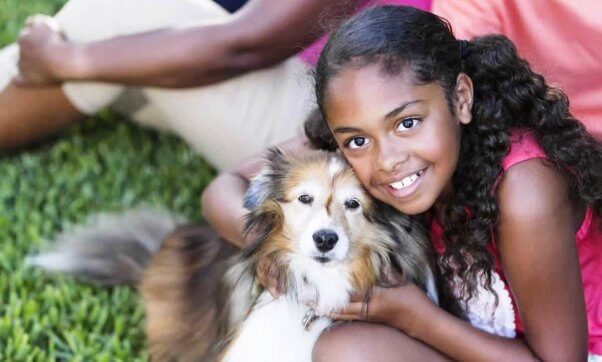 © iStock.com/kali9
Also, tell students that they can protect wildlife by never littering and by properly disposing of trash, such as by keeping all garbage in tightly sealed, chew-proof containers. Other helpful things that they can do to prevent an animal emergency include rinsing out aluminum cans and putting the tops inside so that they can't cut an animal's tongue, crushing cans and cups, and cutting open empty cardboard and plastic containers before recycling them to prevent small animals from getting their faces or heads trapped inside them, as some of the animals in these rescue stories had done.
Want to continue inspiring your students to help animals? Order TeachKind's free Share the World curriculum kit designed for primary school students!