Get ready to receive everything you need to bring life-changing lessons on empathy, kindness to animals, and the Golden Rule to your classroom or homeschool group. All you need to do is fill out the form below and then wait to receive your free kit in the mail.
Our ready-to-implement kit includes a 23-minute video, in-depth lesson plans for students in grades K-2 and 3-5, reproducible coloring sheets, a classroom kindness pledge, an anti-bullying poster, and a teacher's guide for grades K-2 and 3-5 to help you along the way.
While the "Share the World" DVD contains both English and Spanish versions of the video, the additional materials in the kit below are only in English. If you need materials in Spanish, please click here.
Aunque el DVD de "Comparte el mundo" contiene versiones del video en inglés y en español, los materias adicionales del kit a continuación están únicamente en inglés. Si necesitas los materiales en español, por favor haz clic aquí.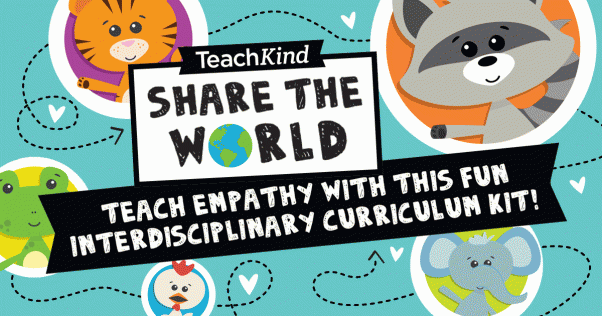 Note: Share the World is designed specifically for use by educators in elementary school classrooms or other educational settings. If you are not an educator or school staff member but would like to receive a free copy of Share the World, please send us an e-mail with more information.
By submitting this form, you're acknowledging that you have read and agree to our privacy policy and agree to receive e-mails from us.
We can send literature only to addresses in the U.S. and Canada. For materials in your area, please visit one of PETA's international affiliates: