Teacher Spotlight highlights the work of individual humane educators, giving them a chance to share their stories and tips and inspire other compassionate teachers like you to take action for animals through education.
Meet Christine Lawrence, a third-grade teacher and animal rights activist in North Las Vegas, Nevada. Since 2009, she's been providing elementary school students with humane education and spending much of her free time advocating for animals, particularly orcas and other captive marine animals used for entertainment.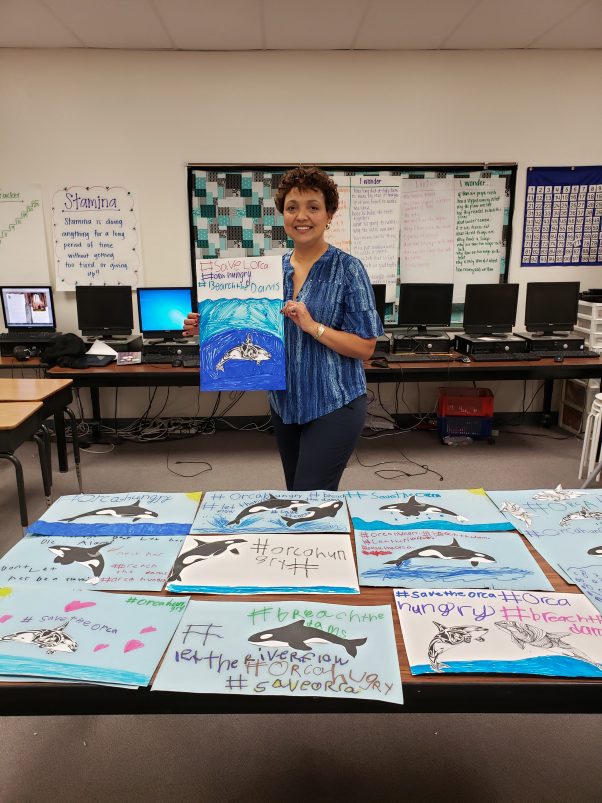 Before she became a teacher, Christine protested pet stores and the now-defunct Ringling Bros. and Barnum & Bailey Circus, lobbied for mandatory spay/neuter legislation in her community, and used PETA's app to write letters to public figures regarding the use of animals in experiments along with other issues. "Often after sending the form letters through the app," Christine says, "I look up the companies' websites and write them my own letter." Becoming a full-time teacher didn't stop her from advocating for animals with tenacity. When she's not in the classroom, she continues to participate in protests and other demonstrations across the country in addition to calling and writing letters to companies that exploit animals in order to urge them to show compassion.
Naturally, Christine takes every opportunity to incorporate lessons on compassion for animals into her nonfiction reading classes. With 70 third-graders, she gets creative, using music, art, and persuasive writing to teach her students about the plight of Lolita, the orca who had been held captive at the Miami Seaquarium for more than 50 years and has since passed away, sharing ways they could help her and other exploited marine animals.
On August 18, 2023, Lolita passed away. The Miami Seaquarium had finally agreed to release the long-suffering orca to a sea sanctuary off the coast of Washington state, but plans to make this move came too late. She was denied even a minute of freedom from her grinding 53 years of imprisonment. Thank you to Christine, her students, and every kind person who has spoken up for her and other marine animals kept in confinement. Because of caring people like you, we're changing hearts and minds to help others respect our fellow animals and see that they deserve to live free from exploitation.
I believe that teaching kindness and compassion has to come first and teaching reading and math second.
What effect has your teaching humane education had on your students (academically, emotionally, etc.)?
I believe that teaching humane education to my students has made them think more about the natural world and realize that current political decisions and humans in general have caused changes that are sometimes detrimental to the ecosystems and animals of our planet. They realize that, even now, they can work toward change. This has opened their eyes to injustices occurring in the world. The basic skills of reading, social studies, and science are the foundations of learning conservation and activism. This is education that is rich in discussion and links today's world issues with grade-level studies. It makes the students feel that they're learning something they'll use for the rest of their lives, and it gives them a foundation of compassion that may not have been there otherwise.
How do you incorporate humane education into your nonfiction reading class?
In my nonfiction reading class, we study ecology and animals. Within those studies, I easily incorporate humane education. While teaching the levels of ecology and the food chain, I feel compelled to teach the children how humans have interfered with the natural habitats of animals—by forcing animals into captivity for entertainment purposes, for example. We even discuss the legitimacy of animal research while animals are in captivity, compared to being in their own natural environments. I often refer to Jane Goodall and her studies of chimpanzees. I talk with the students about character traits in historical and modern persons that have led to success. Some of these individuals we've discussed are Goodall, William Wilberforce, Confucius, Idabelle the cow, and Nosey the elephant. I include the animals right there with the humans because we can learn just as much from them. All names are listed on a chart on the wall under the character trait they display. The traits we concentrate on are courage, leadership, kindness, infinite grit, and creativity.
Why do you think it's important for young students to learn about animal issues?
Students need to learn about animal issues because animals are at the core of our society and our humanity. Animals bring out the best in people, and they easily teach us patience, kindness, humility, and—of course—empathy. It's very important that everyone feel comfortable and not singled out. When we learn about animals, we must learn about what they need to survive, so protecting their habitats is a must. This is where teaching children conservation is essential. We want them to grow up being aware of the environment and incorporating conservation into their everyday lifestyle. We want them to help prevent trees from being cut down and estuaries and wetlands from being destroyed. Teaching activism at this point is just another step toward protecting our Earth, its oceans, and its animals.
What has been the response of your school community (administrators, other teachers, parents, etc.) to your humane education? 
The parents seem interested and agreeable, and some have even participated along with their children in a march for Lolita. I think they see the excitement and compassion in their children, and who can argue with that? However, at the same time, I make a great effort to weave my humane education directly into my regular lessons. It's not hard since I'm teaching ecology, so it's easy to discuss animal habitats, such as the Florida Everglades and the fact that they are at risk. I also ask them to pay attention to my home video of my own visit there and to see what they notice about the animals in it. I ask them to notice not only what's there but also what's not there. Sometimes, we need to pry a little more in order to find out what's really going on, and if we do see something, we need to say something. This is the simplest form of activism, which is definitely something I want my students to feel comfortable with at a young age. I want them to grow into active citizens and know that they can make a difference—and that this is not only their right but also their responsibility.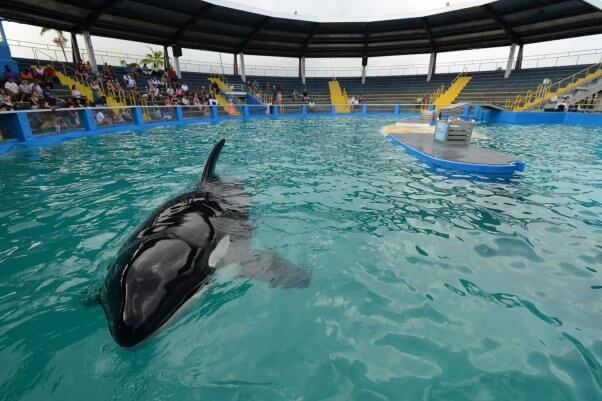 What challenges do you face as a humane educator, and how do you overcome them?
As a humane educator, I sometimes run into teaching strategies that are not humane, and I feel very deeply about it and want to say something. These situations can be difficult, especially when you respect the person involved. You really have to be very nonjudgmental and avoid condemning them, and you have to make suggestions and try to educate the person and hope they see the value in your position. It can be very disheartening at times, because if you feel that you're making progress in instilling compassion in individuals and suddenly another instructor decides to use dissection in their classroom, you know it's going to set you back and possibly destroy much of the work that you've done. This can be quite disappointing, and it's definitely something I intend to address in the future.
Note from TeachKind: Check out our feature on dealing with opposition to humane education in your school.
I want [my students] to grow into active citizens and know that they can make a difference—and that this is not only their right but also their responsibility.
How do you advocate for animals in your free time?
In my free time, I often use PETA's app to sign form letters and petitions or call public figures. Sometimes, I go to the websites of companies that are using animals and find someone to write a personal letter to or even place a call to them directly. I also do local activism in my area—marching, hanging banners from overpasses, distributing postcards for signatures, and placing fliers at local establishments such as car washes, auto repair shops, and other waiting areas.
I also write letters to legislators, mayors, governors, and key business people like directors or public relations managers—it depends on the issues. I also use Facebook and Twitter either to post information about events that I've participated in or to support others who are attending events across the country. I try to stay on top of any news that relates to my concerns so that I can be ready to take any necessary actions. I've also created a private Facebook page for animal rights activists to share what we're doing, and hopefully, we'll even do things together as a group in the future. The group members are from Miami, Las Vegas, and Washington State.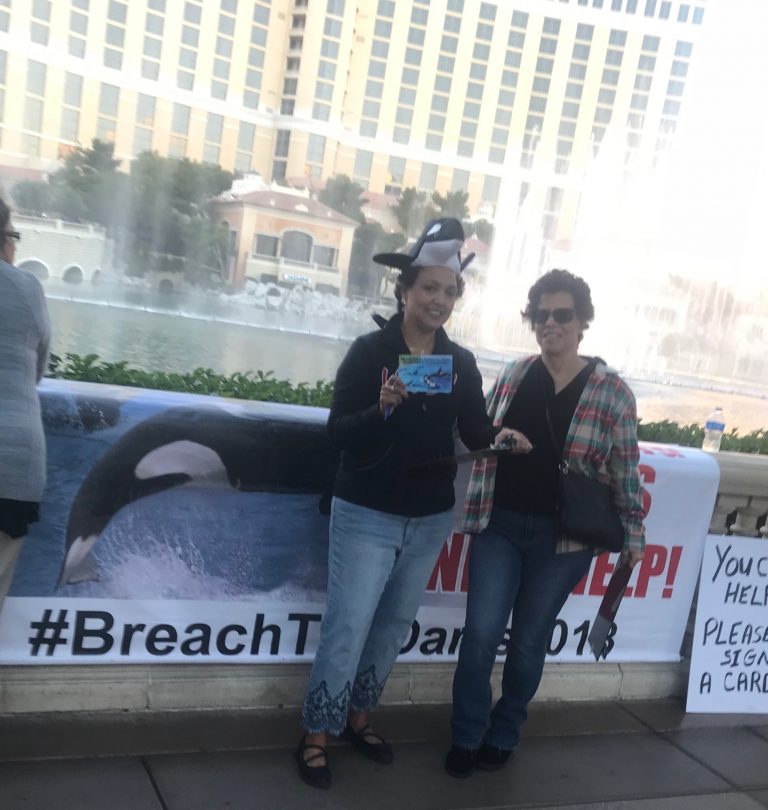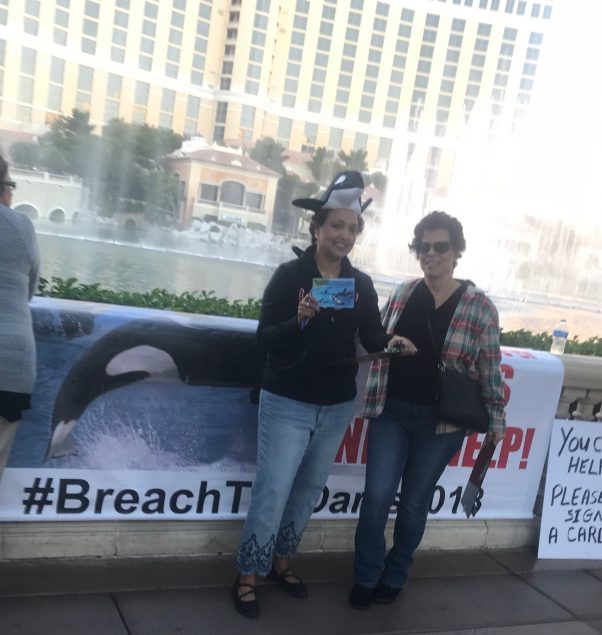 *****
If you're feeling inspired by Christine's work, check out TeachKind's webinar for a step-by-step guide to creating humane lessons and see how discussing animal rights issues and meeting academic requirements can go hand in hand.
Are you going above and beyond for animals in your classroom? TeachKind could shine the spotlight on you next! E-mail us at

[email protected]

to let us know how you're incorporating humane education into your curriculum.