The Teacher Spotlight highlights the work of various humane educators, giving them a chance to share their stories and tips and inspire other compassionate teachers like you to take action for animals through education.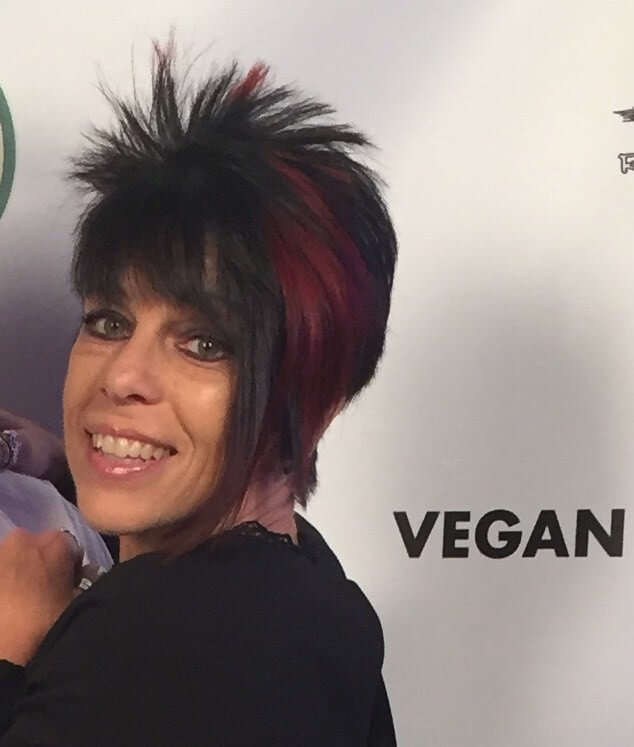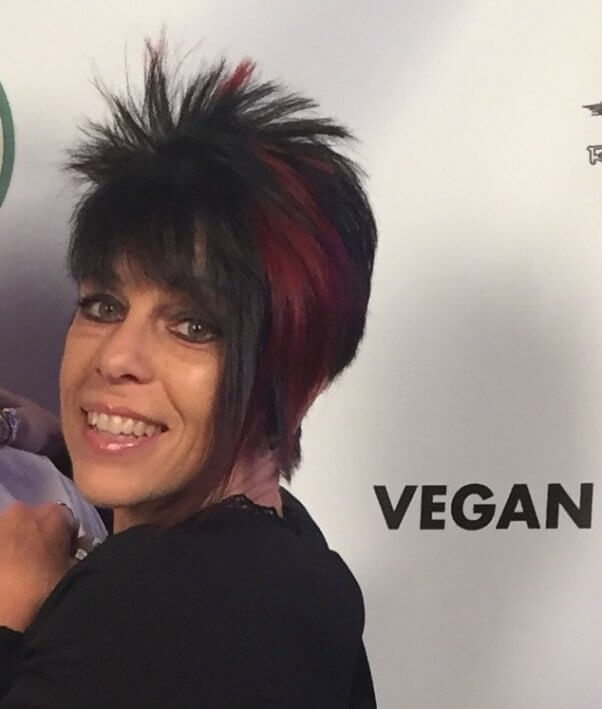 Meet Kathy Cullen, a third-grade educator who's been instilling compassion for animals in her students. She aims to provide them with a comprehensive understanding of animal rights as it relates to the world around them. And she promotes discussions of kindness toward everyone, regardless of species.
A vegetarian most of her life, Kathy was inspired by her daughter to go a step further for animals, so her New Year's resolution for 2013 was to embrace a vegan lifestyle. After that, she never looked back.
 How does compassion for animals fit into your classroom curriculum?
I use the Lean and Green Kids nutrition curriculum. I put out a monthly newsletter to parents that shares information about animal sanctuaries to visit as well as plant-based restaurants and veg fests. I read books about rescued animals. We discuss the problems with keeping animals in captivity. I share my experiences and photos from when I go to pig vigils (notable events in which activists perform one last act of kindness for the animals before they're sent to the slaughterhouse), and I bring in vegan food to show the students how easy it is to find food that doesn't contain animal-derived ingredients. I also wear lots of clothing with animal rights messages (from LA Animal Save, DxE, Cowhugger, etc.) and display humane-themed magnets, pictures, photos, calendars, etc., all around my room.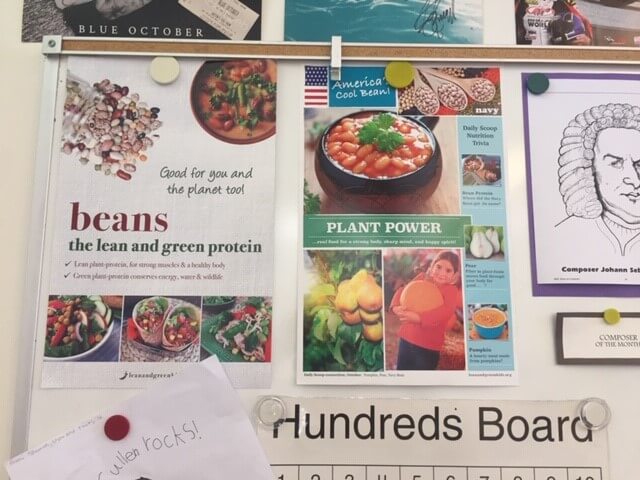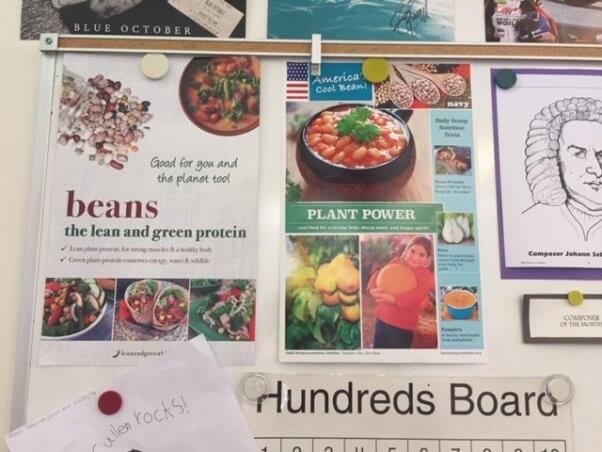 For those who are unfamiliar with it, tell us about the Lean and Green Kids program. What is it, and how does following it look in your classroom?
Lean and Green Kids is a plant-based nutrition curriculum in which students study a bean, a fruit, and a vegetable from a different country each month. I introduce the program the first month of school with the book and slide show that go with the program, then continue each month with a different book, slide show, and recipe as well as activities that go with the monthly foods.
How have your students responded to the Lean and Green Kids program?
They love it—especially the recipes that go home each month! I've also had parents tell me that their kids are actually eating healthier now.
How has studying animal issues benefited your students?
They have definitely become more compassionate and aware that caring relationships are possible between humans and nonhuman animals (besides dogs and cats) and that animals are living beings who have families, feel pain and joy, etc. And some of them have tried to eat less meat, go vegetarian, or try a vegan diet. A group of students even started the SSS (Save the Snails Society!) at school to prevent older students from throwing and crushing snails.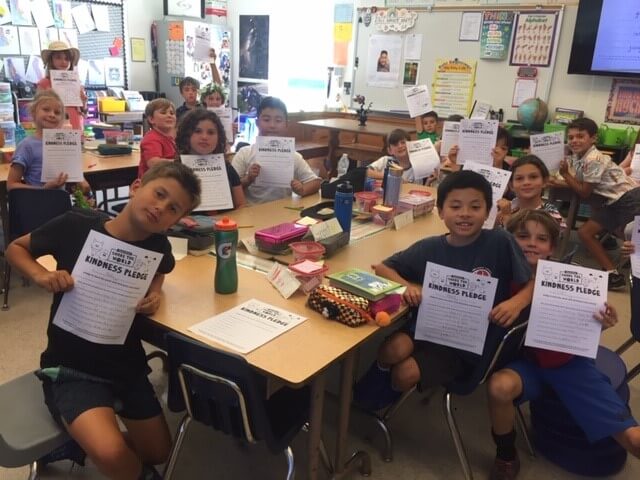 What has been the response of your school community (administrators, other teachers, parents, etc.) to your use of humane education?
Most of it has been very positive, except for an issue with a Torrance City Council member who became infuriated when my class wrote letters (part of the civic duties that we teach as well as Character Counts!) to all city council members against the culling of coyotes in Torrance.
Note from TeachKind: If you face opposition to humane education in your school community, check out this feature.
What challenges, if any, do you face as a humane educator, and how do you overcome them?
I have to be incredibly careful how I share my information with students in a public school setting. I have to be as unbiased, educational, and professional as possible. I have to consider how appropriate material is before I share it. I also have to be careful not to promote specific organizations.
Note from TeachKind: Teachers, if you want a step-by-step guide on incorporating appropriate humane education materials into your curriculum, you can watch our Humane Lesson webinar here.
How do you educate students about animal issues without "preaching"?
I always make sure I present things as general information. I find reputable news articles, make sure the students know everyone is on their own journey and that we all have our own opinions, and try and blend the issues into other parts of the curriculum.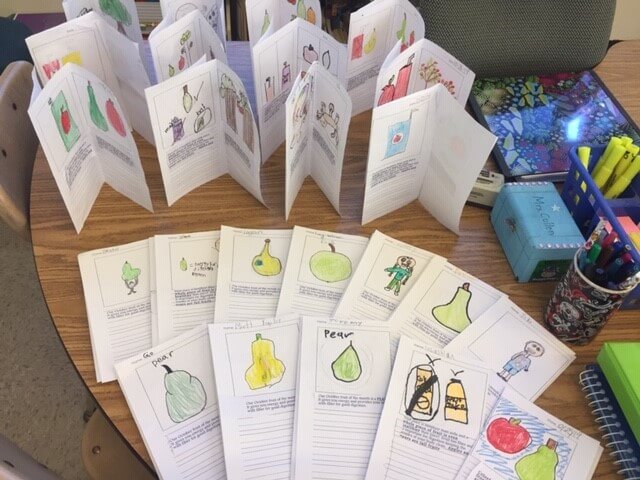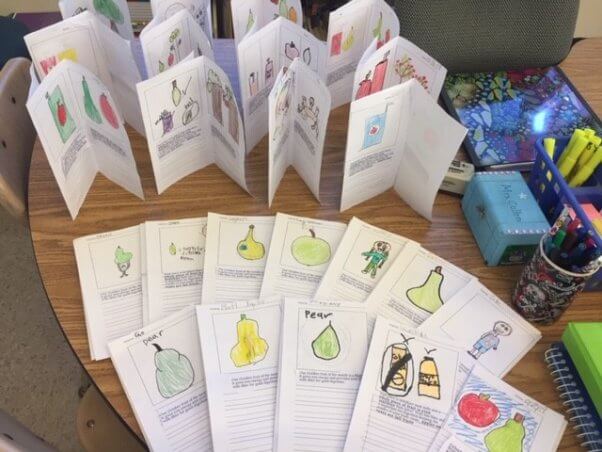 Do you experience "compassion fatigue"? If so, how do you remedy it?
Absolutely! I take a break. I do activism that isn't so intense or make sure I have more time in between my activism actions. Going to animal rights conferences is also incredibly rejuvenating and inspiring!
What advice would you give to someone who wants to start implementing humane education but isn't sure where to begin?
Sign up for Kind News magazine, TeachKind News, the Lean and Green Kids program, and The Gentle Barn newsletter, for starters. And find another educator you can partner with, if possible!
*****
Inspired to start teaching compassion for animals in your classroom? TeachKind will walk you through every step of the process and provide free resources along the way.
Fill out the form below to sign up for TeachKind News.
By submitting this form, you're acknowledging that you have read and agree to our privacy policy and agree to receive e-mails from us.