Vegan
Spicy Sesame Noodles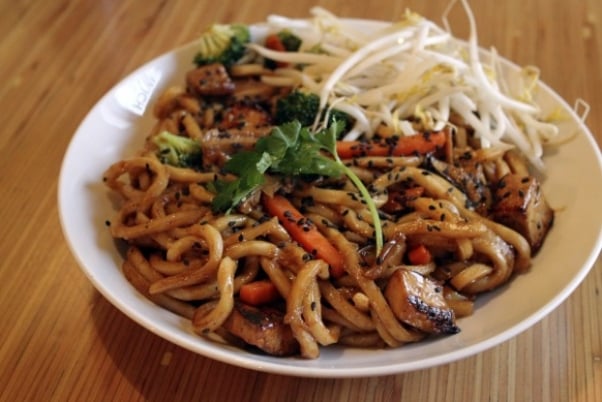 Print
Ingredients
2/3 cup (150 g) 

peanut butter

4 Tbsp.

soy sauce

2

cloves garlic, minced

1

green onion, chopped

2 Tbsp. 

sesame oil

1 tsp.

cayenne pepper

1/2 lb. (225 g)

linguine, or your favorite pasta

2 Tbsp. 

toasted sesame seeds

1 cup

vegetables of your choice

Fresh cilantro leaves to garnish
Instructions
In a saucepan, combine the peanut butter, soy sauce, garlic, and green onion and mix well.
Add the sesame oil and cayenne pepper. Heat slowly, whisking until smooth. Add vegetables
Meanwhile, cook the linguine according to the package directions. Drain.
Place the linguine in a large bowl, add the peanut sauce, and toss to coat. Garnish with the toasted sesame seeds and cilantro.
Serve hot or cold.
Makes 4 servings