Adapted from a recipe by and published by permission of World of Vegan.
Vegan
Mice Krispies Treats From 'World of Vegan'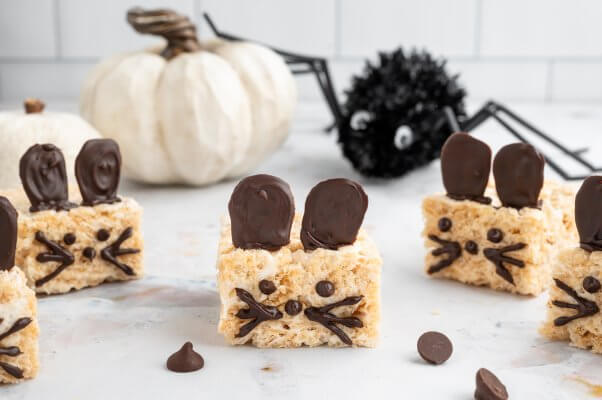 Print
Ingredients
Instructions
In a large saucepan, combine the vegan butter and the vegan marshmallows over low heat. (You can also do this step and the next one in in a glass bowl in the microwave at 30-second intervals, stirring between each, until the marshmallows are fully melted.)
Stir regularly for about 7–8 minutes, or until largely melted.
Add the cereal to the saucepan, stir until well combined, and remove from the heat.
Press the mixture into a 9×9 baking pan until it's about 1 inch thick (but no thinner or it will be too thin to pipe the faces onto). Set aside to cool.
Meanwhile, sketch mice ears onto a piece of paper, place on a cutting board, and cover with wax paper.
Heat the chocolate chips in the microwave or a double boiler until melted.
Pour the melted chocolate into a piping bag and pipe it onto the wax paper to form mice ears. (You can also use a resealable plastic bag by holding it diagonally, with one corner at the bottom, and cutting a tiny hole in the corner.) Place in the freezer for 20 minutes or until the chocolate hardens.
Cut the pressed cereal mixture into 12 mouse-size squares.
Pipe chocolate onto each square to form eyes, a nose, whiskers, and a tail. Then pipe chocolate onto the top of the squares to attach the frozen ears. Work quickly when attaching the ears to prevent them from melting.
*Rice Krispies brand contains vitamin D3 made from lanolin, a wax extracted from sheep's wool, so it's not vegan.
Makes 12 treats.