School Refused to Run Bus Ad Showing a Dog in TAMU Laboratory—Group Says Advertising Policy Is Discriminatory
For Immediate Release:
October 28, 2020
Contact:
Tasgola Bruner 202-483-7382
College Station, Texas – PETA has filed a federal lawsuit against Shane Hinckley, vice president of brand development at Texas A&M University (TAMU), challenging his refusal to allow the group to place an ad on TAMU buses showing a dog used in the school's canine muscular dystrophy (MD) experiments.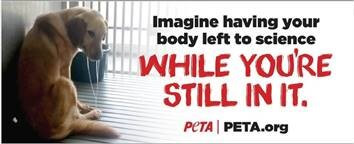 Hinckley claimed that the ad violated TAMU's advertising standards prohibiting ads that contain "political campaigns and viewpoints or endorsements"—but PETA's ad contains none of these. The group is asking the court to order TAMU to accept and display the ad and to declare that the school's policy prohibiting "political" advertisements is vague and discriminates against PETA's viewpoint in violation of the First Amendment.
PETA previously filed two First Amendment lawsuits challenging TAMU's deletion of comments about the dog laboratory on its official Facebook page and other social media sites. The group settled the first lawsuit to its satisfaction, and the second is pending.
"Texas A&M doesn't mind hurting dogs, but it sure hates it when the public finds out," says PETA Senior Vice President Kathy Guillermo. "The university is violating the law to avoid public scrutiny when it could just shut down its gruesome laboratory and release all these dogs into loving homes."
The dog on PETA's ad is Peony, one of those at TAMU who struggled to walk, swallow, and even breathe. She repeatedly suffered from parasites, was subjected to painful surgeries, and was regularly soaked in the drool caused by her enlarged tongue. She was euthanized at 22 months old.
Under pressure from PETA supporters, 500 physicians, and humans with MD, TAMU stopped breeding dogs to develop the disease. The lead experimenter has retired, and many of the nearly 100 dogs have been adopted into homes—but the laboratory still keeps 25 dogs imprisoned there.
For more information, please visit PETA.org or follow the group on Twitter, Facebook, or Instagram.