For Immediate Release:
October 26, 2022
Contact:
Robin Goist 202-483-7382
New York – He may be a music and movie star, but Harry Styles won many hearts when he told fans, "I don't eat chicken. … I don't eat meat" after a chicken nugget was tossed onstage during a concert at Madison Square Garden—and now PETA has immortalized this "Champion for Chickens" with a limited-edition Halloween costume, available for purchase starting today. PETA hopes the costume—which includes a Harry Styles mask and a plush chicken sporting an "I'm Harry's Friend, Not Food" sign—will inspire Stylers to give a cluck for chickens, just as he does. Each costume also comes with a vegan starter kit.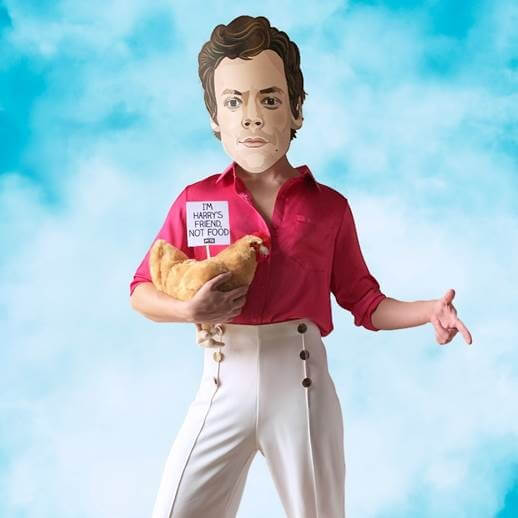 "Hearing Harry defend chickens onstage was music to our ears," says PETA President Ingrid Newkirk. "This costume is PETA's way of saying, 'Harry, we adore you, and we urge everyone to do as you do and treat animals with kindness, as friends, not food.'"
Anyone who goes vegan spares nearly 200 animals a year daily suffering and terrifying deaths. Birds killed for their flesh are confined by the tens of thousands to severely crowded, filthy sheds and trucked through all weather extremes to slaughterhouses, where their throats are slit—often while they're still conscious. Going vegan also shrinks our carbon footprint and our risk of suffering from heart disease, diabetes, strokes, cancer, and other life-threatening conditions.
PETA also released a Dr. Anthony Fauci costume this year, which is available here and selling well. It includes a mask, a white lab coat, a syringe, and a stuffed beagle (like the 4,000 dogs recently rescued from laboratory supplier Envigo following a PETA investigation) plus a "Good Riddance, Fauci" collar tag in celebration of his pending retirement.
PETA—whose motto reads, in part, that "animals are not ours to eat"—opposes speciesism, a human-supremacist worldview. For more information, please visit PETA.org or follow the group on Twitter, Facebook, or Instagram.