For Immediate Release:
November 13, 2023
Contact:
Kendall Davis 202-483-7382
Itasca, Ill. – Led by a massive "surgically mutilated mouse," PETA supporters will unfurl a banner on Thursday at the U.S. headquarters of a major subsidiary of Japanese conglomerate Ajinomoto Co. Inc.—the world's largest manufacturer of monosodium glutamate (MSG) and the owner of packaged frozen-food brands Tai Pei, Ling Ling, and José Olé—to challenge the company's deadly tests on mice, dogs, pigs, rats, and other animals.
When:    Thursday, November 16, 12 noon
Where:    250 E. Devon Ave., Itasca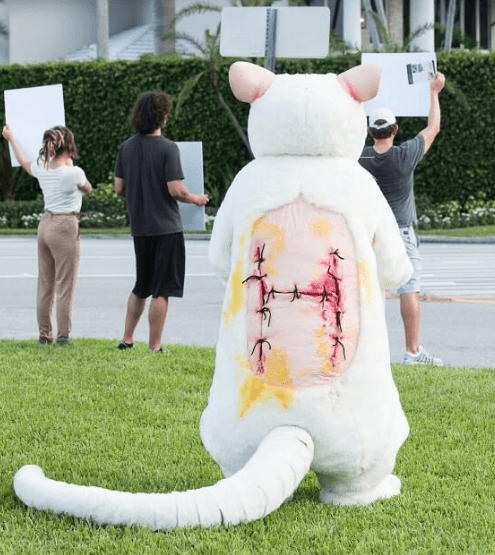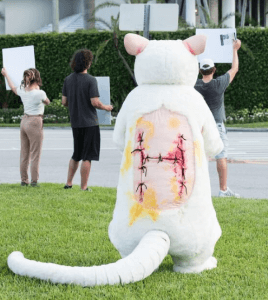 "Ajinomoto has tormented and killed mice, dogs, and other animals in tests that are not required by law," says PETA Vice President Shalin Gala. "PETA is calling on Ajinomoto to stop taking lives in order to make dubious human health claims for marketing purposes."
Ajinomoto experimenters have compelled mice to fight each other, cut their nerves, and injected them with toxic drugs; cut open dogs' stomachs, starved them, and fed them MSG; inserted tubes into day-old piglets' arteries and starved them; and electroshocked rats, among other pointless procedures. Dozens of other food and beverage companies around the world have stopped contributing to animal tests after talking with PETA.
PETA—whose motto reads, in part, that "animals are not ours to experiment on"—opposes speciesism, a human-supremacist worldview.
For more information, please visit PETA.org, listen to The PETA Podcast, or follow the group on X (formerly Twitter), Facebook, or Instagram.