For Immediate Release:
July 25, 2022
Contact:
David Perle 202-483-7382
Lansing, Mich. – It's road trip time, and PETA has erected an enormous, can't-miss message on U.S. Route 127 urging people not to pull over at Oswald's Bear Ranch—a roadside zoo in the Upper Peninsula that has run into trouble with the government over how it keeps animals and that tears vulnerable bear cubs away from their mothers and uses them as photo props, charging visitors to pose with them. Seventeen cubs 2 years old or younger have died on Oswald's watch, including two who died last year when they were only a few months old and another who was killed by police after escaping from Oswald's.
That escape prompted the federal government to issue Oswald's a civil penalty and a citation for critical noncompliance with the federal Animal Welfare Act. As PETA has alerted state authorities, these penalties mean (according to Michigan law) that Oswald's can't offer cub petting until at least 2026—but it continues to do so.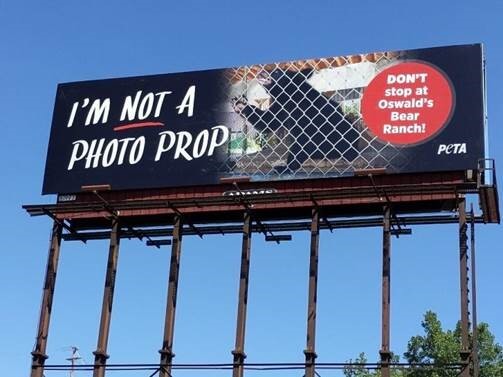 "Rather than roaming free with their families, the baby bears at Oswald's are locked up in a concrete prison, crying out and pacing in distress," says PETA Foundation Director of Captive Animal Welfare Debbie Metzler. "PETA is calling on everyone to avoid this miserable hellhole and to push for these vulnerable cubs' release to reputable sanctuaries."
A just-released video narrated by Alec Baldwin exposes the suffering behind cub-petting "encounters," targeting Oswald's and other roadside zoos. Oswald's regularly misleads the public by marketing itself as a rescue facility even though it has bred 13 cubs for its paid photo ops over the years and has purchased or otherwise acquired 79 others from known shady dealers, including at least 15 in the past four years alone. Once the bears become too big to be handled, Oswald's moves them to enclosures where video footage has shown them head-tossing and pacing back and forth, behavior that signals mental distress in bears. Oswald's has also been cited for allowing a cub to injure a guest and endangering children by permitting them to hand-feed cubs.
PETA's appeal is on U.S. Route 127, half a mile north of Lake Lansing Road.
PETA—whose motto reads, in part, that "animals are not ours to use for entertainment"—opposes speciesism, a human-supremacist worldview. For more information, please visit PETA.org or follow the group on Twitter, Facebook, or Instagram.