6 Requests Straight from PETA President Ingrid Newkirk's Will
By Ingrid Newkirk
---
Twenty years ago, a flight I was on encountered violent wind shear. The pilots attempted three emergency landings before we finally touched down, with a teaspoon of fuel left.
What thoughts had flashed through the minds of the other passengers as the plane lurched, fell, and was blown out over the ocean? I had thought my life as an activist would be cut short.
The next day, I had an idea: What if, in my will, I were to bequeath my body to PETA, which could use various parts of it to draw attention to violations of animals' rights? After all, I'd have no more use for it after I died. So that's what I did.
On his deathbed, Bob Hope was asked

where

he wanted to be buried. "Surprise me," he said. In my case, when I die, I hope to keep

right

on surprising

those who harm animals.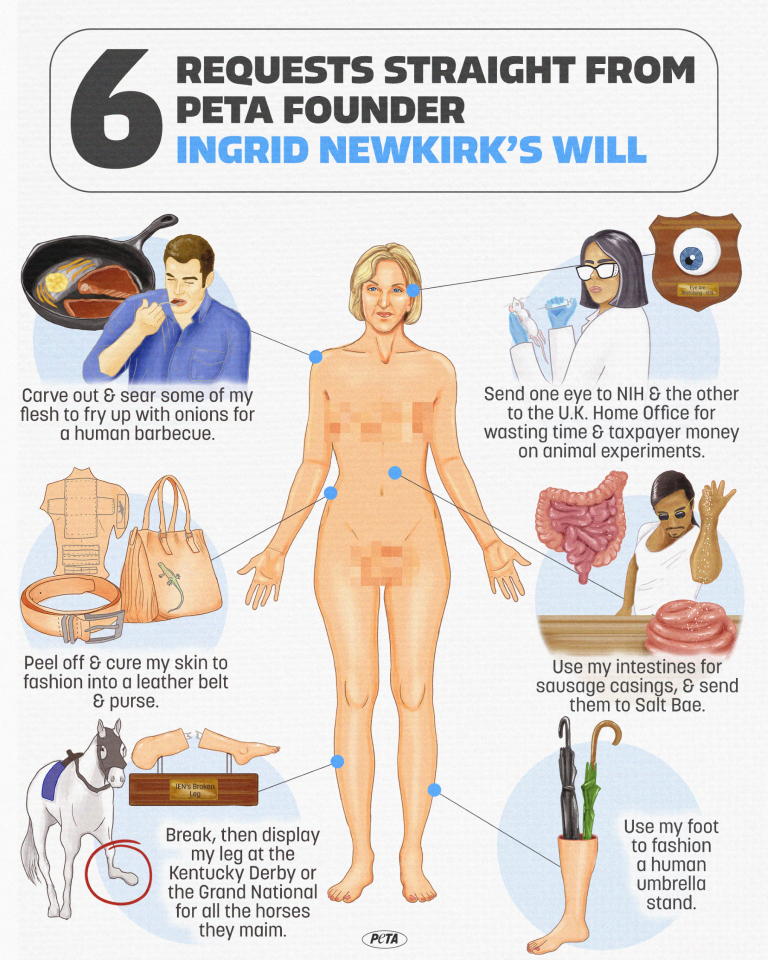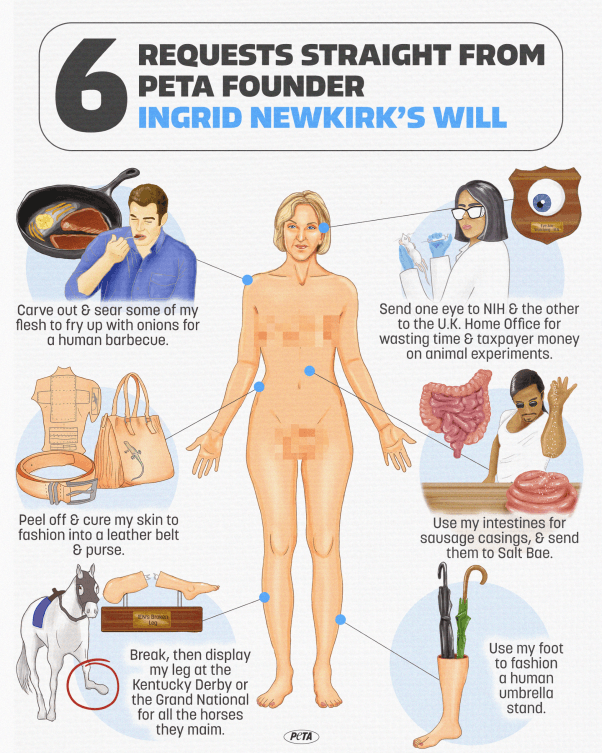 My Digits to the Circus
PETA has won so many victories in the last 20 years that my will needed an overhaul. Now, for example, instead of receiving an accusing finger for forcing elephants to perform, Ringling Bros. and Barnum & Bailey Circus will get a thumb – as a thumbs-up for ending all animal use, which came about after years of pressure from PETA.
My Flesh on a Barbecue
People will smell it cooking, stop by to have some, and then get the message that we are all flesh and blood. The thought of serving up human meat might be just the thing to jolt diners into kindness! My liver will go to the president of France to protest foie gras, made from force-feeding geese and ducks; my lungs to Alaska's governor in memory of the dogs who have died horribly during the Iditarod race; and more.
A Piece of My Heart to Elon Musk
Elon Musk – whose company Neuralink has killed at least 1,500 monkeys, pigs, rats, mice, and sheep – doesn't seem to have a heart, so I'm giving him part of mine. Monkeys used in Neuralink's painful experiments have had holes drilled into their skulls and chips implanted in their brains, causing seizures, acute bleeding, and death. If Musk wants to test a brain chip, he should volunteer to try it himself.
My Shattered Leg to the Kentucky Derby
Remember Eight Belles, who tried to stay upright as her leg dangled uselessly beside her? Twelve horses died in a span of 30 days at Churchill Downs this past spring, and 36 have died in the UK's Grand National Festival since 2010. One of my legs will be removed, smashed up, and sent to be displayed outside the Kentucky Derby or the Grand National.
My Neck to the King
Pigeons have their own culture, they partner for life, and both parents dote on their youngsters. In pigeon racing, the necks of "losing" birds are often wrung – so a part of mine will go to King Charles or his successor if the palace hasn't closed the Royal Loft.
PETA has documented widespread abuse of these dear birds, including "royal" pigeons. During the 2020 South African Million Dollar Pigeon Race, all the palace pigeons involved in it died. Following PETA's exposé of pigeon racing in Taiwan, police there have raided racing clubs across the island; in June, police rescued 734 pigeons who had been loaded into crates for a deadly ocean race.
My Buttocks to Australia's Prime Minister
Dr. Paolo Zegna, president of the Italian luxury fashion house Ermenegildo Zegna Group, recently called for an end to mulesing, saying it "might have been a mistake, not to seriously and properly take action 15 to 20 years ago, when Australian wool was attacked by PETA." Indeed, this is why Australia's prime minister will receive a slice of my buttocks if the country hasn't banned this barbaric procedure, in which farmers cut chunks of flesh from lambs' backsides.
PETA entities have persuaded Abercrombie & Fitch, Timberland, H&M, Liz Claiborne, Hugo Boss, and others to shun wool from mulesed lambs. Of course, mulesing is just one of the atrocities sheep endure in the wool industry. Vegan fleece is the only kind choice.
My Skin to Hermès
I'll be dead when my skin is peeled off and turned into accessories, but the same isn't always true for animals abused by the fashion industry. Our investigators documented that crocodiles on farms owned by Hermès were mutilated and stabbed with a screwdriver. PETA Asia's investigation into Indonesian slaughterhouses that supply LVMH revealed that snakes were beaten with hammers and cut with razors while they were likely still conscious. The lizard tattoo on my arm will become a real – but cruelty-free – "lizard skin" purse.
A Bag to Die For?
PETA created a series of striking bus stop ads for our new "Dressed to Kill" campaign targeting Hermès, which – unlike Mulberry, Victoria Beckham, Chanel, Stella McCartney, Burberry, and many others – still uses exotic skins.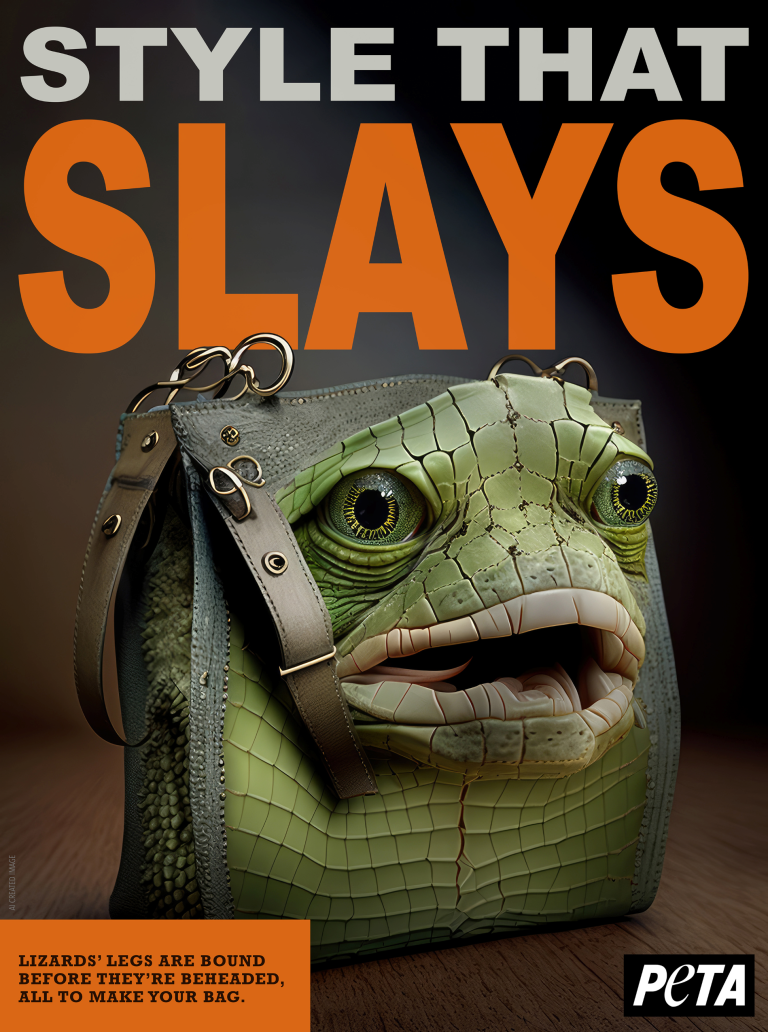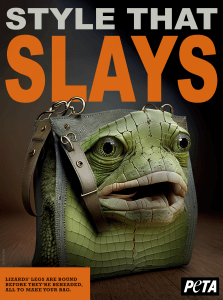 ---