Undercover Investigation Confirms There's

No

'Humane Meat'
---
Does anyone believe the claim "certified humane" on packs of poultry and other meats? They shouldn't. PETA's investigation into Plainville Farms – a certified "humane" turkey supplier that has farms across Pennsylvania and whose customers included Whole Foods at the time of the investigation – found cruelty galore. The PETA investigator filmed workers choking turkeys, wringing and breaking their necks, hitting them with an iron bar, and stomping on them. For "fun," employees used birds like balls in sickening games of "catch" and "bowling." They tied toms' snoods together and laughed as the terrified birds struggled. They even mimicked rape and other sex acts with female birds.
Now those workers are going to trial, but the turkey farms remain open, the public can't see what's going on inside them, and the "humane" labels are still on the packages of birds' body parts.
Because of PETA's irrefutable video evidence and pressure, authorities charged 12 workers with 141 counts of cruelty, the highest number of defendants and charges in any factory-farmed animal case in US history. Seven of the 12 former employees have already pleaded guilty and have been sentenced, including being barred from any employment that involves working with animals. The other cases are still ongoing.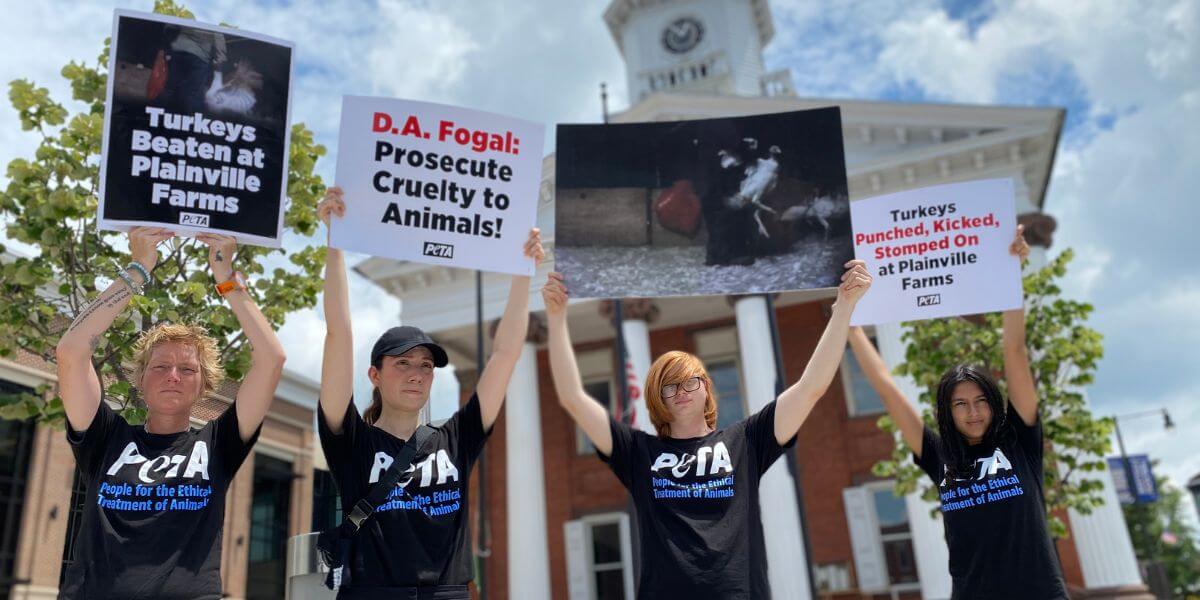 'Humane Meat' Is a Myth
Bear in mind that all we're about to describe occurred on factory farms from which meat was labeled "humane." When the turkeys were too injured to move, workers threw or kicked them. One position on the crew was even called "the kick" – it was that person's job to kick the animals who couldn't move forward. The investigator filmed birds convulsing and dying in agony on the shed floor.
Turkeys' legs and wings frequently got caught in the conveyor belt, and when it moved the opposite way, their limbs were broken. Workers slammed and stuffed the birds into transport crates, where they were confined for hours.
A supervisor and other workers berated PETA's investigator for gently picking up and calmly herding birds. That's not how things were done!
Birds Bravely Tried to Save Each Other
When workers frequently dragged turkeys away from their friends in order to abuse them, other birds would rush over and try to defend them, thereby making themselves targets – and their acts of selflessness and courage aren't surprising. In nature, turkeys fiercely defend their families against predators. They like to sleep in trees with their flocks for safety, and as the birds wake, they perform a "roll call" to make sure everyone is OK.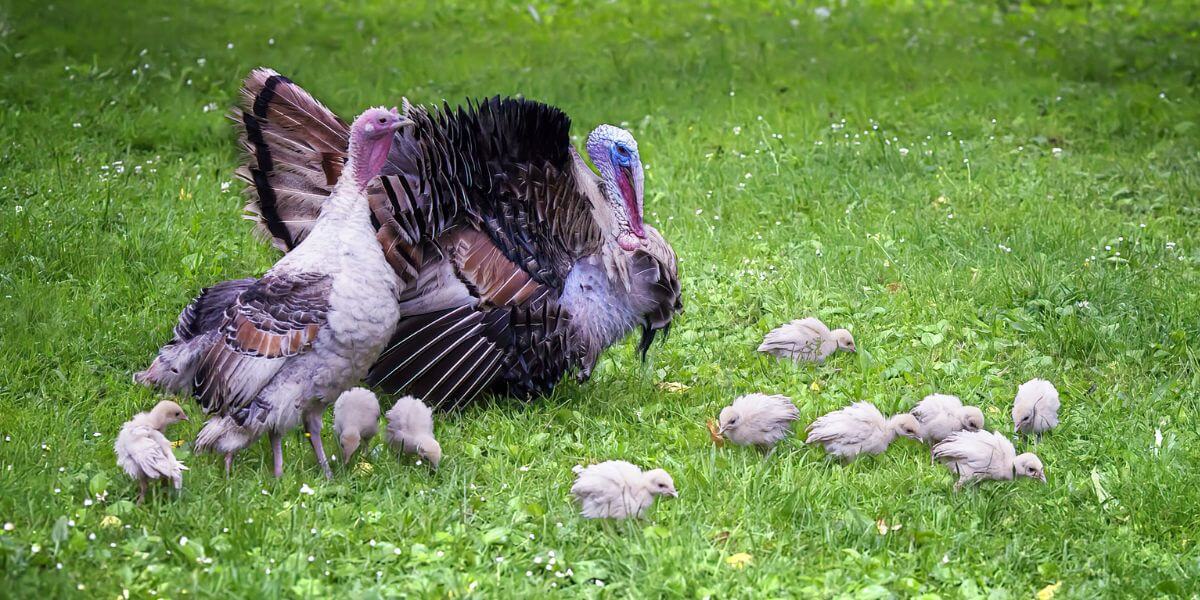 What Are Turkeys Thankful For? Vegan Eating!
PETA has submitted a complaint to the US Federal Trade Commission alleging that Plainville is engaging in false advertising by claiming that turkeys are "humanely" raised in a "stress-free environment." And the investigation footage, released in time for the holidays, has led many people to reject humane-washed flesh in favor of real humane meat: a tasty vegan roast or vegan turkey slices.  Check out our complete guide to creating a truly animal-friendly holiday feast.
Be Part of It!
At every "humane" farm that PETA has investigated, it's been the same story. Please don't buy "humane" meat – or any meat. Get a free vegan starter kit.
---