PETA's Global Compassion Fund Members Help Save Animals Trapped in Disaster Zones
Following the devastating earthquakes and aftershocks that rocked Turkey and Syria and killed tens of thousands of humans, rescuers from PETA, PETA Germany, and PETA UK rushed to some of the hardest-hit cities, racing to save survivors. With support from PETA's Global Compassion Fund (GCF) and the help of local animal protection organizations, they dug through rubble, scoured leveled neighborhoods, and dashed into buildings on the brink of collapse to pull animals to safety.
Amid Crumbling Buildings, Steadfast Resolve
Rescuers saved Talia, an orange tabby cat who was dragging her broken hip down a street, and Hope, a dog whose gray fur blended in with the debris she was buried in for days, suffering with a broken leg.
Rescuers also whisked 40 birds out of a pet store in the basement of a teetering structure in Kahramanmaraş in which all the other animals had been crushed.
Meanwhile, PETA rushed assistance to partner organizations in other cities, also thanks to GCF donations. Those vital funds provided clean water, medical supplies, leashes, carriers, blankets, and tons of food. We also sent hundreds of donated fur coats to the human victims left unhoused in the bitter cold – the only people with any excuse to wear them.
After receiving vital medical care, the animals rescued by PETA entities and their local allies were transferred to a partner sanctuary, shelters, and foster or adoptive homes. Some, like Behlul, have even been reunited with their grateful guardians.
As the War Goes On, So Does PETA Germany
All isn't fair in war, particularly for the animals caught in the crossfire. Since the first week of the war in Ukraine, a crew from PETA Germany and its partners have been dodging rocket attacks and land mines to save injured and abandoned animals.
One of the most unusual calls came from a desperate fish breeder who was fleeing Bakhmut. The rescuers didn't hesitate: All 1,000 fish are now safe. And after discussions with PETA Germany, the man had a change of heart, stopped breeding fish, and now works with GCF-supported Animal Rescue Kharkiv!
He Stopped Our Van and Led the Rescuers to His Paralyzed Friend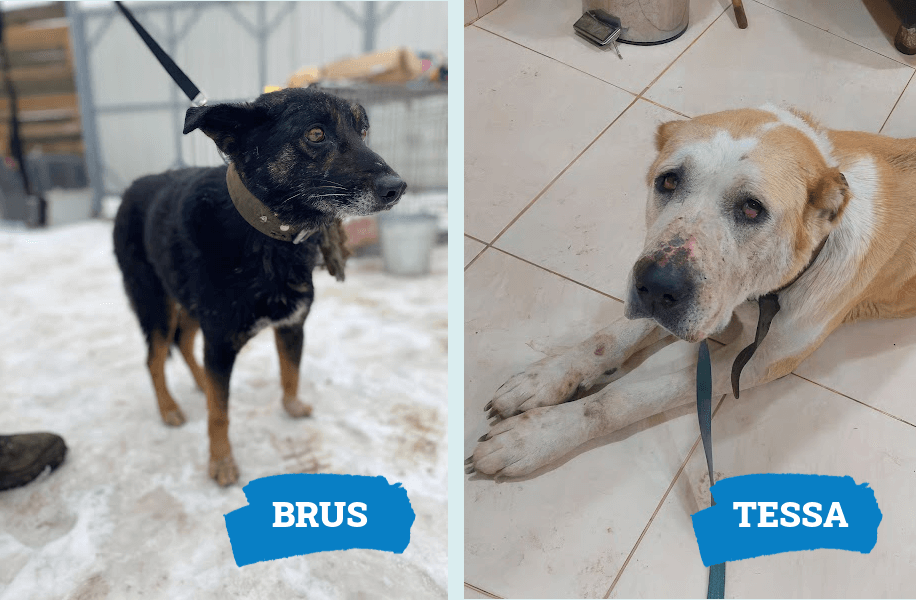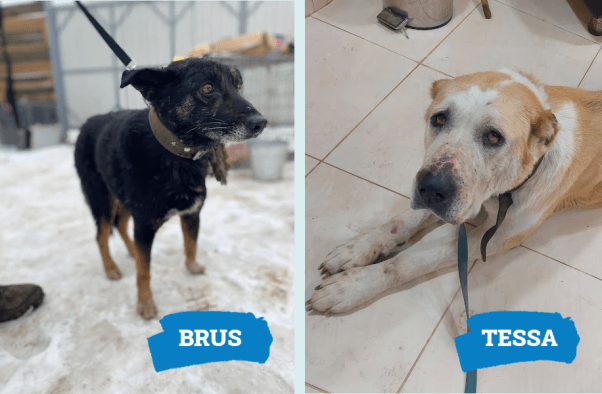 This is Brus, a dog who jumped in front of the rescuers' truck, stopped them, and led them to a bomb damaged house where his friend Tessa lay, unable to stand. GCF-supported Animal Rescue Kharkiv workers whisked them both to the vet. When the friends have recovered, they'll be put up for adoption – together forever.
Bombs, Shelling, Schrapnel
The rescuers know the risks. In Bakhmut, their van was pummeled. In Dnipro, they had barely crossed a bridge when it was bombed. But for the dogs, cats, donkeys, horses, chickens, and other animals still inside the country, these brave souls are a lifeline. They work through complicated regulations to ferry animals to partner shelters in other countries. And PETA Germany navigates challenging customs requirements to bring in supplies and food each month – more than 2,866,000 pounds (1,300,000 kilograms) so far. The rescuers intend to help for as long as they're needed.
Hurricanes, Floods, and More
Supporters of the GCF have helped aid animals in Texas following Hurricane Harvey, in Puerto Rico after Hurricane Maria, in the Philippines following the Taal Volcano eruption, in Beirut after a chemical explosion, and in many other locations following disasters. We hope you'll be an important part of this work.
Be Part of It!
Thank You! PETA is grateful for Mimi Bekhechi, Alex Cutshall, Judith Pein, and Teo Zglimbea, the rescuers featured here, and everyone else who has rushed in to help animals in areas devastated by disasters.
---