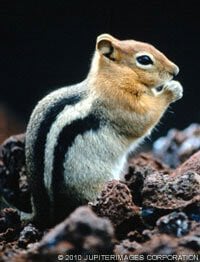 If you're lucky enough to have chipmunks in or near your yard, you probably know how charming they are. Found throughout North America—mostly in wooded areas where there are no cats—these diminutive relatives of squirrels are easy to identify. They weigh two to four ounces, have broad stripes down their backs, and are out and about during the day. They are delightful animals who seldom cause any problem.
Chipmunks are adept at carrying items in their expandable cheek pouches—for example, a chipmunk can carry three shelled, double peanuts at a time, one in each cheek and one in his or her front teeth.
They give birth in April or May and again in July or August. All in all, chipmunks are tremendously appealing animals, and most people love having them around.
Plant Bulbs
Occasionally, a squirrel or chipmunk who is scurrying around searching for nuts and berries could damage an ornamental plant, but this is rare. If necessary, you can protect flower bulbs by covering the dirt above them with a coarse-gauge wire screen that allows plants to grow through but prevents chipmunks and squirrels from damaging the bulbs.
Burrowing
Chipmunks often build their burrows near rocks, logs, or woodpiles. Sometimes they burrow under porches, sidewalks, or plantings, but they do not burrow extensively, so they rarely do any damage. If you do want to prevent burrowing, bury a heavy-duty, hardware cloth so that it extends down 10 inches and flares out 8 inches at the bottom.
Unexpected Visitors
If a chipmunk accidentally gets inside your home, don't panic. These friendly little animals will typically leave as soon as you clear an escape path for them, usually by opening a door or window. It helps to turn off any lights in the room and let the natural light from the opening lead the chipmunk to the safety of the outdoors.
Note: Never trap or relocate chipmunks. You won't affect the local population, and worse, releasing a chipmunk in a strange area will almost surely result in his or her death.