People were outraged when news broke that a dog had been mistreated on the set of A Dog's Purpose. No one wants to believe that animals are mistreated for films —but they are. So decide for yourself: Could you handle life as a dog "actor"?
If you're going to be a dog used in films, go ahead and get used to being hungry, often having to sleep in a kennel by yourself, getting hauled around from set to set, and being expected to do on cue exactly what your handlers command, exactly when the filmmakers want it. You'll probably be forced to do things that are uncomfortable and even dangerous, like the frightened dog who was forced into churning water on the set of A Dog's Purpose and was sucked under.
What about American Humane's "No animals were harmed" assurance? Yeah, I wouldn't count on that. That statement doesn't guarantee that animals weren't hurt or even killed on set. The organization is funded by the Screen Actors Guild, which means that it's paid by the industry that it monitors.
An American Humane representative was on set during the filming of Speed Racer when a trainer hit a chimpanzee. The representative didn't press for cruelty-to-animals charges. The group was monitoring production of The Hobbit: An Unexpected Journey when at least 27 animals reportedly died on set. After three horses died on the set of HBO's racing drama Luck, a former American Humane employee sued the organization, claiming that it willfully allowed horses to be abused, attempted to help cover it up, and fired her when she wanted to report the abuse. And the group doesn't monitor animals' training, their living conditions, or trainers' animal-related offenses or violations of the federal Animal Welfare Act.
If you're an animal "actor" used in a movie about a certain breed, like 101 Dalmatians or Beverly Hills Chihuahua, kids will beg their parents for a dog like you. And breeders and puppy mills will be more than happy to oblige, churning out litter after litter. Thousands of your family members will be bought, only to wind up abandoned in shelters a few months later when the novelty has worn off and the family no longer wants to care for them.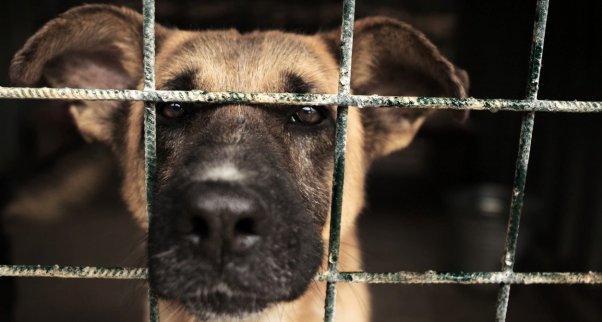 © iStock.com/yrjar78
If you aren't one of the "lucky" animal "actors" who get to go home with a trainer, you'll likely be shoved into a cage in a warehouse and stored like a prop until you're needed to make money again. You probably won't get much time to play outside and will likely be forced to eat, sleep, and relieve yourself in the same tiny cage. Get used to being lonely and never knowing when you may get any positive attention—or even a kind word.
You'll be fine, as long as you remember that your owner's business exists to make money. Your needs don't matter.