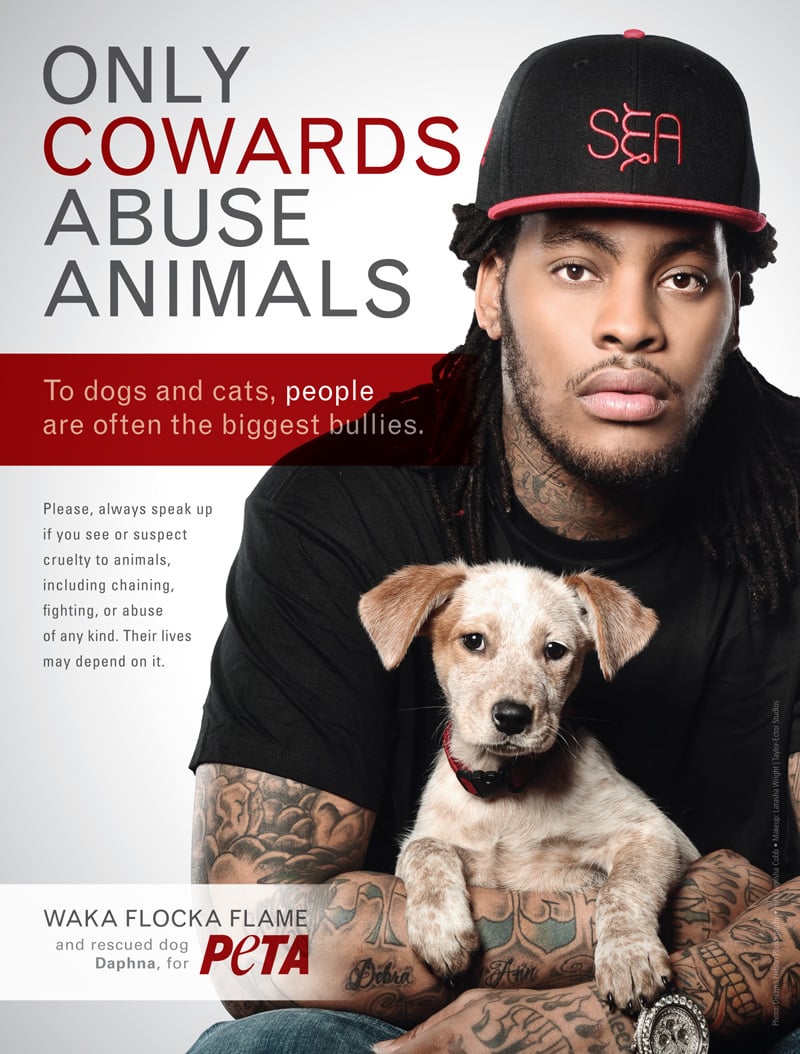 Atlanta-based Brick Squad hip-hop artist Waka Flocka Flame never stops when it comes to raising awareness about animal protection. In advance of his sophomore album Triple F Life: Friends, Fans & Family, Waka earns a "Round of Applause" from animals everywhere for his second PETA ad, which is aimed at stopping chaining, fighting, and other abuse of dogs. Waka's adorable co-star in the ad is Daphna, a rescued dog from the Atlanta Humane Society who is named after PETA's vice president of cruelty investigations.
Watch this exclusive behind-the-scenes video from Waka Flocka Flame's photo shoot:
Known for his bass-heavy tracks and rebellious rhymes, Waka never holds back—especially when it comes to speaking out against animal abuse. In a growing number of communities, chaining a dog carries hefty penalties. It is one of the cruelest things you can do to an animal who wants nothing more than to show you love and loyalty. Dogfighting, which reduces adoring animals to bloodied, mangled corpses, is a felony offense throughout the country. Waka warns cowards to "pick on somebody your own size" and encourages everyone to treat companion animals with kindness.
If you witness or suspect abuse toward an animal, take a tip from Waka and speak up! To ensure cases of cruelty are always heard by those who will take action, help PETA's Investigations & Rescue Fund.
See Waka's other PETA ads as well as photos of dogs who have already been helped by PETA. Your donation will enable PETA to follow Waka's advice and help more desperate dogs like these.