It's the 21st century—the best ice creams on the market are vegan and made without milking gentle cows until their bodies are destroyed. PETA has assessed the animal friendliness of ice cream chains across the U.S. The resulting letter grades run the gamut from "A" (for chains that offer lots of ice cream options made from vegan milk—including cashew, almond, and coconut) to "F" (for those that have no vegan options whatsoever).
This ranking is dynamic, and the information will change as we receive updates from chains or learn of new menu options.
Grade A
Amy's Ice Creams
This Texas-based shop's vegan flavors are always changing, but it offers numerous coconut milk–based options such as salted caramel, coffee, and chocolate as well as icy fruit flavors like lime, mango, and coconut.
Ben & Jerry's
Arguably the most famous ice cream maker on this side of the Atlantic, Ben & Jerry's offers 15 vegan flavors made from almond milk or sunflower seed butter, including Caramel Almond Brittle, Chocolate Chip Cookie Dough, Coconut Almond Fudge Chip, Cold Brew Coffee Fudge Chip, and the famous Cherry Garcia. Many locations offer almond milk for vegan shakes and vegan frosting for ice cream cakes, too! If ice cream isn't your thing, the chain also offers fruit sorbet in flavors such as blueberry, raspberry, and lemonade.
Sub Zero Nitrogen Ice Cream
Freezing its ice cream with only nitrogen isn't the only thing about Sub Zero that caught PETA's eye. The Utah-based chain offers tons of soymilk-derived ice cream flavors, including amaretto, lime, mango, peach, peanut butter, coffee, lemon, raspberry, and more.
Grade B
Baskin-Robbins
Fans of Baskin-Robbins are now able to grab a cake cone or cup of the brand's vegan flavors—Chocolate Extreme and nondairy Chocolate Chip Cookie Dough, which both boast a creamy base of coconut oil and almond butter. On World Vegan Day, the company launched a new delicious flavor in its scoop stores nationwide, Non-Dairy and Vegan Coffee Caramel Chunk. Baskin-Robbins also has a variety of sorbet options, including the delicious Daiquiri Ice and the classic Raspberry Sorbet.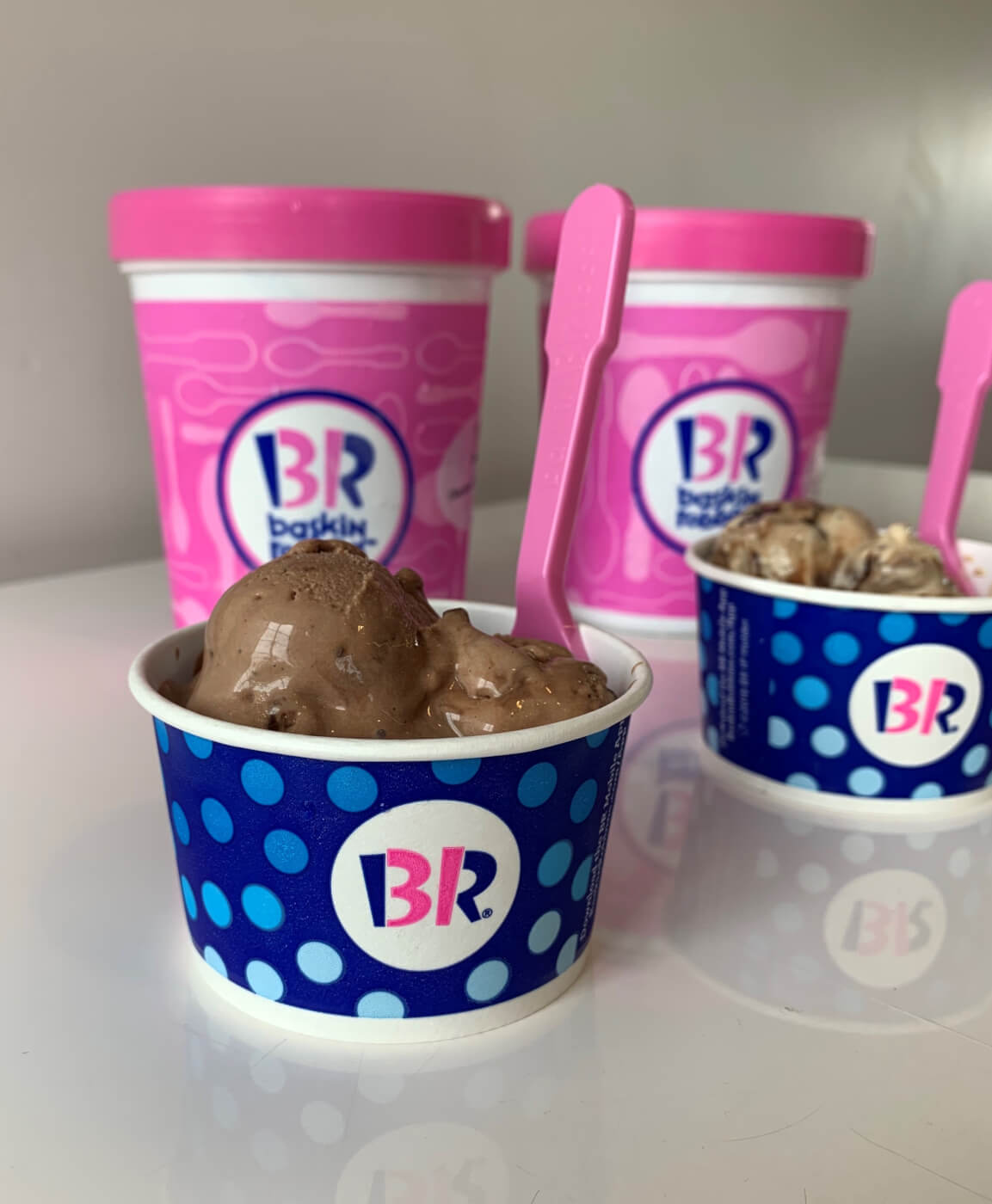 CREAM
CREAM carries vegan cookies so that customers can create their own ice cream sandwiches. You can choose from three vegan ice creams made from soy milk—blueberry, mint chocolate chip, or strawberry.
Creamistry
The flavors at Creamistry are always changing, but rest assured that you'll love the chain's cashew milk and coconut milk vegan ice creams. Some vegan flavors that the franchise has featured before include cheesecake, banana, strawberry, and chocolate.
Dairy Queen
Craving a frozen vegan treat? Head to Dairy Queen for the Non-Dairy Dilly Bar, which is made with coconut cream and dipped in a crisp chocolate shell.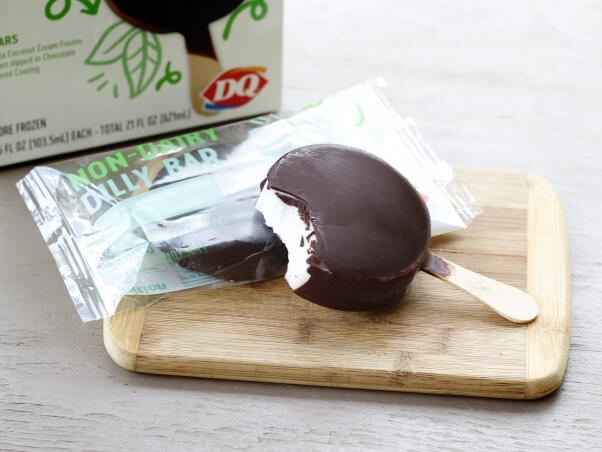 Jeni's Splendid Ice Creams
Jeni's offers up to four different vegan flavors made from coconut milk, including Roasted Peanut Butter & Strawberry Jam, Frosé Sorbet, and Cold Brew with Coconut Cream.
Sloan's Ice Cream
Sloan's Ice Cream offers a relatively new vegan coconut chocolate ice cream flavor.
https://www.facebook.com/sloansicecream/posts/2370511119626435
Stewart's Shops
At long last, Steward's Shops has launched its first vegan ice cream flavor, a coconut milk–based chocolate peanut butter cup flavor. This creamy, salty delight is now available in pre-packaged pints.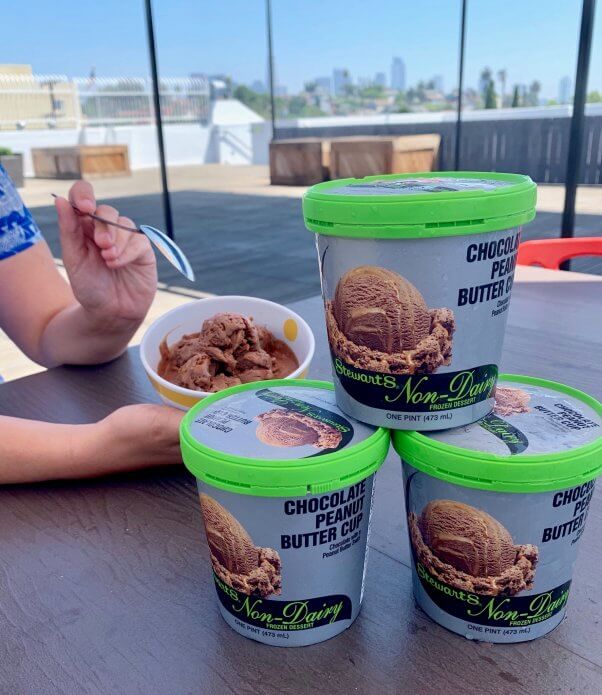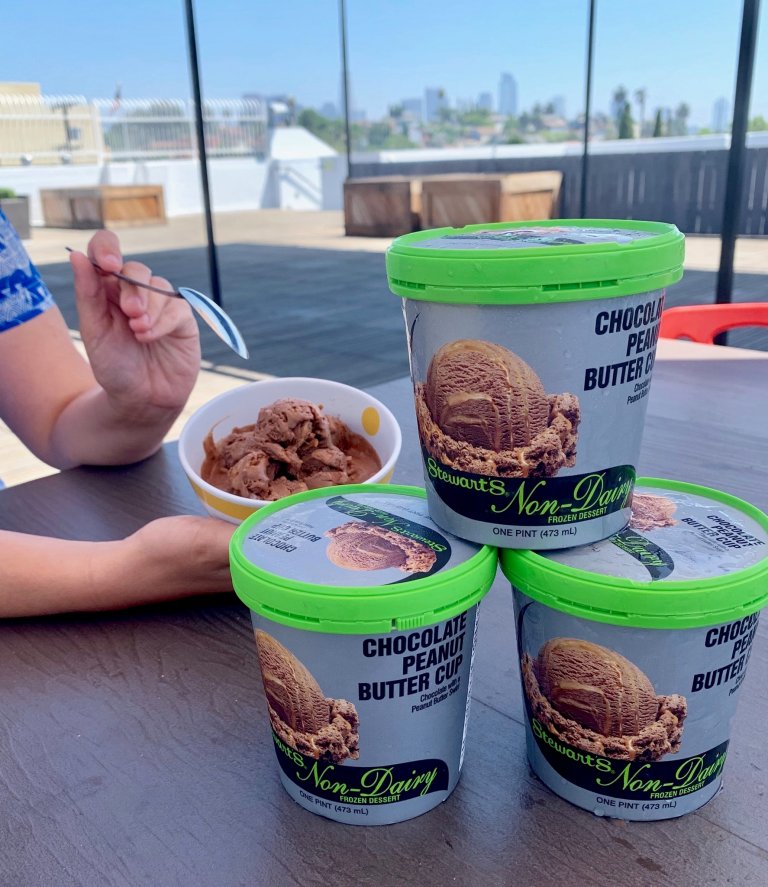 Grade C
Bruster's Real Ice Cream
Bruster's offers eight vegan-friendly ice cream flavors made with a coconut milk base: Banana, Chocolate, Chocolate Chip, Cookies n Cream, Mint Chocolate Chip, Strawberry, Strawberry Banana, and Vanilla. Availability varies by location, so check in with your location to find out which flavors are available, since most usually only carry one or two vegan flavors at a time, and some don't offer any of them. Bruster's could move up to a B grade if it expanded vegan flavor options to all locations.
Häagen-Dazs
Häagen-Dazs has a select number of vegan flavors available at its scoop shop locations. Be on the lookout for Chocolate Salted Fudge Truffle, Mango Sorbet, Raspberry Sorbet, and Strawberry Sorbet in its chain stores. The company also offers numerous other vegan flavors in grocery stores—and even at Target—such as Crunchy Peanut Butter, Mocha Chocolate Cookie, and more. To bring its grade up to a B, Häagen-Dazs should expand its vegan flavor selection at its scoop shops.
Grade D
Carvel
Carvel doesn't offer vegan ice cream, and only some stores choose to carry nondairy sorbet.
Cold Stone Creamery
This ice cream shop carries a handful of sorbet options but no vegan ice cream flavors.
Gifford's Famous Ice Cream
Gifford's carries a few sorbet flavors but no vegan ice cream options.
KaleidoScoops
This chain offers only two vegan sorbet flavors and has no vegan ice cream selections.
Kilwins
Kilwins carries only raspberry- and lemon-flavored vegan sorbet options and has no vegan ice cream options.
Grade in Detention
Salt & Straw
Salt & Straw may offer unique vegan flavors like Rachel's Raspberry Ginger Beer, but it also has sold foie gras ice cream and has used pig's blood in previous flavors. PETA hopes Salt & Straw will no longer sell these disgusting, cruelly obtained ice cream options.
*****
Would you rather eat your vegan dessert from the comfort of your own couch? Look for these vegan ice cream brands and flavors on your next grocery run.