Each year, more fish are killed for food than all other animals combined. These intelligent animals have complex social lives and communicate with each other in ways that are strikingly familiar—with squeaks, squeals, and other sounds that can't be heard by humans without special instruments. The seafood industry is also destroying the environment by leaving our oceans littered with trash and abandoned equipment. That's why we're awarding six vegan restaurants across the country that are making a difference for fish by offering vegan seafood dishes. These eateries keep all animals off the menu, which means that they're helping to combat speciesism and stop climate change while serving up delicious dishes.
Here are this year's six picks for fabulous vegan fish dishes:
Fishless Sandwich at Earth Burger, San Antonio, Texas
Earth Burger's vegan take on the classic fried fish sandwich is this Fishless Sandwich, which features a crispy, breaded fishless fillet with lettuce, tomato, and vegan tartar sauce on a whole wheat bun. The fillet is seasoned with seaweed flakes, which gives it a taste of the ocean without the cruelty.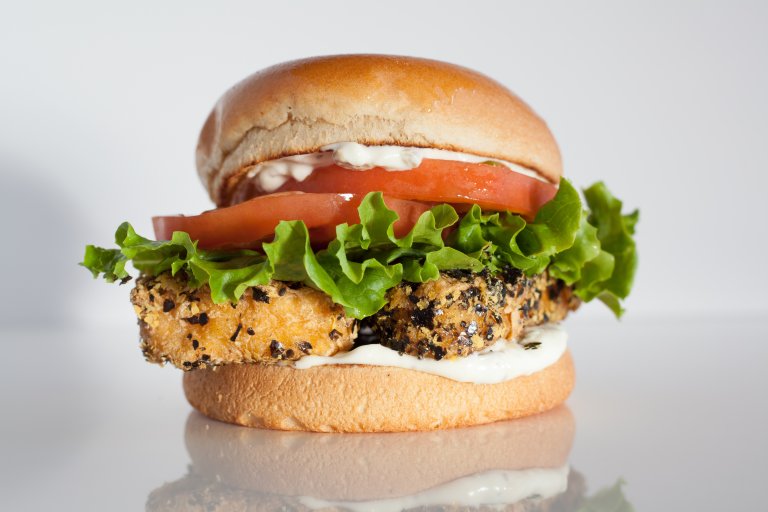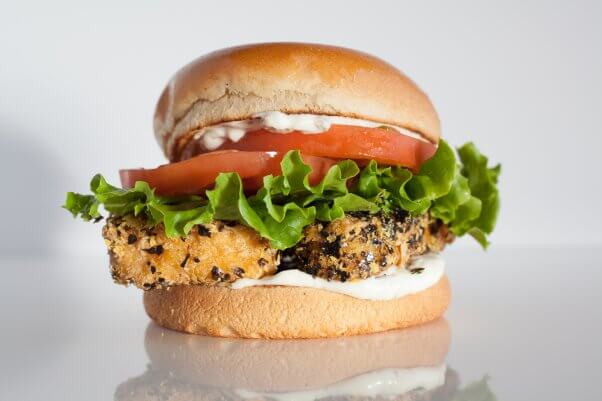 © Earth Burger
Bagel & Lox at ESSEN, Cincinnati, Ohio
ESSEN calls its food "crave-worthy," and we'd have to agree. The Bagel & Lox is a brunch staple that comes with marinated tomato lox, vegan cream cheese, capers, red onions, and dill on a locally made "everything" bagel.
Vegan Spicy Salmon at Old Abe & Co., Rochester, Minnesota
Old Abe & Co.'s fresh plant-based Spicy Salmon bowl comes with a Sriracha-spiked house salmon salad, soyaki-marinated carrot and red cabbage slaw, shelled edamame, sesame radish, crunchy chickpea puffs, and a ginger garlic gochujang aioli. It's served atop a bed of brown sushi rice.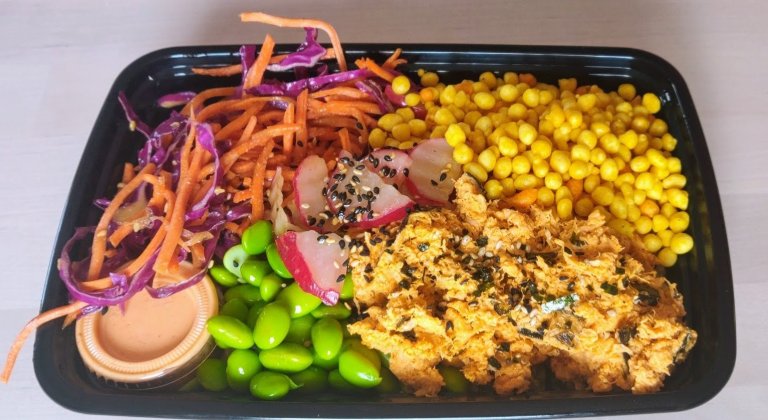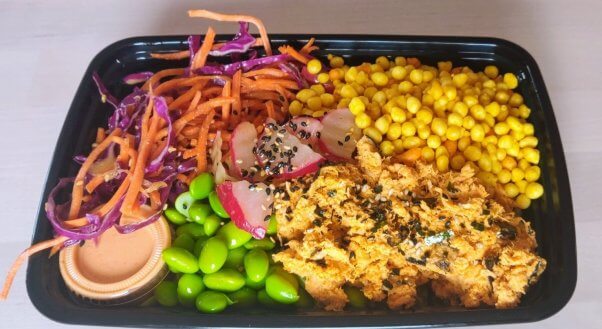 © Old Abe & Co.
Cheeze Factory serves the impressive Fisch Fry Sandwich, stacked with two battered and pan-fried fillets, lettuce, tomato, red onions, pickles, and a side of house tartar sauce on a grilled ciabatta bun. It comes with your choice of a side salad or corn chips and salsa.
Vegan Tuna Salad at Kindred, New Orleans, Louisiana
We're recognizing this vegan comfort food spot for its flavorful plant-based Tuna Salad, which is made with smashed chickpeas and served on a bed of spinach with tomato, cucumbers, red onion, avocado, croutons, and a drizzle of spicy mayo. Try Kindred's other fish-free favorites, including the Shrimp Poboy and Tuna Sandwich while you're at it.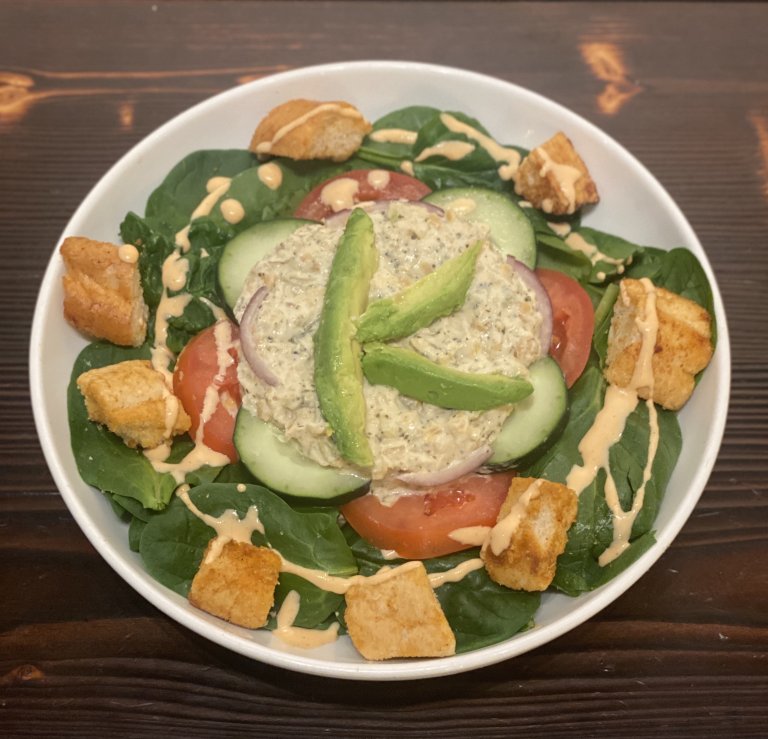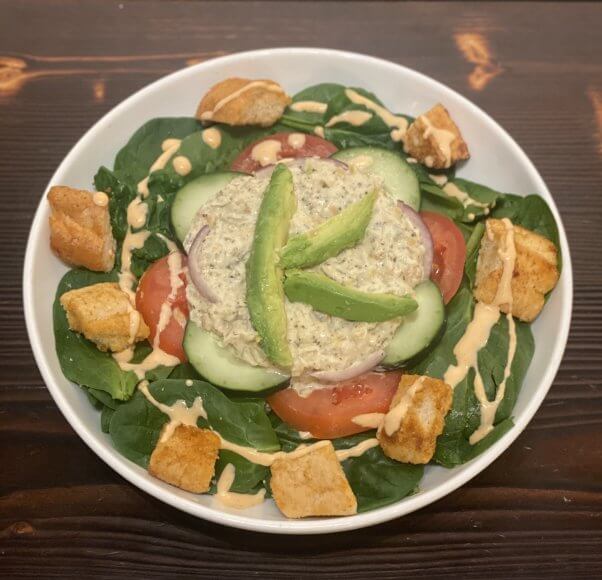 © Kindred
Phish & Chips at Earth Aloha Eats in Lahaina, Hawaii
You can't go wrong when choosing any of Earth Aloha Eats' healthy and delicious fare, but we can't get enough of the Phish & Chips. The dish features crispy golden vegan fish served over French fries with mixed greens, sprouts, rainbow coleslaw, tartar sauce, and lemon wedges.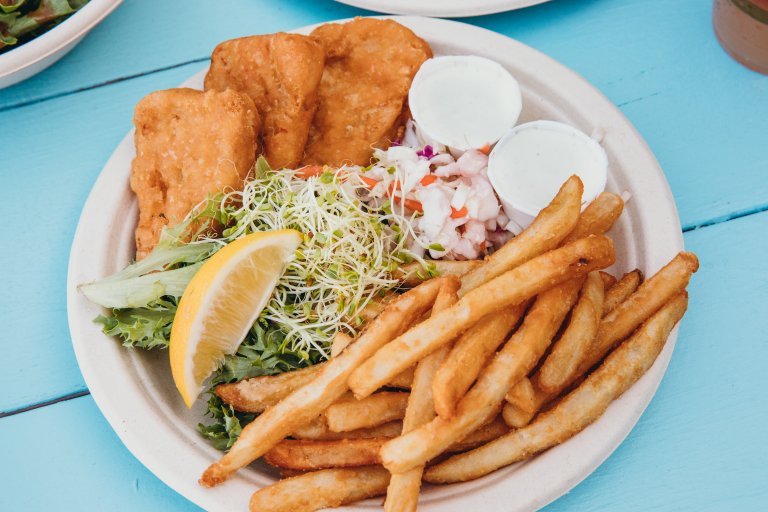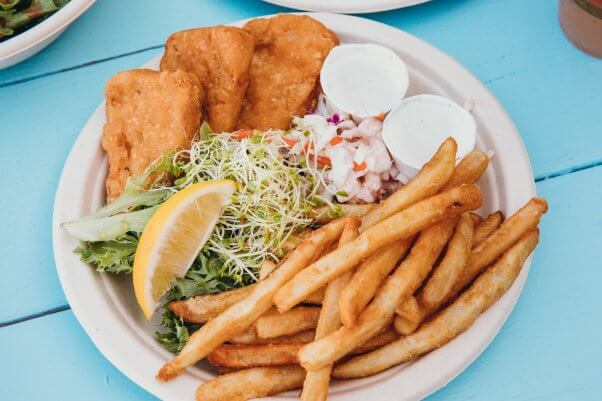 © Earth Aloha Eats
---
Currently, these restaurants are open and serving the dishes listed here. However, businesses are continuing to feel the effects of the COVID-19 pandemic. Please contact each establishment for updated hours and other details.
If you can't travel to one of these restaurants, don't worry—you can find great vegan seafood at grocery stores nationwide or through online retailers. Check out Gardein's Golden Fishless Filets, Vegan Zeastar's No Tuna Sashimi, or Sophie's Kitchen Plant-Based Shrimp.
Fish and other sea animals used for food feel pain, fear, and joy. Billions of fish and shellfish are killed each year in the U.S. alone, and no matter how they're caught, fish suffer by being crushed, impaled, suffocated, starved, or cut open and gutted while they're still conscious. You can help stop this cruelty by always choosing vegan seafood options and going vegan:
Order a Free Vegan Starter Kit