UPDATE (January 23, 2015): Victory! Following a PETA campaign to expose and end cruel and archaic sound-localization experiments on cats at the University of Wisconsin–Madison, the embattled laboratory has closed its doors for good and released several cats. See PETA's blog post for more details. 
***
Double Trouble was a gentle tabby cat who deserved to be in the home of someone who loved and protected her. She could have been your cat. Instead, she was locked in a lab, tortured, and killed by the University of Wisconsin–Madison (UW) in a cruel taxpayer-funded experiment.
When PETA learned that UW experimenters photographed their abuse of Double Trouble, we demanded that the school release the photos. It's difficult to look at the photos without crying. So far, more than 200,000 compassionate and outraged people have written to the National Institutes of Health urging the agency to stop funding this cruel UW experiment.
Cats imprisoned in laboratories need your voice. If Double Trouble's story brought tears to your eyes, please take action to speak out against this atrocity. Tell the world that you do NOT support experiments on cats.
Take a photo like the one below of your cat with a sign that reads, "I Am NOT an Experiment."'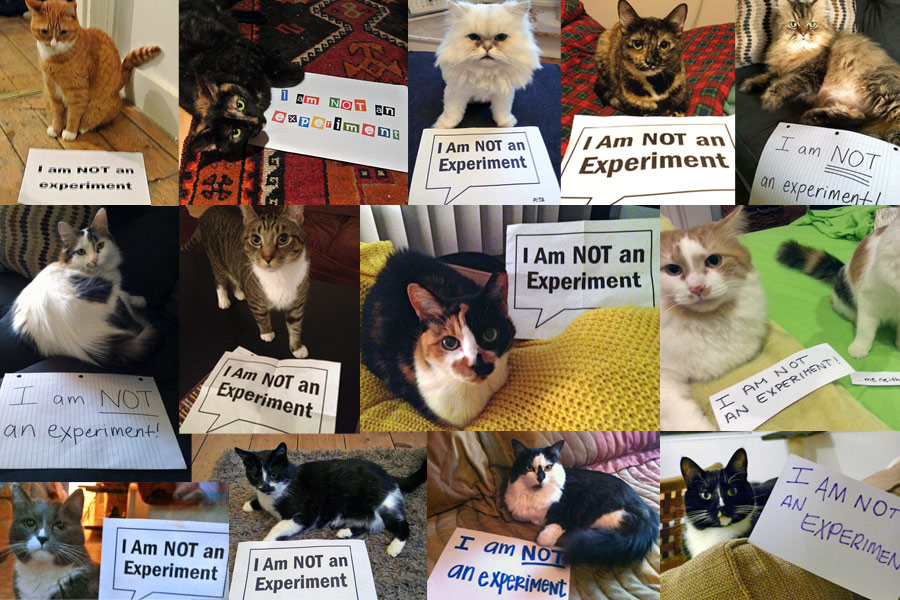 Step 1: Write out "I Am NOT an Experiment" on a piece of paper, or download and print out our sign.
Step 2: Snap a photo of your kitty (or kitties!) next to the sign.