When Sen. Rand Paul mocked an animal experimenter for "spraying alcoholic rats with bobcat piss" (you can't make this stuff up), it made us reflect on some of the really bizarre sh*t that we've encountered in laboratories over the years. We've compiled a list, and we think you'll agree that these animal experimenters' minds are better suited to thinking up sickening plots for the Saw series than they are to collecting government money to carry out their perverse ideas on animals. Here are the five most sick and twisted animal experiments that PETA has exposed and stopped, dating all the way back to 1985.
In 2020, PETA exposed experiments at the Oregon National Primate Research Center, where experimenter Elinor Sullivan has received millions of taxpayer dollars to torment monkeys. Her experiments involved impregnating Japanese macaques, feeding some of the expecting mothers a high-fat diet, separating the babies from their mothers, and deliberately frightening the infants. Most of the young monkeys were killed at 13 months old. We previously obtained video footage of an experiment conducted by Sullivan and her colleague Kevin Grove, who used $750,000 in taxpayer money year after year to make adult monkeys fat and terrorize baby monkeys with Mr. Potato Head dolls.
These experiments continued under the guise of behavioral research—that is, until PETA filed a lawsuit against the university. In April 2020, a court ruled that the laboratory had to turn over videos of the sickening studies, which we released to the public—and that, folks, is how you get closer to ending fright tests.
In 2017, PETA challenged experiments at Northeastern University in Boston, which for decades ran a tax-funded rodent fight club in which researchers pitted hamsters against each other in violent bouts, supposedly emulating inner-city street gangs. Experimenters injected cocaine or steroids into the animals' brains and then observed and scored them, allowing "winners" to advance to the next round. This madness continued for 20 years, courtesy of $3 million in National Institutes of Health (NIH) dollars (i.e., taxpayer money), until PETA launched a campaign, which finally defunded the lab.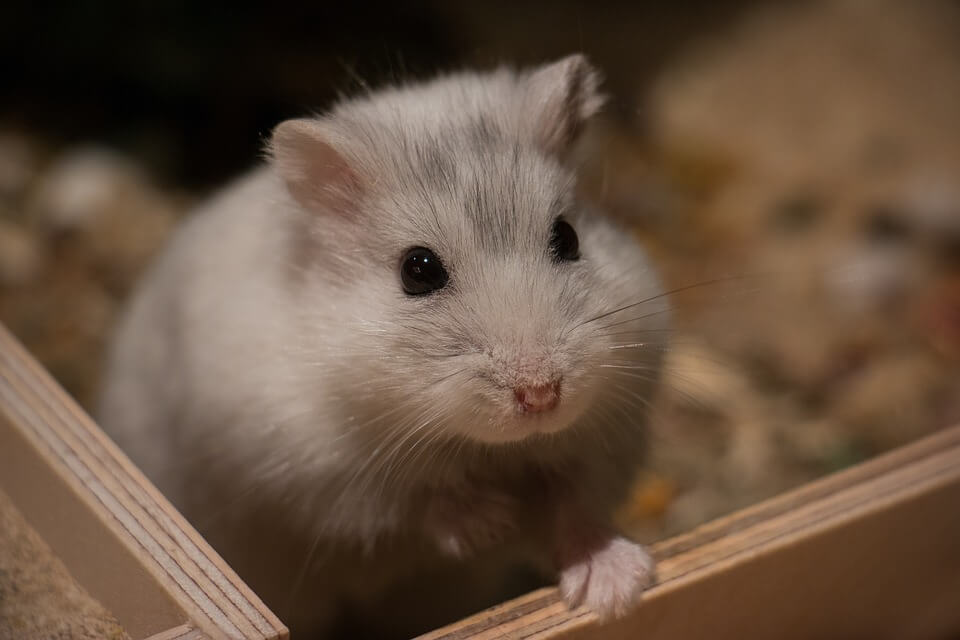 In 2013, we halted tests on the sex drives of brain-damaged hamsters being conducted at the University of California–Berkeley. These experiments involved sexually stimulating female hamsters with brushes after cutting holes into their skulls, cutting the skin off the penises of live mice and then injecting them with chemicals, burning the brains of female mice and then measuring how interested they were in sniffing the urine of males, and removing rats' ovaries before injecting the animals with antidepressants. After PETA fought these tax-sponsored sex crimes, NIH ended the funding.
The Results Are In: Experimenters Prove They Should Be Wearing the Straitjackets
In 1996, PETA halted a joint American, French, and Russian program in which experimenters put electrodes into monkeys in straitjackets and launched them into space for as long as three years! We let the public know about it through a raucous protest at the National Air and Space Museum. Soon after that, protesters led by none other than PETA Senior Vice President Tracy Reiman occupied the NASA chief's office. To get in, they dressed up and pretended to be there for a meeting. Then they used bike locks to chain each other together and a helper threw the keys into a toilet—oops. A NASA staffer figured it out and had to stick his hand into the toilet to get them. The protesters were unlocked and dragged outside, right in front of the media. The ensuing worldwide outrage caused this disgrace in space to be blasted into oblivion.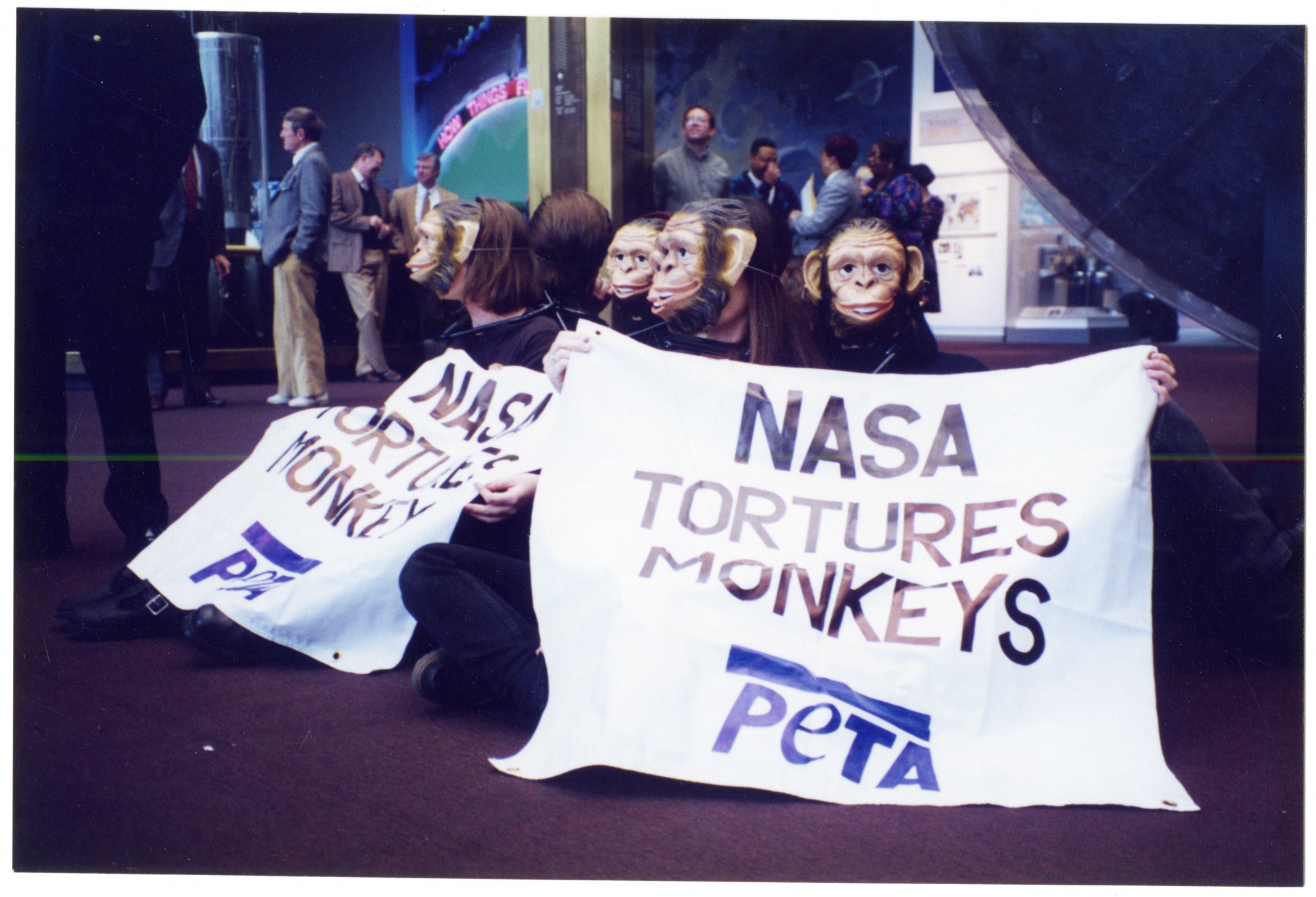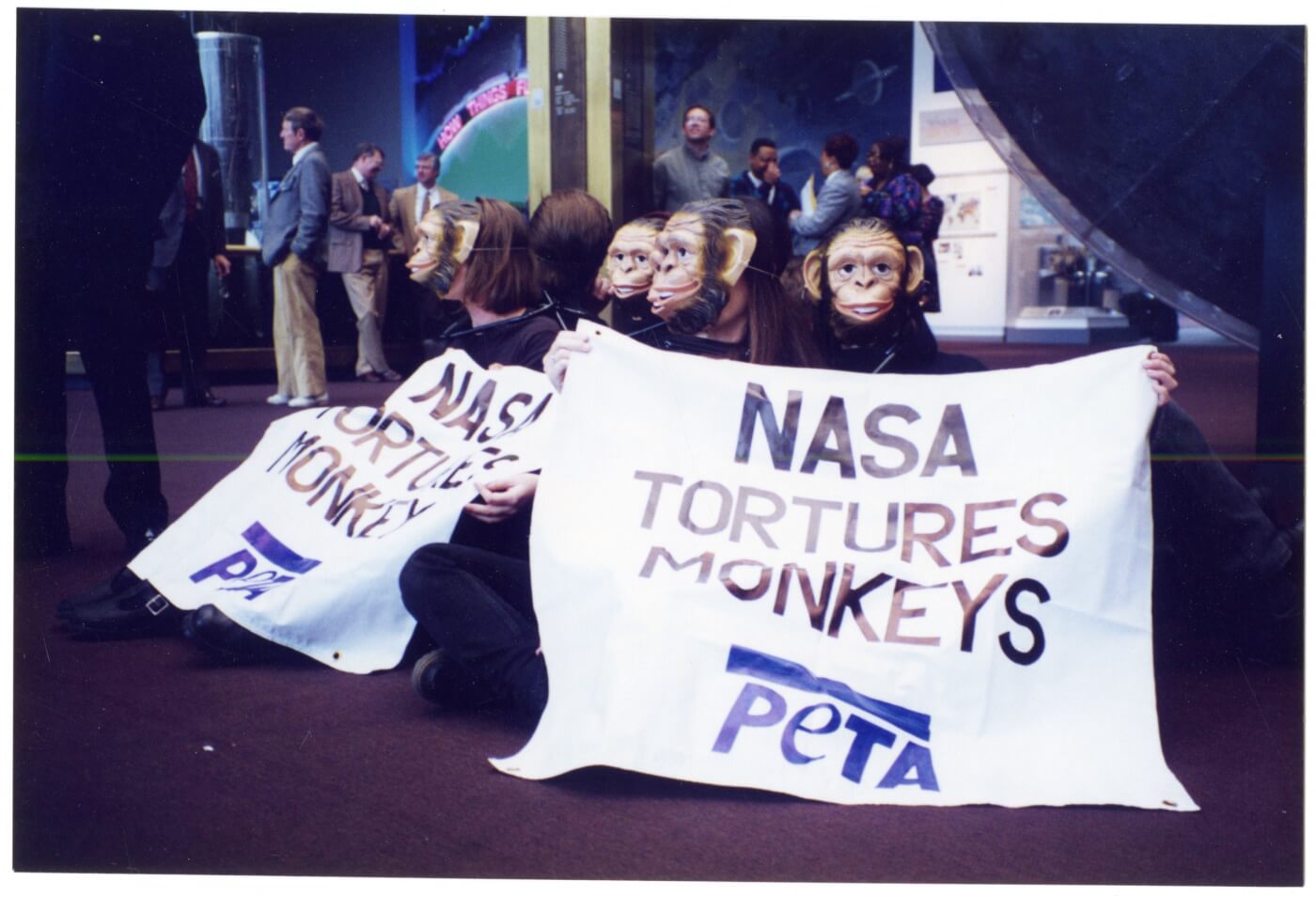 Lastly, all the way back in 1985, PETA halted experiments at the University of California–Riverside, in which dozens of infant monkeys' eyes were sewn shut for "blindness studies." The researchers said that studying and actually helping blind human infants was too inconvenient. One of the baby monkeys rescued from the lab was named Britches, and his case became an early PETA rallying cry against animal experiments. Thanks to our work, Britches' stitches were removed, he got the care he needed, and he made a peaceful recovery.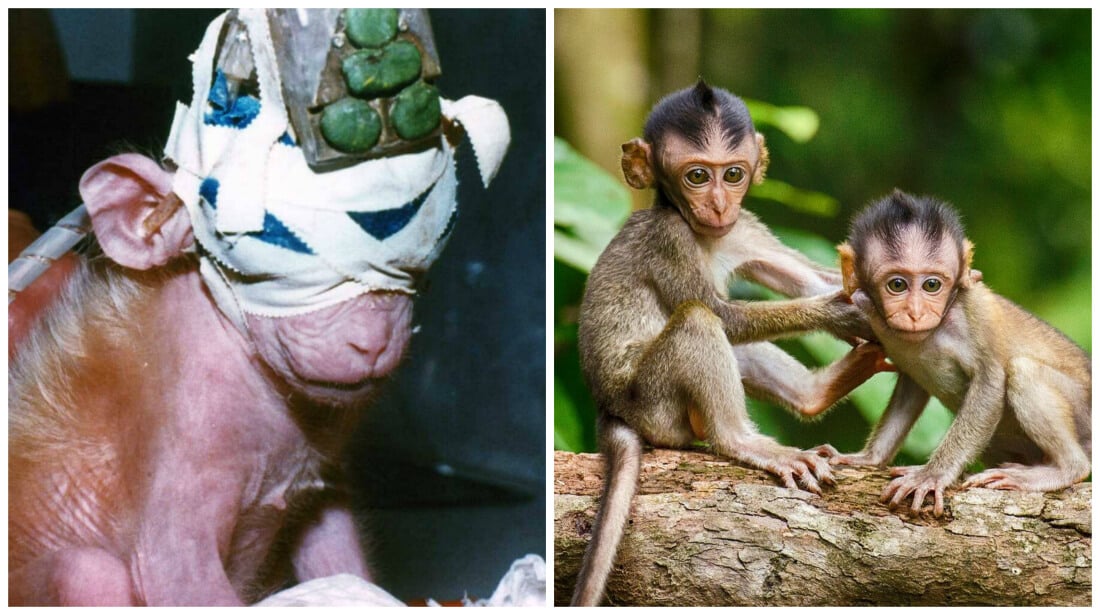 Ready to read about more horrible experiments? PETA's interactive timeline, "Without Consent," features almost 200 stories of animals used in twisted experiments from the past century. Visit "Without Consent" to learn about more harrowing animal experiments throughout history and how you can help create a better future for living, feeling beings.
*****
Experiments on animals are speciesist, cruel, and a colossal waste of tax dollars carried out by people who may have some serious psychological issues—as PETA has pointed out. These experiments rarely even lead to information that's relevant to humans, let alone lead to cures or treatments. Animals are sensitive beings who feel pain, fear, joy, and love, and they want to live free in nature—not be confined to a cage in a laboratory where experimenters poison, mutilate, burn, electroshock, starve, force-feed, sexually assault, or infect them. While PETA has managed to end the twisted animal experiments on this list, many are still being performed to this day. We won't stop taking action until every laboratory cage is empty!