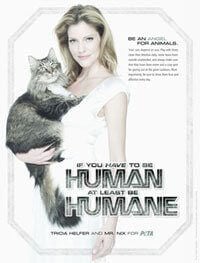 She may play a beautiful but ruthless machine on TV's hottest show, Battlestar Galactica, but in real life, Tricia Helfer (a.k.a. Six to her legions of fans) has a heart of gold and a soft spot for animals, particularly cats. That's why she's starring in PETA's newest "Be an Angel for Animals" Ad in behalf of our feline friends.
Tricia and the very handsome Mr. Nix appear beside the tagline "If you have to be human, at least be humane," in an homage to the infamous Cylon character that has helped make Tricia a household name.
An animal lover, Tricia took part in this campaign because she wanted to help spread the word. "I really just thought that this campaign 'Angels for Animals' is something that I feel is a good message to get out there, that they are part of the family and you should treat them as part of the family." So say we all!
Mr. Nix and the other felines that share Tricia's home are definitely treated like family, but not all cats are that fortunate. Every day, countless cats suffer cruelty and neglect at the hands of the people they trust to take care of them. Many are allowed to roam outside unattended, where they fall prey to other animals, get hit by cars, or become the victims of cruelty inflicted on them by evil people who get their kicks torturing animals.
Be your cat's angel! Clean cats' litterboxes daily, give them plenty of clean water, have them spayed or neutered, make sure they have a cozy window seat for gazing outside, never allow them outside without supervision, play with them, and give them lots of love and affection every day.
Tricia told us that all animal issues are important to her, especially animal testing, fur, ending the cruel seal slaughter in her homeland of Canada, and caring for one's companion animals. Find out what Tricia does to keep her cats happy and what she says about season four of Battlestar Galactica in this behind-the-scenes footage from our photo shoot.