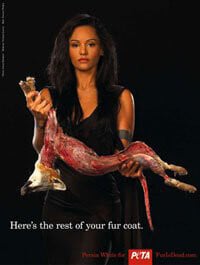 In a stunning bid to show consumers that behind every fur coat, collar, or cuff was a living animal who was trapped, drowned, or beaten to death in the wild or gassed, strangled, or electrocuted on a fur farm, actor Persia White holds the bloody body of a skinned fox in a graphic new ad for PETA titled, "Here's the Rest of Your Fur Coat."
Says Persia, "This image is shocking, but it brings home the harsh reality that is kept out of deceptive fur ads and fashion spreads: Before animals are skinned and made into fur coats or trim, they suffer incredible—and needless—cruelty."
This fall, the ad will appear on posters all over New York City, Los Angeles, and Chicago.
Persia has been an ethical vegetarian for more than 10 years. She joins the ranks of Pamela Anderson, Kim Basinger, and Pink as the newest star to appear in the high-profile series of anti-fur advertisements for PETA.
On the Los Angeles set of our photo shoot, PETA sat down with Persia and asked her a few questions about animals—why she doesn't wear them or eat them.
PETA: This is such a graphic ad, and you're holding a dead animal. Why do you feel so strongly about this [campaign] that you'd hold a skinned fox to show people the reality behind fur?
Persia White: It's funny because I feel a little sick and shaky because of holding this animal. And I think the thing that made me become a vegetarian and become involved with animal activism in the first place is when I was a little kid, I saw my dog get run over, and a part of his fur got lifted up, and you could see the flesh of his leg, and it looked very similar to the animal that I am holding. I loved my pet, my animal. And … I realized it looked just like what I had had for dinner probably about two hours before that …, and the reality of the fact that all animals are the same and that it's just a brutal truth that we sort of cover up. Most people never see real animals dying nowadays, in modern society. People … wear and eat [animals] and contribute to such violence … every day … and the fact is, I think they should be shown. I mean it is violent. It is graphic. I mean, there's no problem looking at some freshly picked vegetables. You wouldn't get sick, you know? Anything that has to be hidden and covered up …, I think there's something really dark going on there that should be exposed.
PETA: What do you have to say to people who wear fur?
PW: Well, I would say that anybody who wears fur isn't really thinking about what they're doing. Or they should just really take a look at the … consequences of their actions because most people aren't really thinking about what is happening to reach that point for a little piece of fabric or garment that somebody, or really several animals, really suffered.
PETA: You're on a top-rated TV show and have millions of fans … who follow [what you do]. … What would you say to your fans when they see this ad and ask, "Hey, Persia, why'd you do that?"
PW: I think that the best thing that anybody can do in entertainment is to use the fact that people actually care about our lives and our choices to put it in a positive direction … I'm trying to make a statement or just show a facet of what's really happening—to show something that's really occurring, and you get to make your own choice. But you know, as an entertainer, my whole goal is that I hope fans can be influenced … and take a look at what I'm thinking about or jump on a boat of a good cause. That would make me ecstatic, you know? That's probably why I do it because I know that you can have an influence on people that you don't know.
PETA: Who are your heroes or your mentors?
PW: Each person that decides not to eat meat or not to wear fur or takes that step, just humble, regular people are, I think, my heroes because I think it's hard in this modern world. … Just regular, common people that make that choice when they're buying something to go, "Oh, you know, that's not …," … or, "Well, you know, I'm not going to eat that because that's …" … I know a lot of people come up to me and go, "I'm trying to be vegetarian," or, "I'm trying it." … So I think those people that are willing to confront are my heroes.
Production team and facilities provided by the volunteers at Content Creators and (it) Studios.