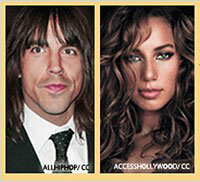 The votes have been counted, and the results are in. It's official—pop princess Leona Lewis and red hot chili pepper Anthony Kiedis are the sexiest vegetarian celebrities alive!
Kiedis recently went vegan after learning about the worldwide depletion of fish in the oceans and after a doctor recommended a healthy vegan diet for his son. "Soon after I [went vegan] I saw some documentary footage of what happens in the factory farming of cows …. It sealed the deal," says Kiedis, who documented his earlier hard-partying ways in his autobiography, Scar Tissue.
By contrast, Lewis—whose album Spirit made her the first British artist to top the U.S. Billboard chart with a debut album—has a squeaky clean history. And when it comes to the dirty business of animal abuse, she's a woman of action. "I am vegetarian so I don't have clothes, shoes or bags made from leather or suede or any animal products. I'm on a mission," she says.
Celebrities' reasons for keeping animals off their plates are as diverse and inspiring as their talents—from avoiding the inexcusable cruelty to animals on factory farms and in slaughterhouses to improving their own health and helping the environment by not contributing to factory-farm pollution.
Want to do your part to help animals and become as sexy as our winners? Pledge to Be Veg for 30 days to explore a vegetarian diet for one month, and we'll e-mail you our favorite recipes as well as tips on the best places to eat out, the tastiest animal-friendly snacks, and the most delicious prepackaged vegetarian meals.
Below is the complete list of vegetarian celebrities who were in the running.
Women

Abbie Cornish
Aimee Teegarden
Alexis Stewart
Alicia Silverstone
Alyssa Milano
Amber Tamblyn
Ana Ortiz
Angela Bassett
Anne Hathaway
Brigitte Bardot
Bryce Dallas Howard
Carolyn Murphy
Carré Otis
Carrie Underwood
Chelsea Clinton
Chely Wright
Chrissie Hynde
Christie Brinkley
Chynna Phillips
Daniela Sea
Daniele Gaither
Daphne Zuniga
Daryl Hannah
Diane Keaton
Diane Warren
Elizabeth Berkley
Elizabeth Reaser
Emily Deschanel
Emmy Rossum
Emmylou Harris
Erykah Badu
Fiona Apple
Gloria Steinem
Grace Slick
Hayden Panettiere
India.Arie
Jane Wiedlin
Jenna Jameson
Jennie Garth
Joan Jett
Jorja Fox
Joss Stone
Joy Bryant
Julie Christie
k.d. lang
Kaley Cuoco
Kelly Monaco
Kim Basinger
Kristen Bell
KT Tunstall
Lake Bell
Lauren Bush
Leona Lewis
Lindsay Wagner
Lisa Edelstein
Maggie Q
Marilu Henner
Mary Tyler Moore
Maureen Shea
Monica Potter
Naomi Watts
Natalie Imbruglia
Natalie Portman
Nellie McKay
Pamela Anderson
Perry Reeves
Persia White
Petra Nemcova
Princess Superstar
Rachael Leigh Cook
Radha Mitchell
Rosanna Arquette
Sadie Frost
Sami Lukis (MMM Brisbane)
Shalom Harlow
Shania Twain
Shanna Moakler
Shannon Elizabeth
Sheryl Lee
Sophie Monk
Stella McCartney
Summer Phoenix
Tatjana Patitz
Tatum O"Neal
Tea Leoni
Thora Birch
Traci Bingham
Vanessa A. Williams
Vanessa Ferlito
Wendie Malic

Men

A.J. Calloway
Alec Baldwin
André 3000
Anthony Kiedis
Anthony Peeler
Bob Barker
Bryan Adams
Carl Lewis
Casey Affleck
Chris Martin
Corey Feldman
Damian Marley
Damon Dash
Dan Abrams
Dave Meyers
Dennis Kucinich
Don Imus
Ed Begley Jr.
Edward Furlong
Eric Stoltz
Forest Whitaker
Fred Schneider
Geezer Butler
Grant Aleksander
Greg Cipes
GZA
Ian McKellen
James Cromwell
Jared Leto
Jason Schwartzman
Jerry Stackhouse
Jeru the Damaja
Joaquin Phoenix
John C. Reilly
John Feldmann
Jonathan Safran Foer
Justin Theroux
Keenen Ivory Wayans
Kevin Eubanks
Kevin Nealon
Kristoff St. John
KRS-One
Leonard Nimoy
Little Richard
M-1
Mac Danzig
Masta Killa
Michael Ausiello
Michael Bolton
Michael Franti
Michael Stipe
Mike White
Milo Ventimiglia
Moby
Morrissey
Mos Def
Nick Zinner
Noah Wyle
Orlando Jones
Paul McCartney
Peter Dinklage
Phil Collen
Prince
Prodigy
Q-Tip
Raja Bell
Richard Linklater
Rick Allen
Rick Rubin
Ricky Williams
Rikki Rockett
Rivers Cuomo (Weezer)
Rob Zombie
Ruben Studdard
Rupert Everett
Russell Brand
Russell Simmons
RZA
Salim Stoudamire
Sean Astin
Serj Tankian
Stephen Marley
Steve Jobs
Thom Yorke
Tobey Maguire
Todd Oldham
Tony La Russa
Will Estes
Woody Harrelson