The PETA Empathy Center
The PETA Empathy Center—located in the Echo Park neighborhood of Los Angeles and just down the road from the Bob Barker Building, PETA's West Coast headquarters—hosted a variety of events geared toward teaching the values of justice, respect, understanding, and compassion for all living beings, regardless of race, religion, ability, gender, or species.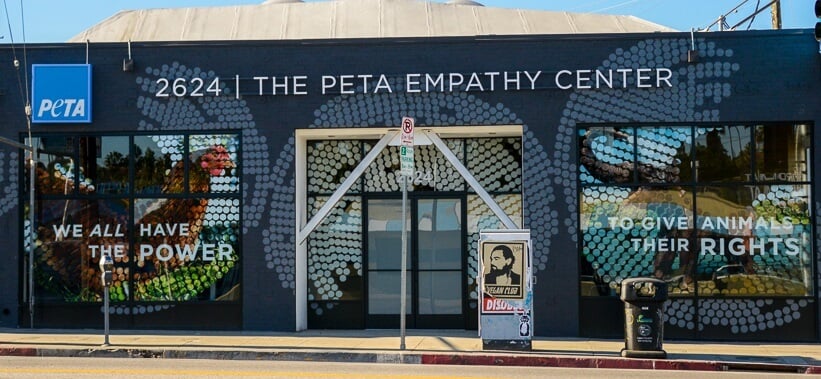 This building and the empathy it inspired were dedicated to a little rescued dog named Sammy: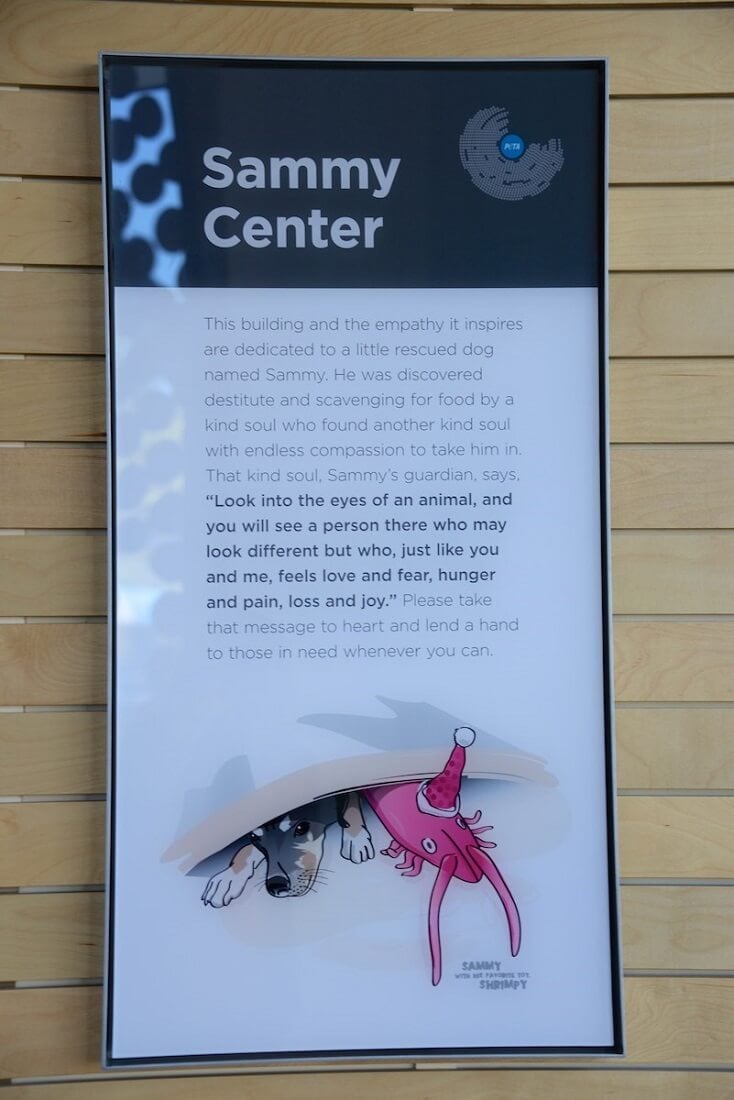 ---
Check out some photos of previous Empathy Center events below (if you're on mobile, swipe left and right when hovered over the photos!).
---
Maverick and Me Book Signing and Reading with Author, Katherine Schwarzenegger
PETAKids got quite a treat when Katherine Schwarzenegger joined us at the Empathy Center to read her new children's book Maverick and Me – the story of a pup in need and a little girl who saves the day! Kids stocked up on books and tees and were served free vegan pizza from Blaze Pizza for lunch.
---
Animal Rights Activist James Aspey a Hit at PETA's Empathy Center
PETA encourages everyone to speak out for animals – and that's just what James Aspey did at PETA's Empathy Center. Aspey, a world traveling activist, gave two speeches to over 300 guests who lined up early to hear him speak. Thank you James Aspey for sharing your journey and thank you to all those who came out and listened!
---
PETA's Fish Empathy Exhibit Urges Folks to Scale Back Cruelty in the Most Provocative Way
The PETA Empathy Center, awash in sounds and colors of the sea, hosted a Fish Empathy Exhibit designed to promote understanding, respect, and compassion for fish. The night included provocative live demonstrations, a video screening, tasty vegan fish tacos, and an up-close look at PETA's Fish Empathy Quilt—the world's first! Acclaimed biologist, animal behaviorist, and ethicist Jonathan Balcombe also took the stage to talk fish from his new book, What a Fish Knows: The Inner Lives of Our Underwater Cousins.
Here are some photos from that wonderful event!
---
Check out these photos from our "How to Make It in Vegan Fashion" event!
---
Check out photos from our Naked Ambition exhibit!
---
From our PETAflix & Chill movie series, here are photos from our 2017 screening of Sled Dogs!
---
PETA's 2017 Holiday Kind Market!