The PETA Empathy Center, awash in sounds and colors of the sea, hosted a Fish Empathy Exhibit designed to promote understanding, respect, and compassion for fish. The night included provocative live demonstrations, a video screening, tasty vegan fish tacos, and an up-close look at PETA's Fish Empathy Quilt—the world's first! Acclaimed biologist, animal behaviorist, and ethicist Jonathan Balcombe also took the stage to talk fish from his new book, What a Fish Knows: The Inner Lives of Our Underwater Cousins.

Guests were greeted by Freeda Fish—the evening's mascot—before exploring the beauty and horrors that fish experience. A "hooked" woman suspended from the ceiling was intended to exhibit the excruciating pain that fish endure during fishing. Scientists who study pain agree that the pain-response system in fish is almost identical to that of mammals and birds, yet millions of fish each year suffer profoundly when they're tortured for "sport." Skewered through their sensitive mouths and torn away from their homes, they writhe in terror and pain until their gills collapse and they suffocate.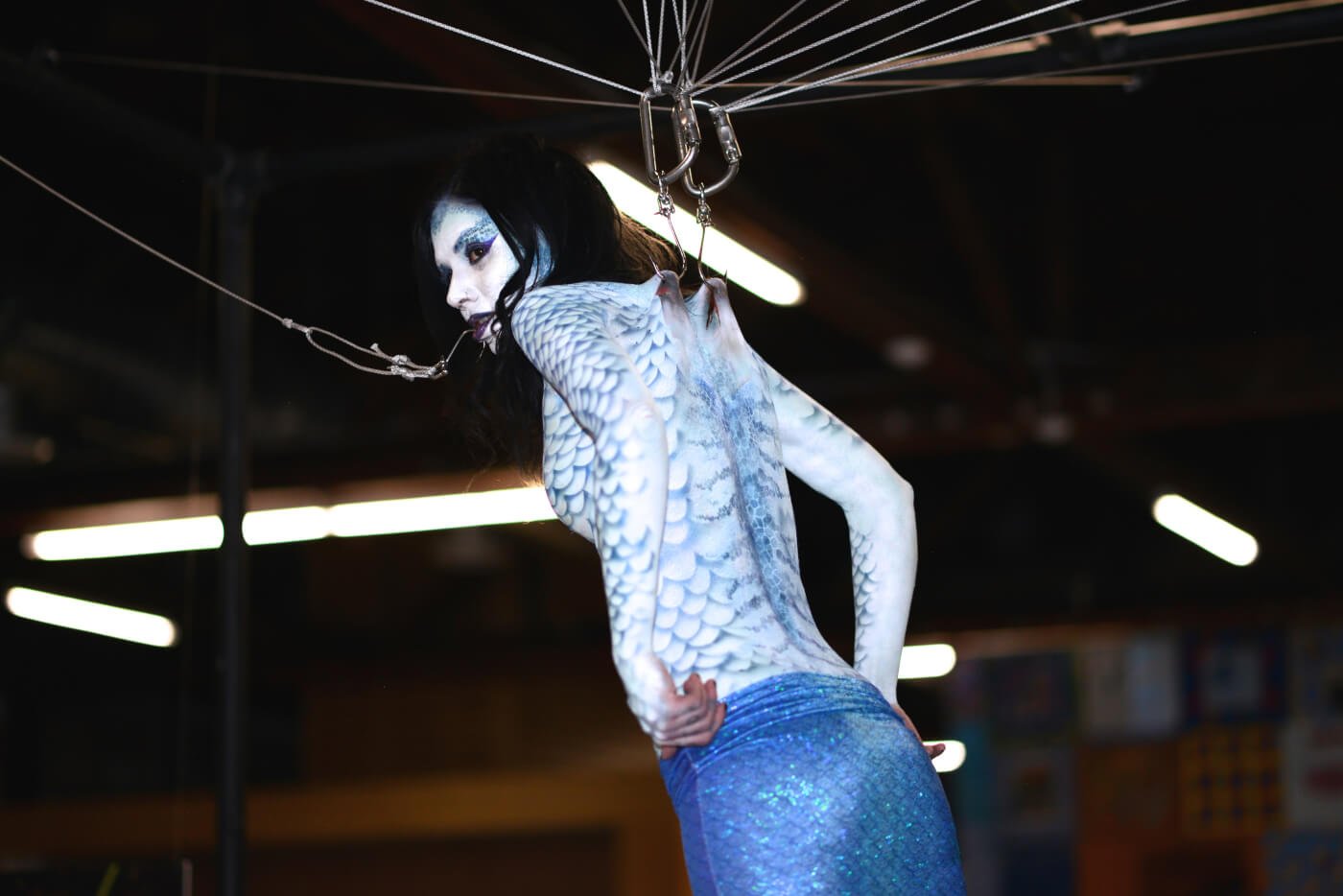 "Mermaids" exhibited signs reading, "Sea Life, Not Seafood," and "Scale Back Cruelty: Stop Fishing." The mermaids and guests comingled, discussing how fish have excellent long-term memories, live in complex social groups, learn from each other, and develop cultural traditions. The mythical creatures explained to attendees that fish think ahead, "talk" to one another underwater—and even to other species—can count and tell time, and have unique personalities.

The fabulous PETA Fish Empathy Quilt was also on display. It was crafted by PETA members and supporters who came together to create a quilt that honors the billions of fish who are abused and killed by humans every year for food and "sport." Each square was handmade by PETA members and supporters from all around the country.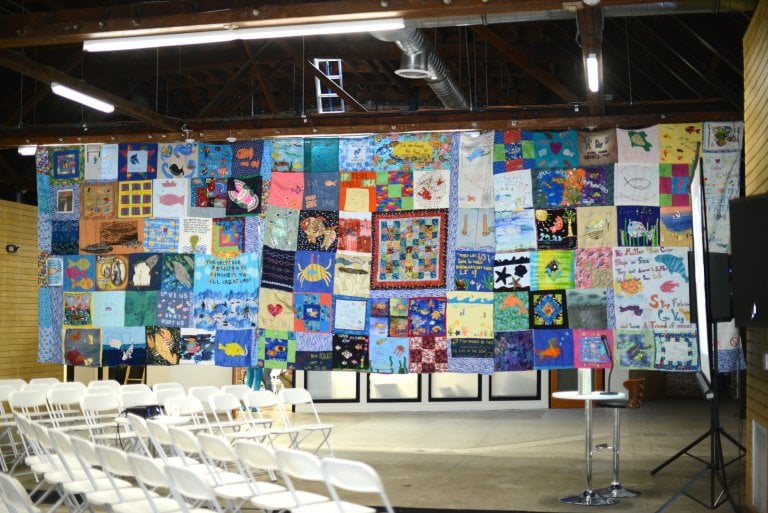 The final exhibit displayed the video below, which taught guests extraordinary facts about animals of the sea, including octopuses, lobsters, and crabs. The video also featured award-winning actor Joaquin Phoenix struggling underwater, reenacting the terror that fish experience during the last moments of their lives, as well as a powerful message about a fish's ability to be heard.
Guests were also treated to a talk by Balcombe, whose new book, a New York Times bestseller, draws upon the latest scientific discoveries to explore the many myths about fish, their complex lives and behavior, and how they're surprisingly similar to human beings. He also answered questions from attendees and signed copies of his book.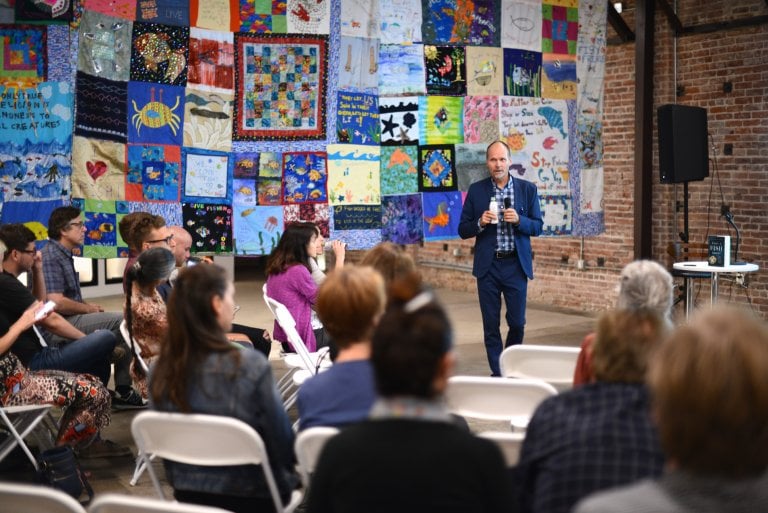 To show guests how easy it can be to spare sensitive aquatic animals the agony of being impaled, crushed, cut open, and gutted, delicious vegan fish fillets and other cruelty-free appetizers and refreshments were served throughout the event.
What You Can Do
The easiest and most effective thing that you can do to help stop cruelty to fish and other animals is to stop eating them. With the help of great resources such as PETA's Pledge to Be Vegan for 30 Days and the thousands of delicious recipes available, going vegan has never been easier. Click the button below to get started today by ordering a free vegan starter kit.