More than 150 dogs have died while running the Iditarod in Alaska. That number doesn't include those dogs who died during the off-season while chained up outside in all weather extremes or those who were killed because they weren't considered fast or fit enough. Most major corporate supporters of the Iditarod have dropped their support of the race following PETA campaigns, and the 2023 Iditarod had the smallest number of mushers ever. In addition, the Iron Dog snowmobile race and the Iditarod Trail Invitational ultramarathon—which are both dog-free—exceeded the Iditarod in sign-ups. However, Alaskan internet service provider GCI, owned by Liberty Media, continues to give the death race more than $250,000 annually. Find out how we have taken action to urge Liberty Media to drop GCI's sponsorship—and how you can help dogs forced to race.
How Are We Urging Liberty Media to Drop the Archaic Iditarod?
We first wrote to GCI CEO Ron Duncan in 2017 and then reached out to Liberty Media CEO Greg Maffei in 2021. From there, we launched action alerts, posted calls to action on social media, purchased enough stock to attend and ask questions at annual shareholder meetings, held demonstrations at Liberty's headquarters in Colorado, and so much more.
Formula 1 Needs to Hit the Brakes on Its Iditarod Sponsorship
Formula 1 (F1) offers a great animal-free alternative to using dogs for racing (i.e., race cars)—except that it's owned by Liberty Media. So PETA launched a video explaining F1's connection to the death race and asking it to race away from the Iditarod's cruelty.
PETA-Made Spoof Logos Show There's No Liberty for Dogs Used in the Iditarod
We created a spoof of the Liberty Media and GCI logos to send to the company and share online.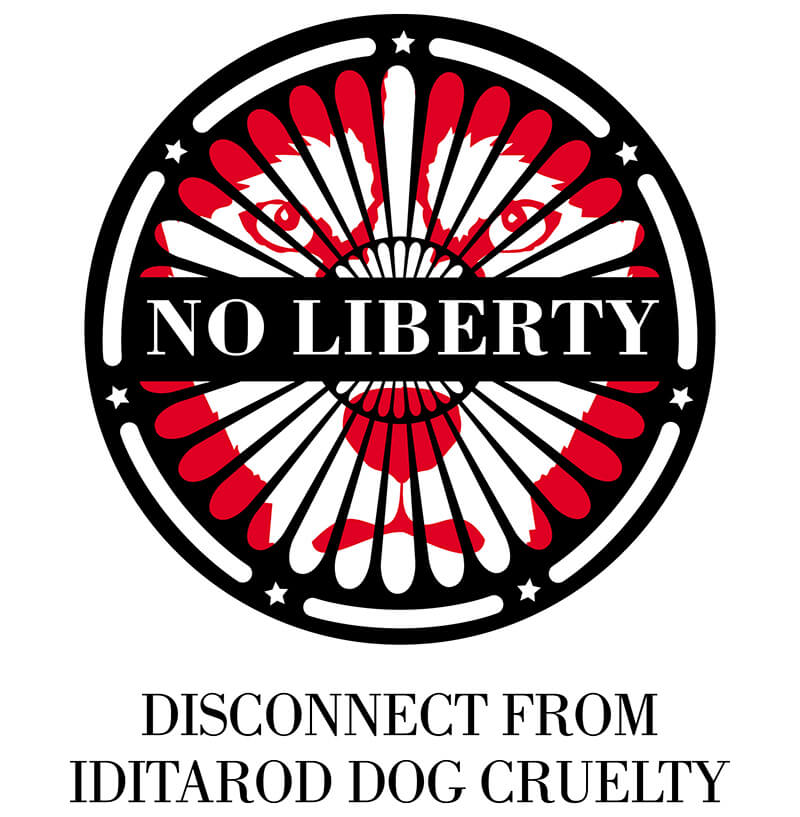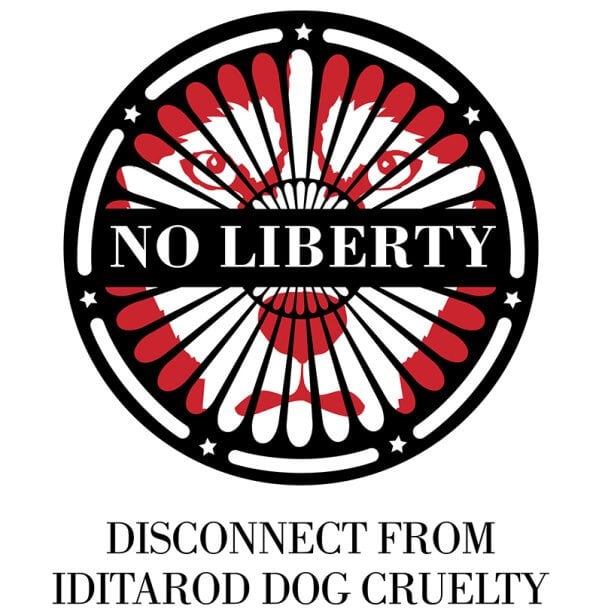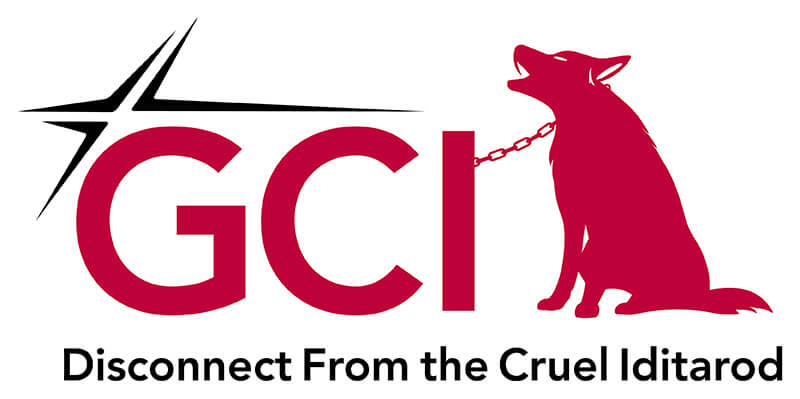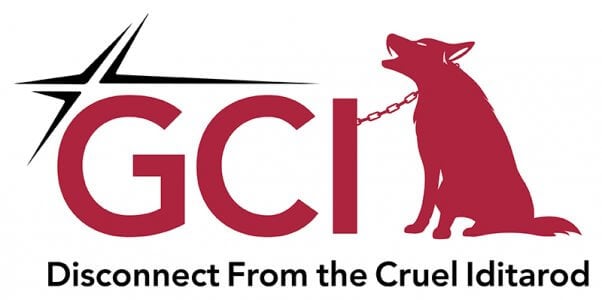 PETA Asks the Atlanta Braves to Help Hit a Home Run for Dogs
We asked the Atlanta Braves, owned by Liberty Media, to join our team effort and call foul on this deadly partnership.
'Dogs' Tied to Stakes Protest Outside GCI Headquarters
We held a demonstration at GCI's headquarters in Anchorage ahead of the 2022 Iditarod. Demonstrators brought along realistic-looking "dogs" tied to stakes, which showed the way mushers "store" living, breathing, feeling dogs.
Outrage: Mushers Fined for Bringing Dogs Inside During Storm
The 2022 Iditarod dog-sled race ended in a debacle over officials' shameful decision to demote and impose fines on mushers who took dogs inside during a potentially fatal storm, and PETA fired off a letter to Maffei to insist that GCI stop sponsoring the deadly race.
Racetrack Heroes: Global Grand Prix Protesters Show Up for Dogs
After a successful demo at F1's Australian Grand Prix in Melbourne featuring the somber scene of "gravestones" honoring dead dogs, demonstrators from PETA entities attended F1 Grand Prix events in Spain, Monaco, Austria, Hungary, Belgium, Italy, Japan, the U.K., the U.S, and many other locations.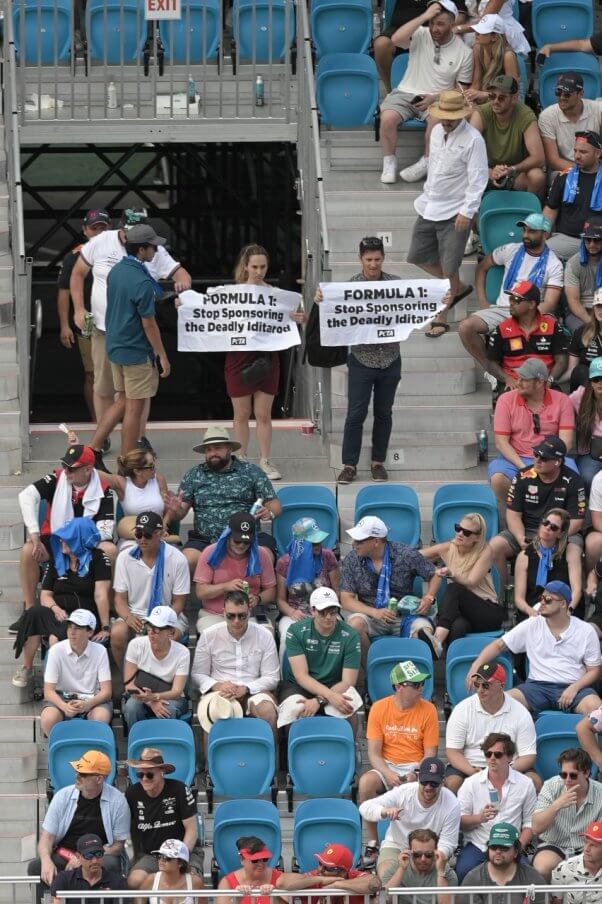 At one demo at the F1 Grand Prix in Austin, Texas, police detained three protesters with PETA (including the "husky") and removed them from the property in a golf cart.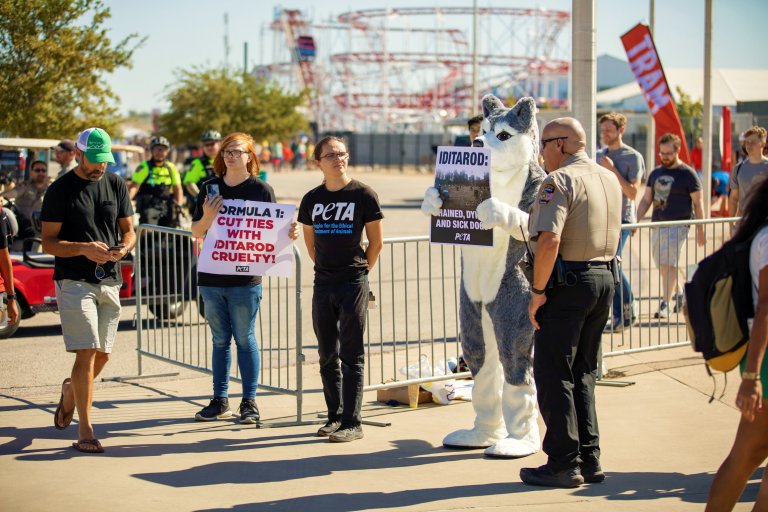 Asking the Big Questions: Shareholder Meetings Are the Perfect Opportunity to Be Heard
By purchasing stock in the companies we wish to change, we're able to attend shareholder meetings—a powerful means of influencing the management, boards, and investors of entities that support the exploitation of animals. We attended Liberty Broadband's shareholder meeting and asked when it would "stop funding this hideous cycle of torment and death by dropping GCI's sponsorship of the Iditarod."
Social Justice for ALL Animals—Not Just Humans
After we received an e-mail from Duncan, we blasted him on social media for using his sympathy for other social injustices—which, apparently, he's hardly lifted a finger to help solve—as an excuse for supporting animal abuse.
Forcing freezing dogs to run to their deaths IS "an actual problem" that @GCIAK FUNDS!

Sympathy for other social injustices—which apparently Duncan has hardly lifted a finger to help solve—is NO EXCUSE for supporting animal abuse.
Liberty Media: end your #Iditarod sponsorship! pic.twitter.com/QM8cffY5Yf

— PETA (@peta) July 26, 2022
Lewis Hamilton, Use Your Voice
PETA U.K. sent a birthday gift to vegan F1 champ Lewis Hamilton. We hope this gift—a blue megaphone—will inspire him to bellow his condemnation of the cruel Iditarod for the world to hear and use his influence to urge Liberty Media to cut all ties with the event.
 Maffei Needs to Listen, Not Talk
A heavy security presence at the Milken Institute Global Conference in Beverly Hills, California, didn't stop PETA supporters from crashing Maffei's invitation-only breakfast talk on May 1. The protesters delivered a heartfelt appeal that he end his company's support of the deadly Iditarod.
PETA supporters crashed the invite-only #F1AccelerateSummit, where @JayLeno was opening— to plead with Liberty Media CEO @GregMaffei to stop sponsoring the deadly Iditarod that's killed 150+ dogs! pic.twitter.com/kbuD4G9lss

— PETA (@peta) May 4, 2023
Just three days later, PETA supporters addressed Maffei again, this time during Jay Leno's opening speech at the F1 Accelerate Summit at the Rubell Museum in Miami. They issued another plea in behalf of all the dogs who suffer for the Iditarod.
Diane Warren Stands With Dogs Used for Racing
We ran TV ads in Englewood, Colorado—Maffei's hometown and the location of Liberty Media's headquarters—featuring songwriter Diane Warren's Oscar-nominated hit "I'm Standing With You," which she had donated to us to support our campaign.
Help PETA Finish the Race—Urge Liberty Media to Drop the Iditarod
No race is worth a dog's life. Dogs forced to race are no different from those we share our homes with—they don't want to run hundreds of miles through subfreezing temperatures until their bodies break down, be kept chained up outside in all weather extremes, or be killed because they're not fast or fit enough. Dozens of other companies—including Alaska Airlines, Chrysler, Coca-Cola, ExxonMobil, and Millennium Hotels and Resorts—have cut ties with the race. Help us urge Liberty Media/GCI to do the same. Dogs deserve far better than a lifetime spent pulling a heavy sled or being isolated on a chain.