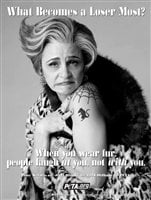 Comedian Amy Sedaris reprises her role as "Jerri Blank"—the 47-year-old high school freshman and self-proclaimed "boozer, user, and loser" of Comedy Central's cult hit Strangers With Candy—to parody Blackglama Mink's "What Becomes a Legend Most?" ads. In PETA's latest campaign, a fur-clad Jerri asks, "What Becomes a Loser Most?" and advises consumers that "if you wear fur, people laugh at you, not with you."
Sedaris joins stars like Charlize Theron, Simon Cowell, Ellen DeGeneres, and Bill Maher in speaking up for fur-bearing animals.
Supermodel Gisele Bündchen—who used to pose for Blackglama Mink—now regrets it and tells Vanity Fair, "It was a bad decision on my part, because I don't wear fur. … I am the biggest animal-lover in the world." And Sarah Jessica Parker (who costars with Sedaris in the Strangers With Candy movie) recently said that unlike her character on Sex and the City, she would never wear fur.
Check out this short video narrated by Tim Gunn to learn how animals live and die before being made into coats.