From starring as a powerful drug trafficker in the international smash telenovela La Reina del Sur to her role as a transsexual inmate in the film K-11, Kate del Castillo emanates a sexy strength in all her work. The Mexican superstar brings that same smoldering power to her ad (shot by famed top celebrity photographer Jack Guy) for PETA urging fans to "fiercely protect your animals."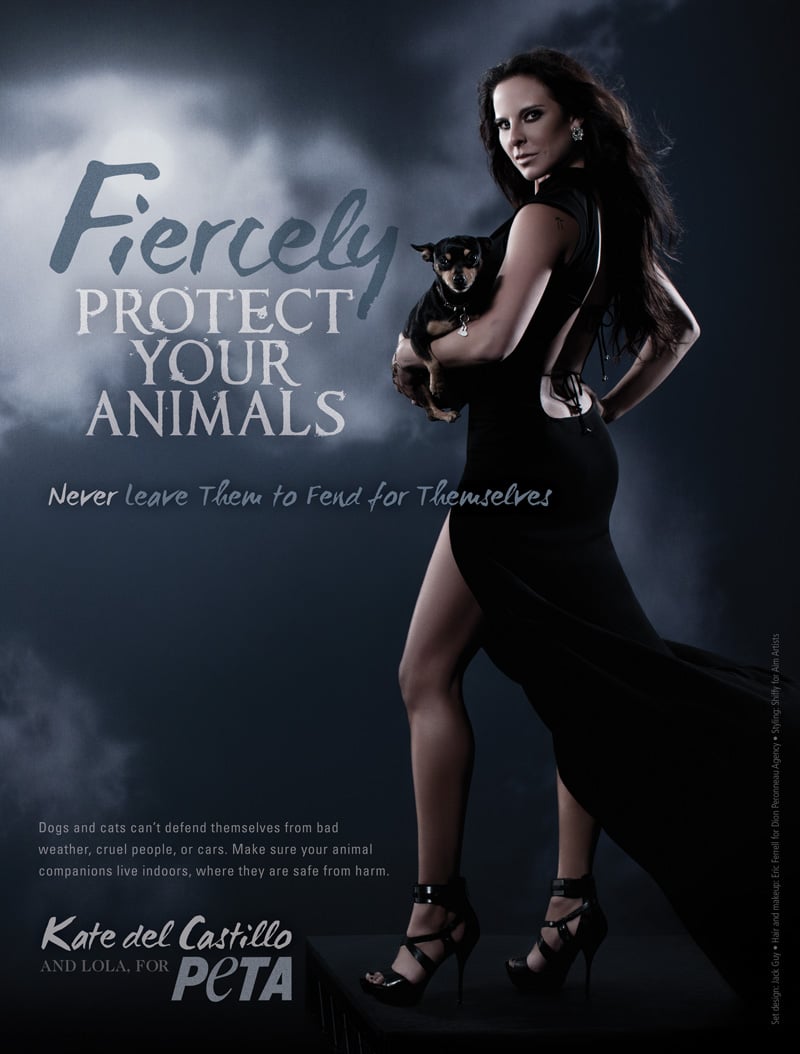 In the striking PETA ad, Kate holds her rescued dog, Lola, as she warns guardians to "never leave [animals] to fend for themselves." Cats and dogs belong inside, where they are safe from deadly threats, such as bad weather, cruel people, other animals, and cars. A life indoors is just one of the basic needs a guardian must fulfill, explains Kate. Dogs and cats deserve to be protected and showered with love, which they'll return to their guardians tenfold.
Watch the video below for more animal care tips from Kate:
For Kate, adopting Lola was life-changing—for Lola, it was lifesaving. Because there are not enough loving homes, countless cats and dogs struggle to survive on the streets, and 3 to 4 million of them must be euthanized annually at animal shelters. Kate explains that you can save a life by adopting one of the 6 to 8 million cats and dogs who enter shelters every year—and never buying from a pet store or breeder. You can save thousands of lives by spaying and neutering your companion animals, thereby preventing their offspring from suffering on the streets or in animal shelters.
Kate shares her love for animals and offers a peak behind the scenes of her sexy PETA photo shoot—check it out!
By submitting this form, you're acknowledging that you have read and agree to our privacy policy and agree to receive e-mails from us.