In addition to her vibrant hair color, TV personality and rapper Justina Valentine is probably best known for her impressive freestyle rap skills. But fans of the fiery New Jersey native may also know her as a proud mom to her adopted pup, Esco (who, of course, has his own Instagram account). Now, the Wild 'N Out host can add another project to her list as she joins forces with her four-legged "son" to raise awareness of the cruelty of chaining dogs in her Valentine's Day–inspired PETA ad.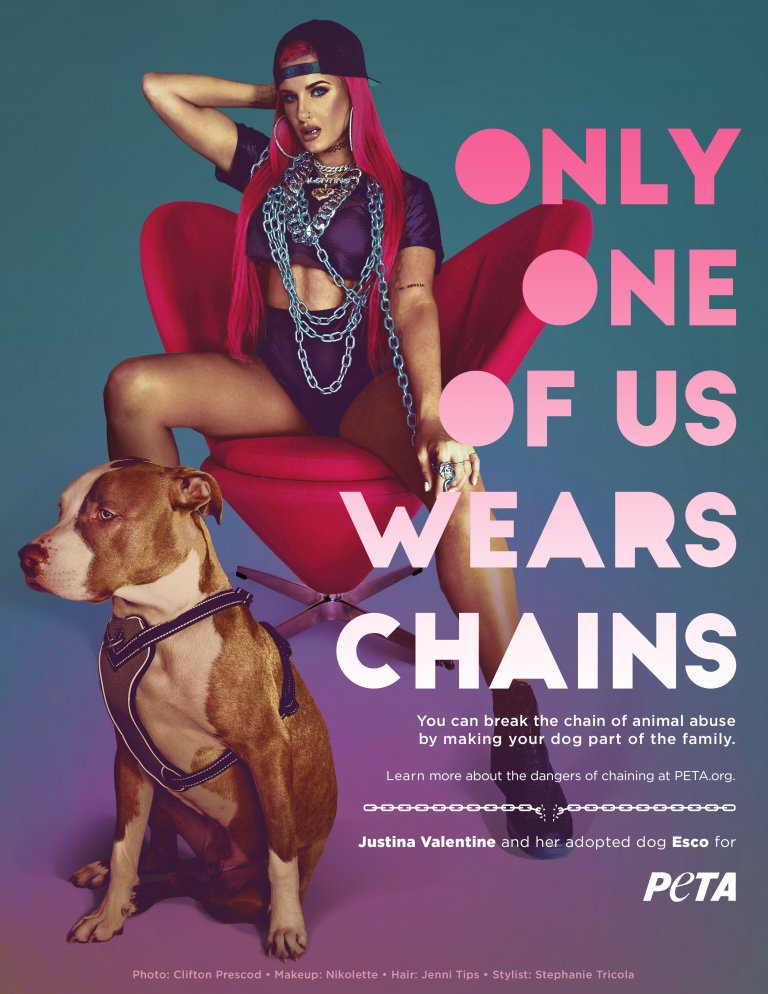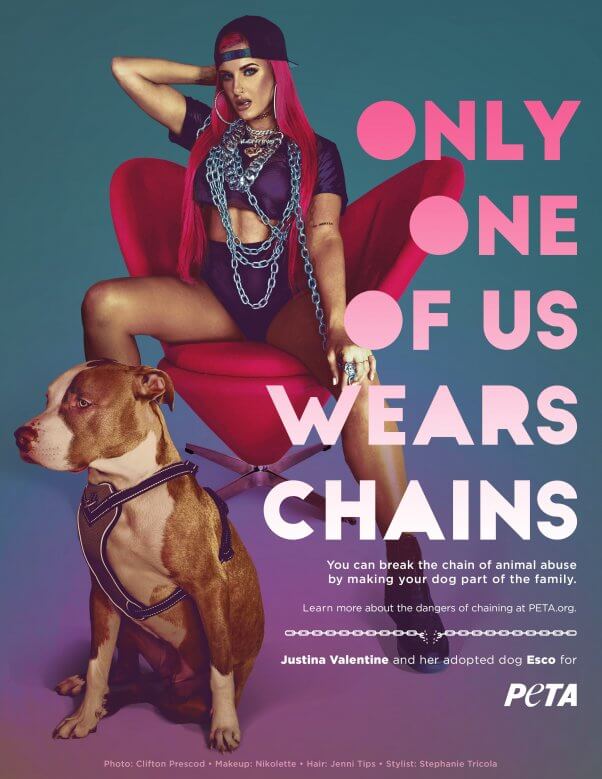 "I've seen dogs in different neighborhoods that I've lived in left outside in all different types of weather. That's not right …. They want to be with their family. They want to be loved. They don't want to be left outside in all types of weather, in the sweltering heat, in the frigid cold."

—Justina Valentine
In addition to speaking out against chaining dogs, Justina talks about the importance of adoption and spaying/neutering animal companions to combat the overpopulation crisis. Go behind the scenes of her PETA photo shoot and hear more about her beloved dog in the video below.
Unfortunately, chaining is something that PETA's fieldworkers see every day. They visit some of the poorest communities in southeastern Virginia and northeastern North Carolina, doing whatever it takes to help animals in need. They also pay regular visits to neglected chained dogs and provide them with sturdy doghouses, flea and tick treatments, spay or neuter surgeries, vaccines, lightweight tie-outs, nutritious food, clean water, dry straw bedding, toys to ease their frustration, and more—all free of charge. And they urge the dogs' owners to take them inside and treat them like family or to surrender them for adoption so that they'll have the chance to get an indoor home.
Remember: If you see a dog kept chained, you can help by contacting your local animal control or police department. And if they're unresponsive or refuse to help a chained dog in your area, contact PETA.