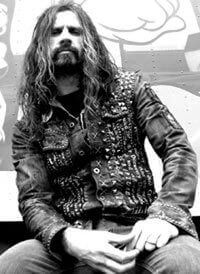 Click here to hear PETA's holiday hotline recorded by Rob Zombie!
Calling Butterball's Turkey Talk Line and listening to tips about how to boil, broil, roast, and toast the bodies of gentle, smart, and social birds sounds more like the plot of an upcoming horror film than cooking. So PETA—not willing to sit back and let this be the only option for callers this holiday season—teamed up with musician and horror-movie legend Rob Zombie to record PETA's 2007 holiday hotline.
Zombie, who is best known for hugely popular horror masterpieces like The Devil's Rejects, stopped eating our feathered friends years ago. While Zombie doesn't have a problem with people getting hacked to bits on the big screen, when it comes to the way animals are treated in real life, it's a different story entirely.
When people call PETA's hotline, they will hear Zombie describe the real-life horrors of turkeys who are raised and killed for Butterball. "Turkeys often become painfully crippled because they are given drugs to make them grow so unnaturally large that their legs splinter," says Zombie. "In one Butterball slaughterhouse, PETA found a worker sexually assaulting birds and another stomping on birds' heads until their skulls exploded."
This year and every year, PETA's holiday hotline encourages people to make the holiday season about compassion by refusing to eat tortured birds. Our hotline encourages callers to visit GoVeg.com for tips on preparing vegetarian meals that are sure to be a crowd-pleaser. Past hotline hosts include Joan Jett, John Popper, Moby, and Fiona Apple.
You may have to wait until December 18 to check out Zombie's latest horror film Halloween on DVD, but today, you can watch a real-life horror film: PETA's undercover investigation into a Butterball slaughterhouse.
Make this holiday season one for the birds. Take PETA's pledge to be vegan for 30 days and try a vegetarian diet for 30 days. Not only is it the best thing you can do to help turkeys and other animals killed for food, but it's one of the best things you can do for your health and the environment too!