You don't become the fur, wool, and leather industries' worst nightmare by keeping quiet in an office somewhere. There's a reason PETA has been able to persuade countless companies to go fur-free and even succeed in getting the entire city of San Francisco to ban fur sales: We have an unshakable animal liberator at our helm.
For most of her life, PETA President Ingrid Newkirk has led provocative, head-turning campaigns against the biggest and most notorious companies that have chosen to sell the skins of abused animals.
Let's look back at seven times she went head to head with the skins industry:
The 'Fur Crawl'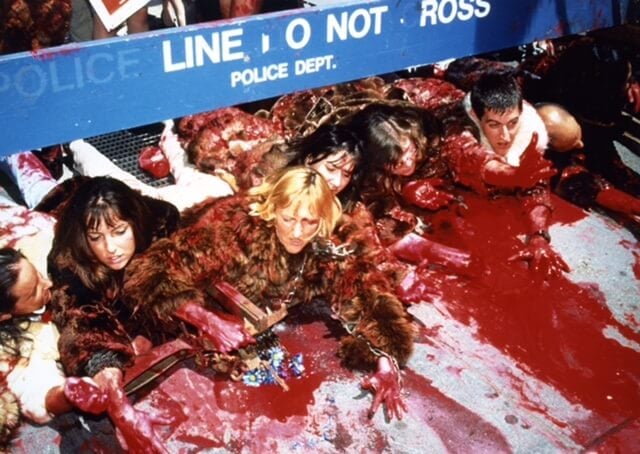 Photo Credit: Ebet Roberts
Led by Ingrid and featuring the lovely drag queen Hedda Lettuce, activists crept along the ground, covered with "blood," with their legs in steel traps outside the New York Fashion Week Gala. To say the least, bystanders were stunned by the gory and unforgettable imagery.
Naked in Berlin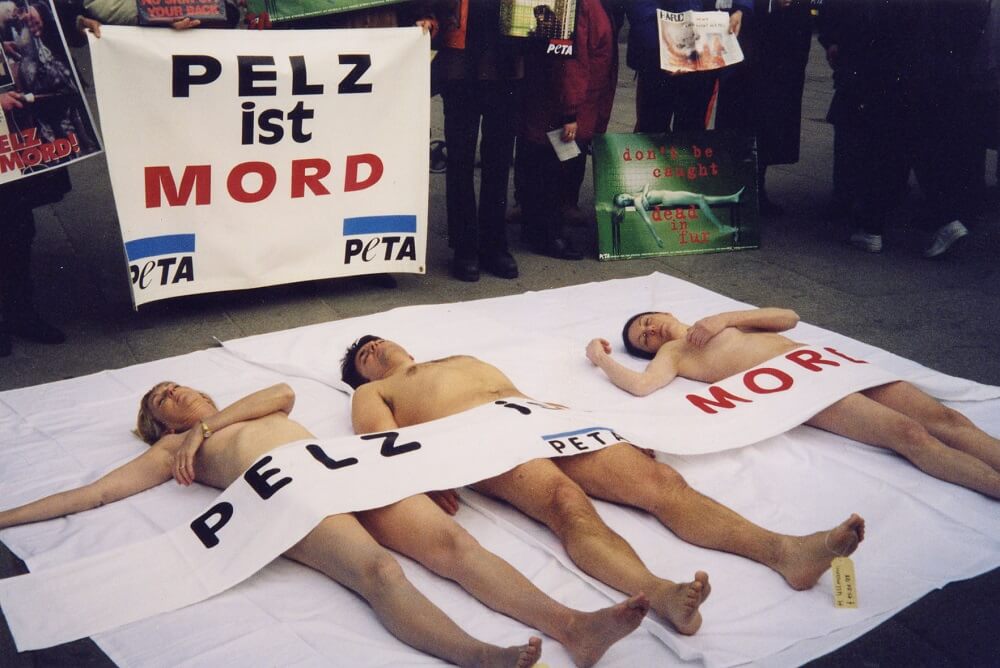 All over the world, Ingrid has given her all to save animals who are caged, trapped, bludgeoned, electrically shocked, and sometimes skinned alive in the fur industry.
Alexanderplatz is arguably the most heavily trafficked part of Berlin, and in the midst of tourist season, hundreds of people gather to hear the clock strike. This made it the perfect location for a naked protest against the fur industry.
---
Learn more about Ingrid Newkirk on The PETA Podcast:
Listen to more episodes on iTunes and Spotify! Subscribe for new episodes.
---
Protesting in the Dead of Winter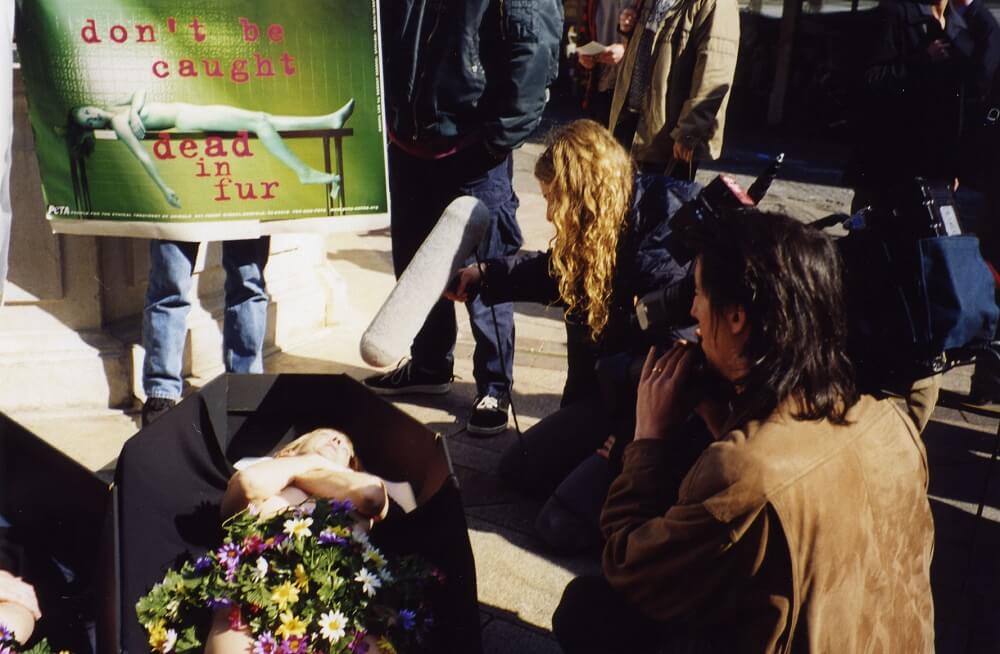 No matter the weather, no matter the season, Ingrid continues to expose animal abuse. During this Times Square demonstration in New York— which included an unforgettable PETA anti-fur ad featuring the iconic Sheryl Lee— temperatures dipped well below freezing. "My teeth wouldn't stop chattering," she recalled. "Everyone was in winter coats and couldn't believe it."
Ingrid and PETA Shamed Vogue for Promoting Fur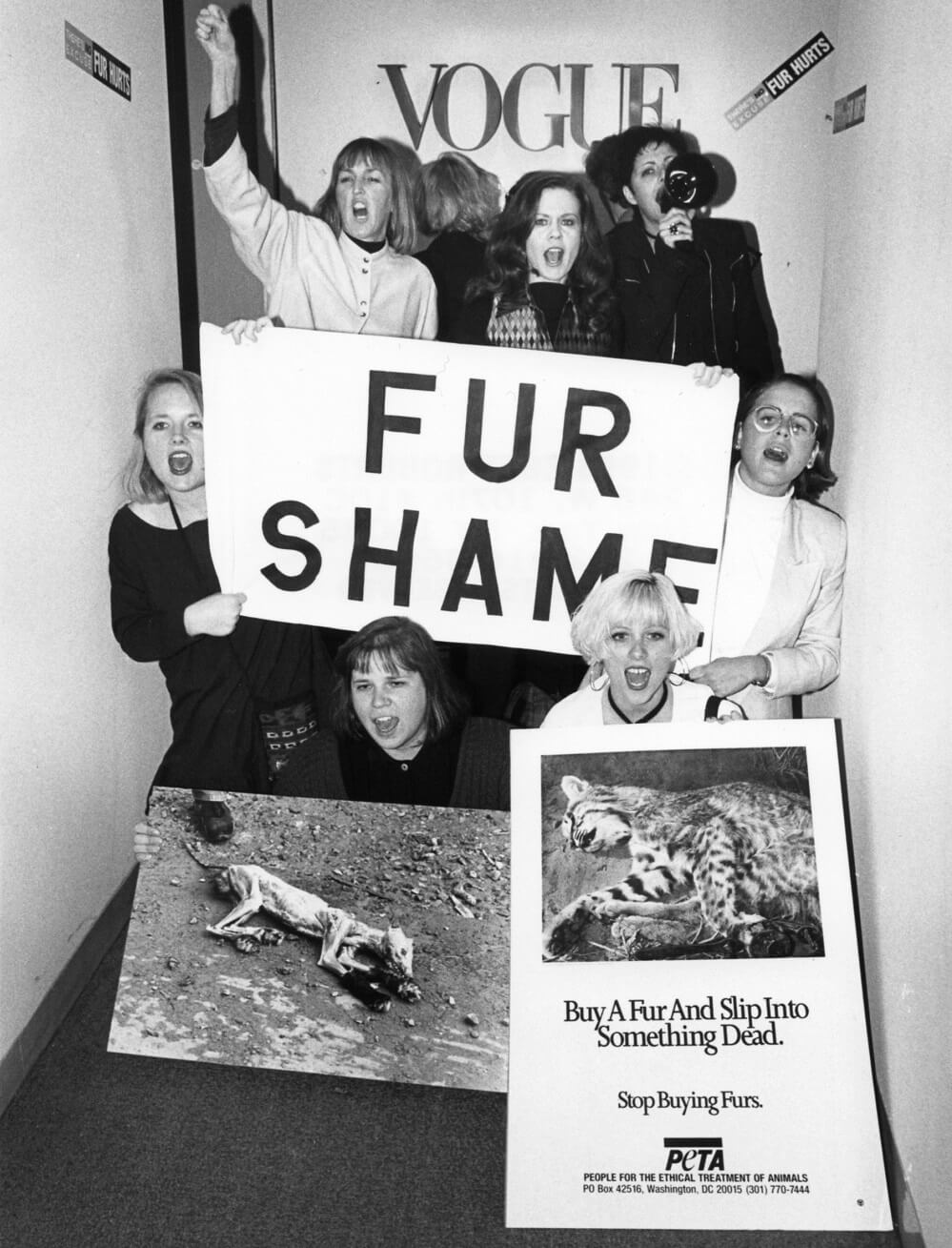 Photo Credit: Ebet Roberts
For decades, PETA supporters have been protesting fur in Vogue's New York and Paris offices, as shown in this shot from 1993—and have been getting arrested doing so. Since we started our vigorous protests, dozens and dozens of companies (and entire cities) have banned the cruelly produced material. Vogue even published a historic issue dedicated to animal-friendly fashion, which included a strong statement against fur.
'Tis the Season to Strip Nude and March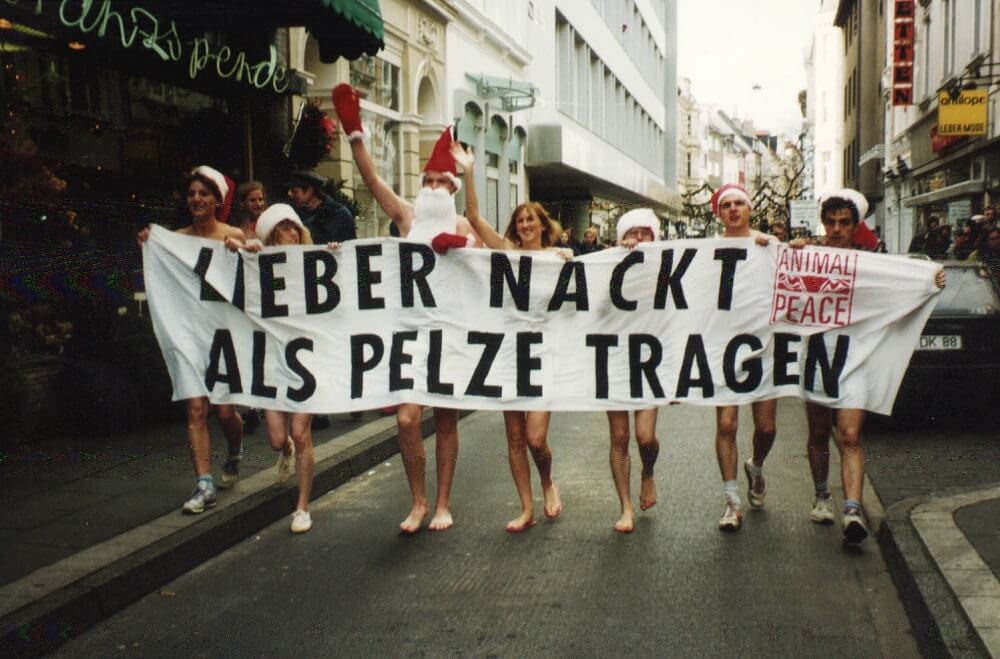 By now, everyone should know Ingrid would "rather go naked than wear fur." This photo comes from Bonn, Germany, in 1993. Ingrid and other spirited activists took part in an anti-fur parade to urge holiday shoppers to buy cruelty-free.
The "Naked" campaign—arguably the most popular anti-fur campaign in history—has brought fur sales to momentous lows and shown millions the cruel reality behind the fur trade. Of course, Ingrid has been leading these creative nudists since the beginning.
Sit-In at Neiman Marcus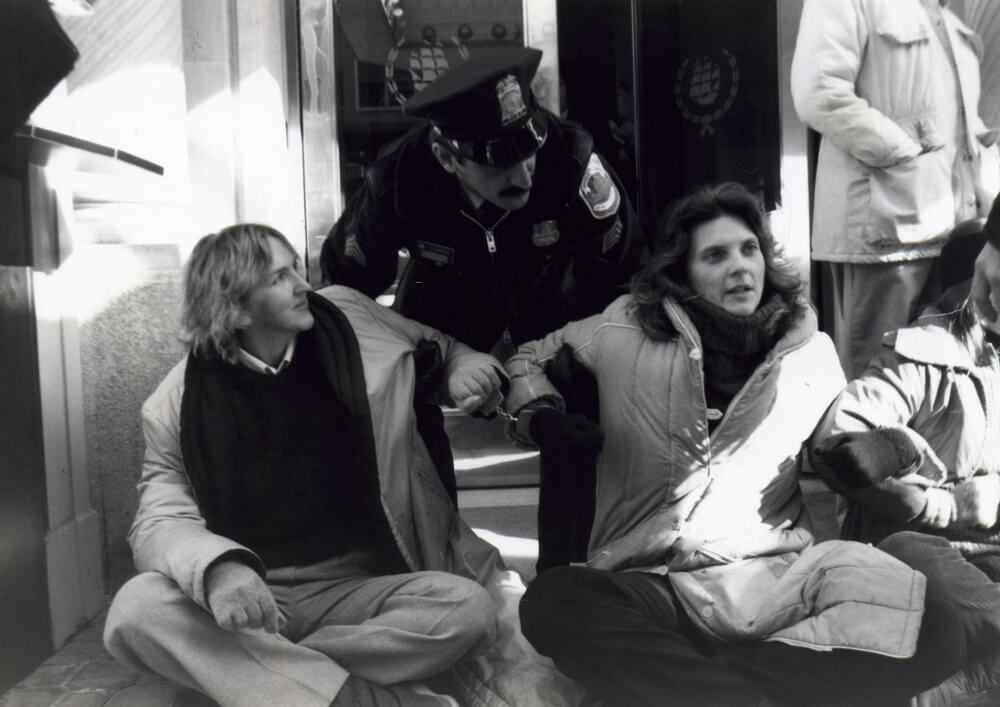 We've lost count how many times Ingrid has been arrested advocating for animal rights, but she probably holds the PETA record. Here in 1986, she's seen locking arms with fellow protesters blocking the door to Neiman Marcus (or as PETA called it, "Neiman Carcass") during a winter fur sale.
The GAP Window Takeover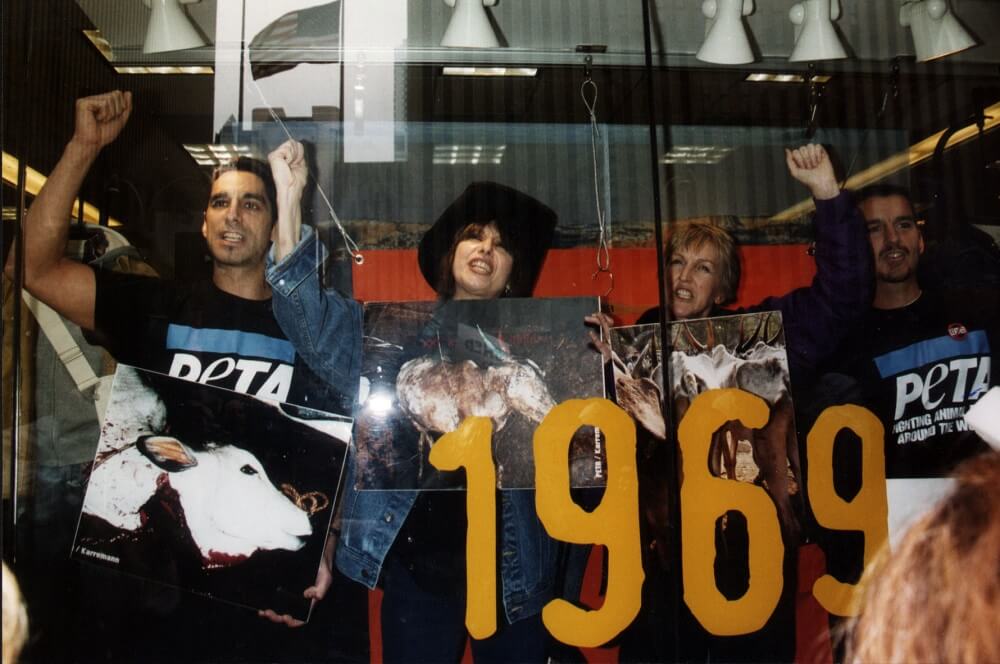 After Ingrid personally investigated the leather industry in India and found workers breaking cows' tails, rubbing chili peppers into their eyes, and much more, PETA presented the evidence to Gap Inc. and asked it not to source leather from India or China. Ingrid and Chrissie Hynde took over the window display at its New York flagship store in 2000. Shortly afterward, the company made the compassionate decision to stop purchasing leather from India and China.
Since this demonstration, PETA has worked behind the scenes with Gap Inc. to ban angora wool and mohair.
Motivated by Ingrid? Become a champion for animals!
Turn your social media accounts into outlets for videos and news features that describe the plight of animals suffering under human supremacy, hand out vegan starter kits at your school or workplace, and always suggest vegan options to anyone you come into contact with. You don't have to be arrested to make a difference. You have a voice—use it for animals.
Anything is possible when we stand together. Learn how you can make a difference by joining our team: