Like most people with any sense of decency, Grammy-winning hip-hop superstar Eve was first sad and then angry when she learned that dogs are kept outdoors and forgotten. After seeing footage from PETA's Community Animal Project, she turned her tears into action by striking a pose for a powerful ad declaring, "Every Hound Needs a Hero."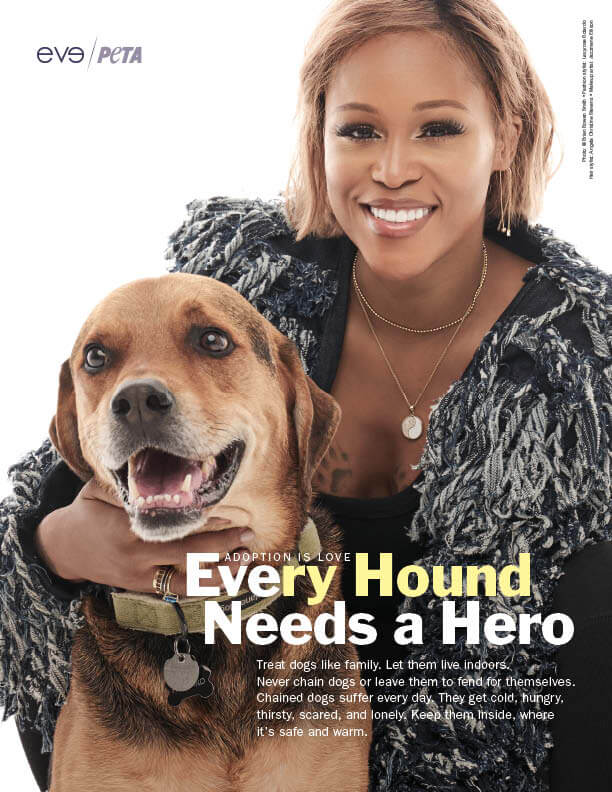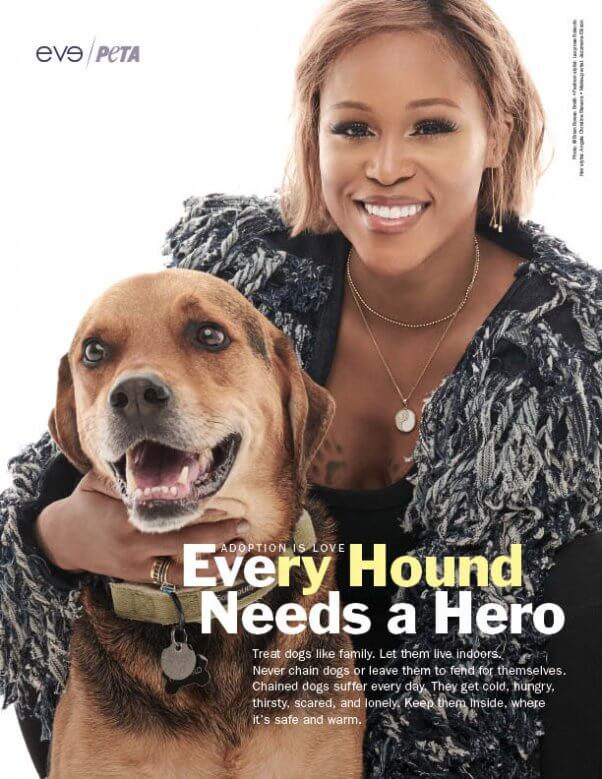 People often get dogs on a whim and then decide that they're too busy to give them the love and attention that they deserve and desperately long for.
Dogs are social pack animals who crave companionship and a safe place to call home. Those who are forced to stay outdoors suffer, aching for the company of their human pack members.
When Eve saw PETA's footage of neglected dogs—who are left outside all day, every day, even in freezing winter temperatures and the scorching summer heat—she reacted with sadness … and then anger.
Watch her  reaction—and join her in speaking out.
"Outdoor dogs" are emotionally and often physically neglected. The phrase "out of sight, out of mind" usually applies to them. Not only are they lonely and sad, they're also often deprived of basic necessities like food, water, shelter, and veterinary care. Extreme weather is an added stress in the winter, when they shiver endlessly in the bitter cold and sometimes even freeze to death. In the summer, they're vulnerable to heat exhaustion—when all they want are scratches behind their ears, walks around the block, and the opportunity to curl up at their guardians' feet at night indoors.
Join Eve in speaking up for abused, neglected, and forgotten animals. The most effective way to help hundreds or thousands of neglected dogs in your area is to work with city or county legislators to ban chaining and animal neglect.