As intense heat continues to plague many areas throughout North America, PETA is calling on people to protect their dogs and cats by letting them inside and by taking dogs for short walks (never jogs) only during the coolest part of the day.
Dozens of dogs have already died or had close calls in hot cars this summer. If you see a dog who is showing signs of distress inside a car, get help right away. Even if the windows are partially open and the car is parked in the shade, a dog in a hot car can suffer brain damage or death in just 15 minutes. Look for the dog's owner, and call humane authorities and the police. If no one responds quickly, you may need to take steps to save the dog yourself. (If so, stay by the car until the police arrive!)
Chained dogs also suffer during heat waves, especially when they are denied access to water and continuous shade. Alert authorities immediately if you see a chained dog without shelter or access to water (both are required by law) or in distress. If officials are slow to respond, offer the dog cold water or ice cubes.  
When you are driving, be aware that wild animals may cross roadways more frequently in search of water sources, so be on the lookout and stop to help animals who appear to be injured.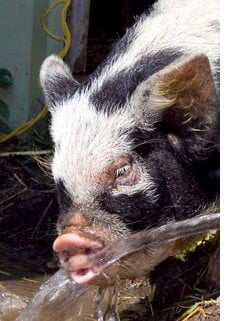 Robbie LeBlanc
Merciless heat adds to the suffering of animals trapped on factory farms and in roadside zoos and circuses. PETA has received reports of thousands of animals who have died while crammed together in sweltering, windowless barns. And no one would want to spend the summer chained inside a hot boxcar or trailer and being dragged across the country from one performance to another.
Please offer a helping hand to animals in need, and stay away from businesses that profit from their suffering.
Written by Michelle Sherrow