Any Harry Potter fan knows that owls are an important part of that magical world—and nobody knows this better than actor Evanna Lynch, who played quirky Luna Lovegood in the film series. So, when the longtime animal advocate heard that experimenters at Johns Hopkins University (JHU) were cutting into barn owls' skulls and inserting electrodes into their brains, she knew that she had to speak up.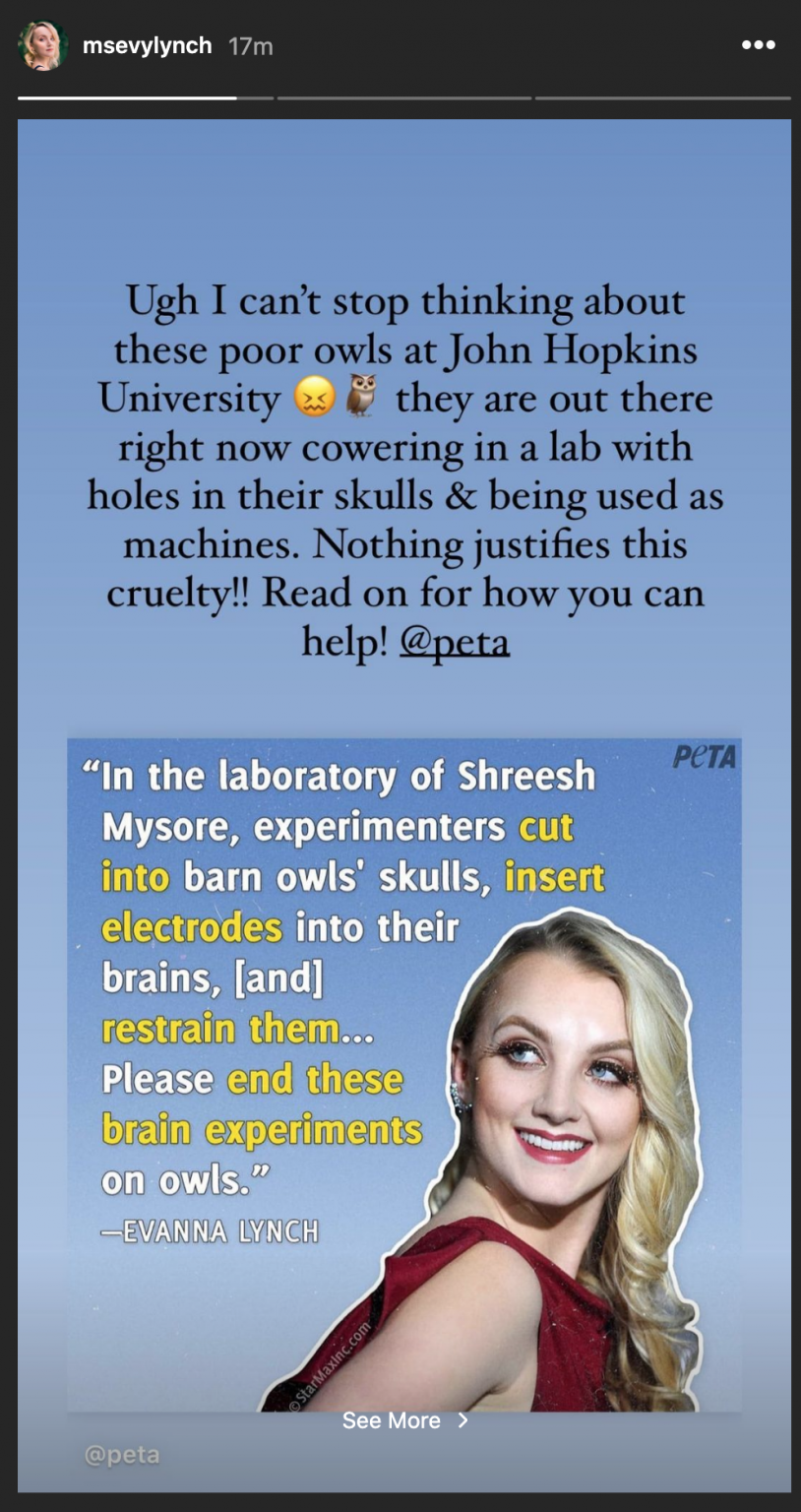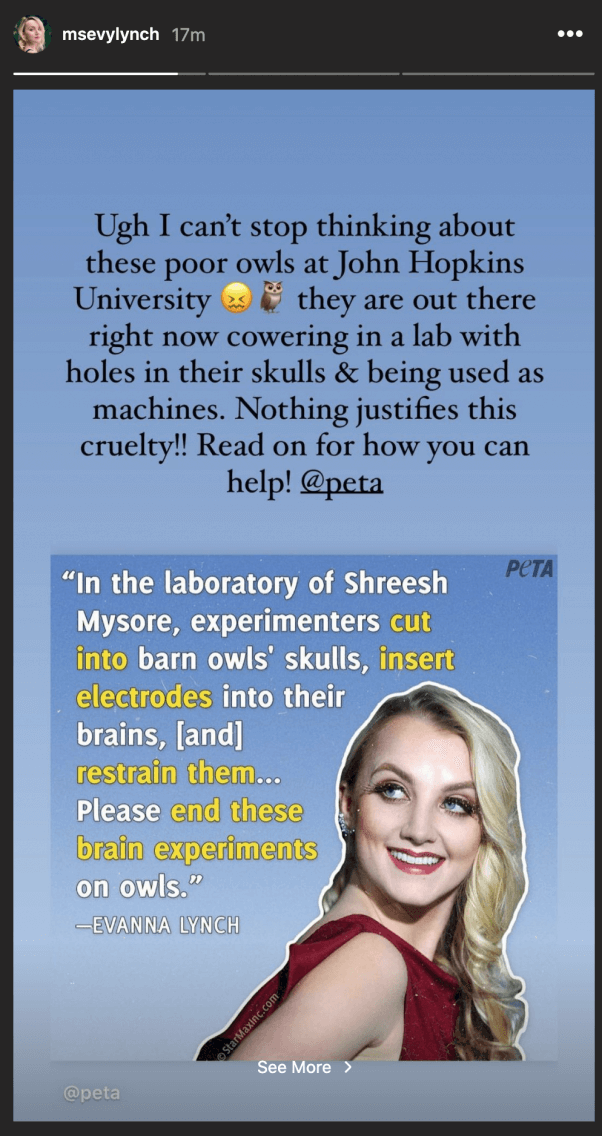 In a letter addressed to JHU President Ronald J. Daniels, the Irish actor urges him to end these experiments—which make the Cruciatus Curse look like child's play—writing, "There can be no ethical justification for this grotesque cruelty."
Lynch has also joined PETA in filing a first-of-its-kind lawsuit against U.S. Department of Agriculture Secretary Tom Vilsack and Animal and Plant Health Inspection Service Administrator Kevin Shea, alleging that the law that exempts these experiments from federal oversight is unconstitutional and seeking protection for the birds under the federal Animal Welfare Act.
Experimenter Shreesh Mysore is supposedly "studying" human attention-deficit/hyperactivity disorder (ADHD) at JHU. However, barn owls don't suffer from ADHD, and their auditory and visual systems differ vastly from those of humans—so Mysore is torturing and killing birds but most definitely not helping humans with ADHD. These gruesome experiments come at a high cost not only to the owls who are killed but also to the taxpayers and the university, as Mysore has received more than $2.5 million in funding from the National Institutes of Health and JHU.
Listen to the owls' heart-rending screeches in Mysore's lab:
"I am deeply saddened by this vicious treatment of these birds and am urging you to shut down this laboratory immediately," writes Evanna. "In nature, these majestic nocturnal birds have territories that span several miles. At Johns Hopkins, they live under fluorescent lights in an enclosure the size of a walk-in closet."
Barn owls are sentient, remarkably intelligent birds who play an important role in their ecosystems. Their populations are increasingly threatened by urban and suburban development, loss of grassland and suitable nesting sites, pesticides, rodenticides, and motor vehicles. They must be protected, not experimented on.
In PETA Podcast Episode 69, PETA Senior Vice President Kathy Guillermo discusses these experiments:
In addition to speaking out against animal testing, Lynch is a longtime vegan who hosts her own vegan podcast, The ChickPeeps, "a plant-fueled pod" designed to "accompany and empower" listeners on their vegan journey.