Eva Gutowski (of MyLifeAsEva) knows her actions have real impact. With more than 22 million followers across her social media channels, the compassionate influencer has quite the captive audience, and she's using her influence for good by asking fans to avoid marine parks such as SeaWorld that imprison animals like dolphins and whales.
In her new PETA campaign, Eva dives deep (underwater) to remind everyone that animals don't belong in tanks—for any reason—and they aren't here for our entertainment.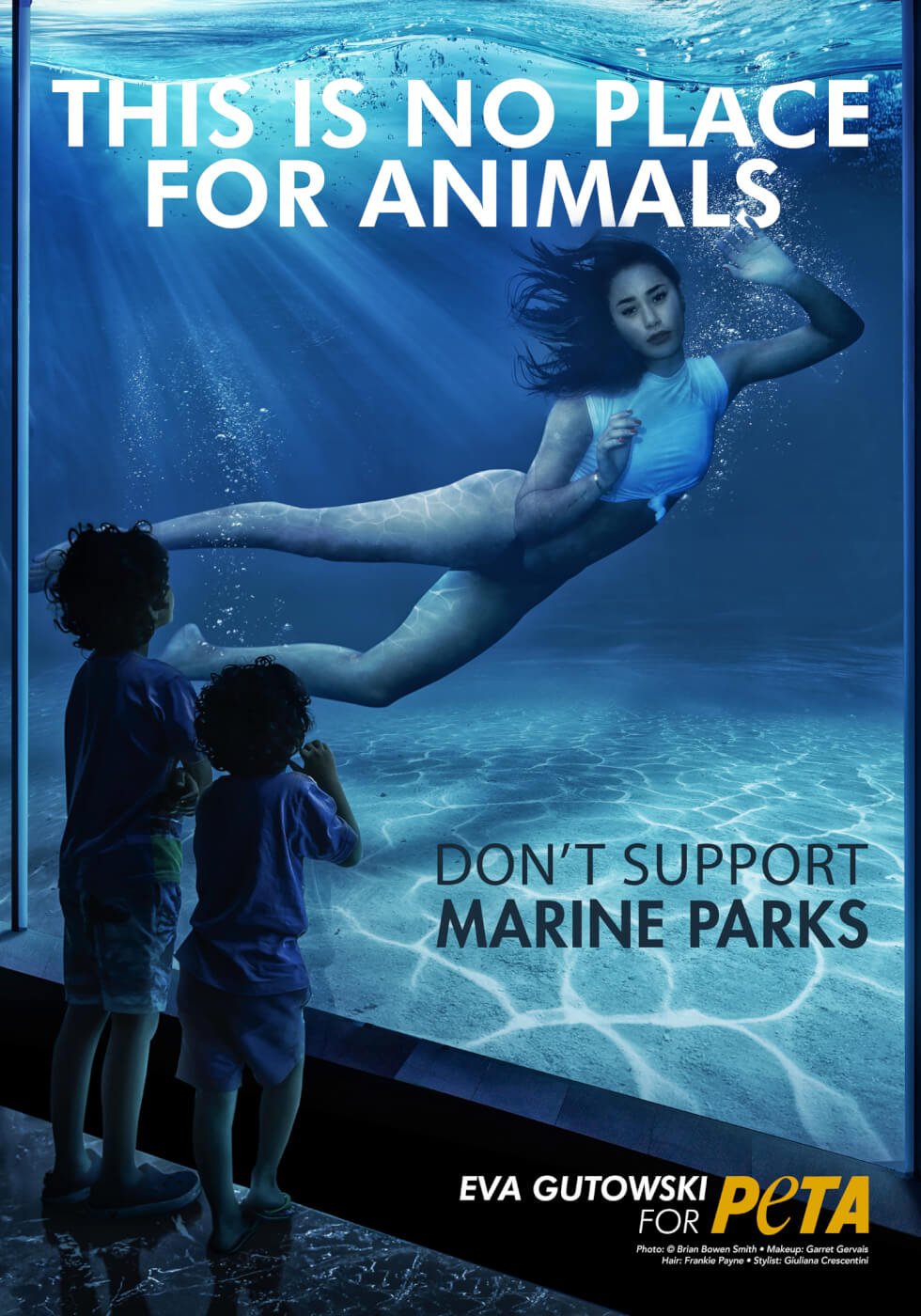 Marine-mammal theme parks such as SeaWorld and the Miami Seaquarium like to make false claims about "conservation" and "education." But in reality, they're part of a billion-dollar industry built on the suffering of intelligent, social beings who are imprisoned in cramped tanks and forced to perform unnatural and confusing tricks—all for the sake of entertainment and profit. Experts say that displaying endangered animals in unnatural, exploitative settings is detrimental to conservation efforts, as it gives the false impression that the species is thriving in the wild and teaches the dangerously anti-conservationist message that animals are ours to dominate and "tame" through the use of force. Countries such as Canada, Chile, Costa Rica, and Croatia have banned the confinement and breeding of dolphins and whales in captivity, but unfortunately, much of the rest of the world is still living in the Dark Ages in this respect and continuing to imprison these animals.
Eva is setting an inspiring example for other influencers by being thoughtful about the content she posts, knowing it could send the right or wrong message to millions of fans. "For years, I've seen people post that picture, like, in a tank with dolphins," she says in her PETA interview. "And then I educate myself, and I'm like, I could easily take that photo, but I'm not going to because whatever I set an example that I'm doing is influencing a lot of people."
While social media can be used to help animals—by encouraging people to #AdoptDontShop or urging them to #GoVegan by sharing mouthwatering recipes—it can also be used as a tool to promote animal exploitation and abuse. As photos of people cuddling tiger cubs, riding elephants, and swimming with dolphins rack up "likes" on Instagram, they fail to show what's really happening behind the scenes: Tiger cubs are torn away from their mothers when they're just days old, baby elephants are beaten with bullhooks until their spirits are broken, and dolphins are dying prematurely because of the stressful conditions of captivity.
Eva is doing her part to combat this exploitation by asking fans to do their research:
"Now I just want to advocate for people that follow me to dig deeper, educate themselves, and follow people that actually respect animals and dream bigger. Dream bigger than just fish and mammals in tanks."
What You Can Do
Want to make a difference for animals? Please don't visit marine parks, zoos, or aquariums that keep ocean animals in captivity. And wipe your social media feed clean of any accounts that abuse or exploit animals—use our guide to help identify these problematic accounts.