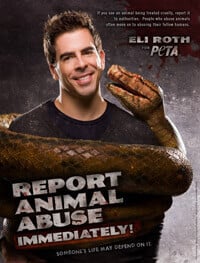 His name may be synonymous with some of the most gruesome torture scenes in film today, but Eli Roth knows that's just where violence belongs … in the movies. Cruelty to animals is something that Eli knows shouldn't be ignored—that's why he agreed not only to direct and star in an anti-violence TV PSA for PETA but also to pose for an anti-violence print ad too.
As the man behind such horror classics as Cabin Fever, Hostel, and Hostel 2, Eli specializes in giving audiences what they want: blood, guts, and a really good scare. But the Inglourious Basterds star knows that when it comes to animals, torture is not entertainment.
Research has shown that animals are sometimes the first victims of domestic violence in the home. Each year, countless dogs, cats, and other animals are abused, tortured, or killed, and these crimes often are ignored. Studies have also shown that people who commit violent acts against animals often move on to human victims. In fact, some of the most notorious serial killers to date started by torturing animals.
Violent acts toward animals should never be ignored. If you know of someone who is abusing animals, report it to the police, animal control, or other proper authorities.
"I thought that in my case in particular, my link to violence in movies could be really helpful with this campaign," Eli says. "People see me and they expect, OK, something is going to happen, someone's going to get beheaded … I wanted to use that attention that I get with violence in movies to draw attention to the problem of violence against animals." Find out what else Eli told us in our exclusive interview, and see outtakes from his PETA photo shoot.