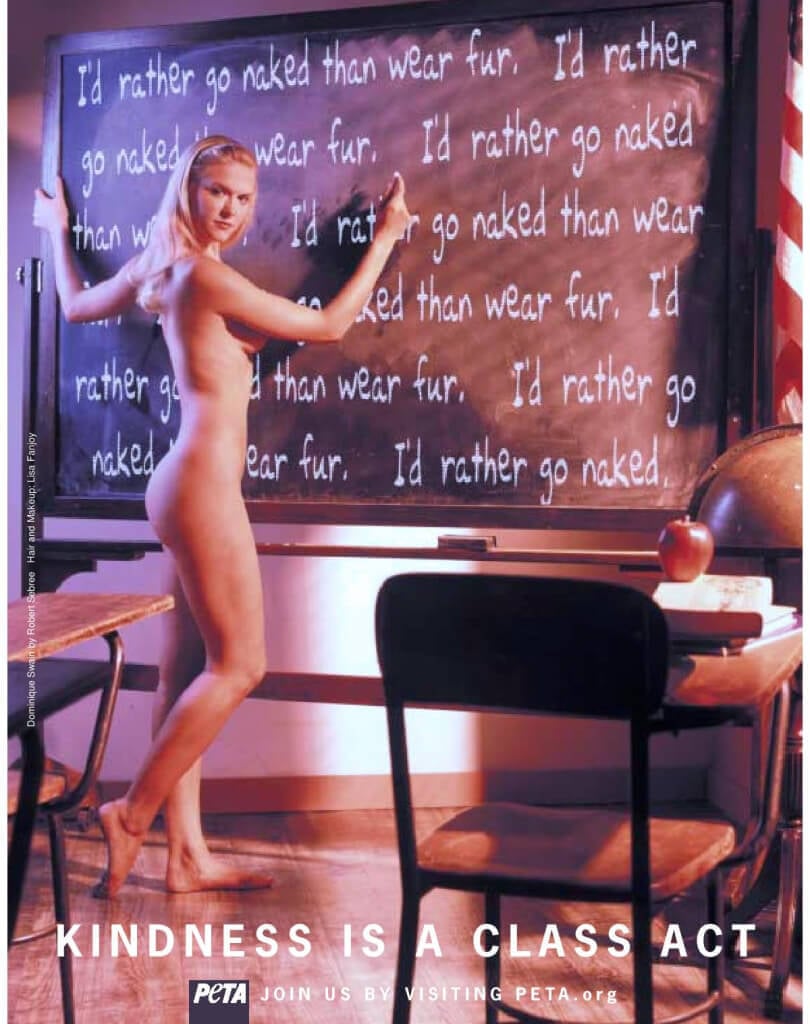 Although appearing naked in front of their classmates would be a nightmare for most students, at 21, actor Dominique Swain, star of Lolita and Face/Off, turned that dream into a reality by becoming the youngest star ever to pose au naturel for PETA's anti-fur campaign.
In the eyebrow-raising ad, Swain appears naked in a classroom, writing, "I'd rather go naked than wear fur," on the chalkboard. Swain, who graduated with straight A's from Malibu High School, was again head of the class.
"Cruelty to animals is wrong," said Swain. "If all I have to do is stand in front of a blackboard naked to make people think about the cruelty that animals go through to make a fur coat, I'm perfectly willing. I'm baring my skin to save animals' skins!
When it comes to compassion and respect, furriers are flunking with straight F's. Animals suffer hideous cruelty on trap lines and in fur mills. Foxes gnaw off their own legs to escape from bone-crushing steel-jaw traps, and beavers drown in underwater traps. No federal law protects animals on fur farms, where farmers kill animals via gassing, electrocution, strangling, and breaking their necks. Fur farmers use the cheapest and cruelest killing methods available, including suffocation, electrocution, gassing, and poisoning—and many animals are even skinned alive on fur farms in China.
Swain joins the ranks of Pamela Anderson, Charlotte Ross, Joanna Krupa, and Dennis Rodman, who have dared to bare all to teach others a lesson in compassion for PETA's high-profile anti-fur campaign.
The ad, shot in Hollywood by Robert Sebree, premiered nationally in Gear magazine, which donated a full-page, four-color ad to the effort.