EGYPTAIR has apparently gone back on its word and has resumed shipping monkeys to their deaths in laboratories, risking the spread of disease and depleting the world of an endangered species, all to make a few quick bucks. We need your help to stop it.
PETA has learned that it appears that the airline recently shipped approximately 500 long-tailed macaques—listed as an endangered species by the International Union for Conservation of Nature—from the island nation of Mauritius to John F. Kennedy International Airport in New York, all bound for torment in laboratories. Moreover, they were reportedly shipped from a monkey-breeding company that has been in the midst of an outbreak of tuberculosis, a highly infectious disease that monkeys have transmitted to humans.
This shipment is a blatant violation of EGYPTAIR's pledge last year announcing that in view of its support of "the vision and mission" of animal protection organizations, it would no longer transport monkeys to laboratories.
Shamefully, that promise ended up proving worthless.
PETA, Action for Primates, One Voice, and Abolición Vivisección have urged EGYPTAIR Holding Company CEO Yehia Zakaria to honor the company's promise.
But we urgently need you to speak up for monkeys, too.
PETA entities coordinated dozens of actions, and supporters flooded EGYPTAIR with more than 100,000 e-mails and hundreds of telephone calls asking it to stop shipping monkeys to laboratories. It worked until the company's greed overcame integrity and empathy.
It's time we did it again. Please TAKE ACTION today!
---
Look Out Your Window, EGYPTAIR! PETA Is There, Everywhere You Land
October 19, 2023
PETA supporters won't let EGYPTAIR rest anywhere in the world, as evidenced by these recent photos taken outside the company's office in Cairo and on a bus at the Cairo International Airport.
---
PETA Sounds the Alarm: EGYPTAIR Shipments Are Terminal for Monkeys
September 30, 2023
Following reports that an EGYPTAIR shipment of 530 monkeys from the island nation of Mauritius was bound for John F. Kennedy International Airport in New York, more than a dozen PETA supporters swarmed the terminal, alerting passersby that trapped and terrified monkeys were due to arrive there before being transported to their deaths in laboratories. PETA activists also flooded EGYPTAIR's phone lines, urging the local cargo manager to ban the cruel transport of monkeys for experimentation. The cargo manager claimed that the shipments would end, and we'll make sure that the company keeps its word.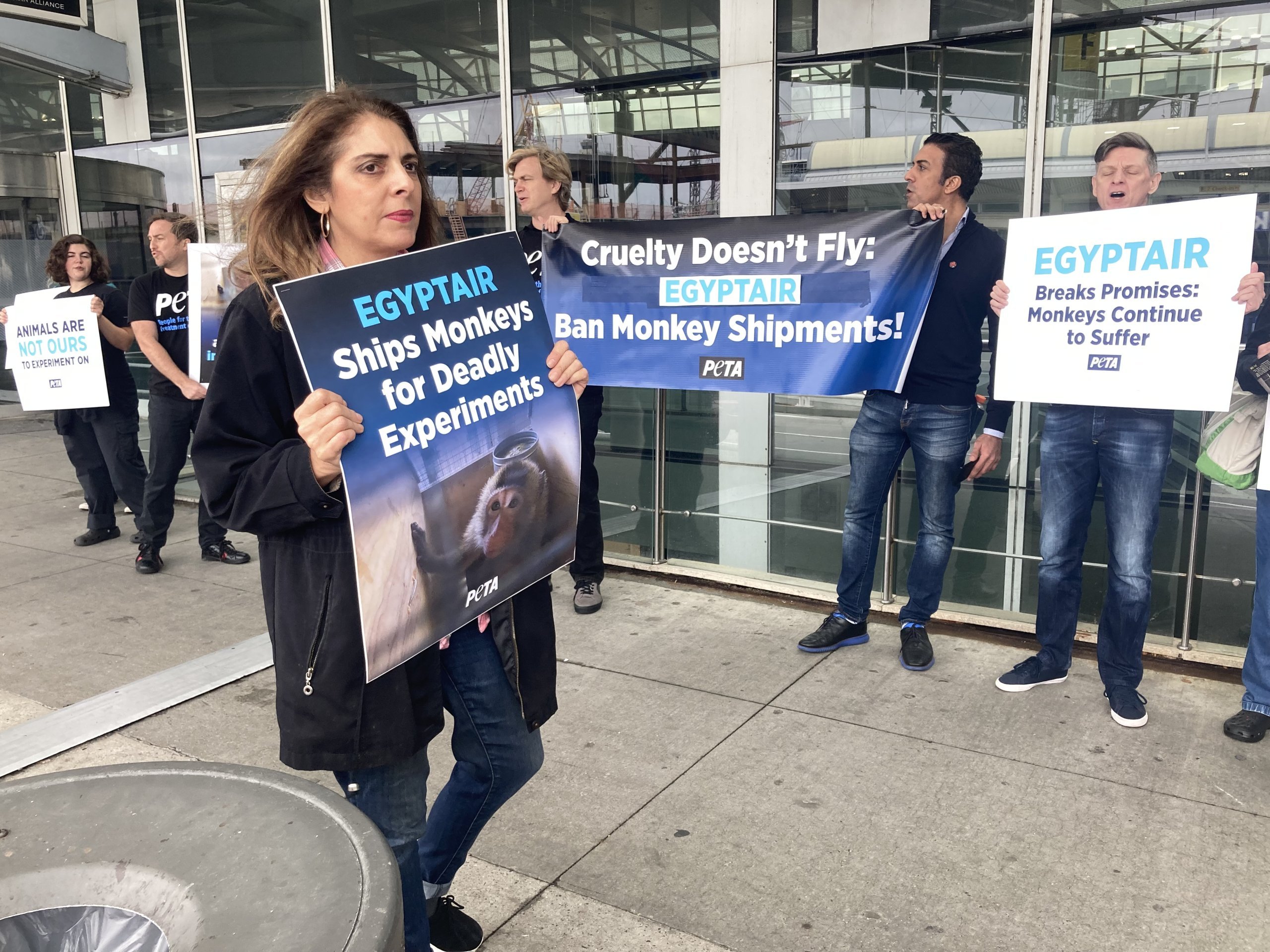 ---
EGYPTAIR Can't Runway From PETA Entities: Double Airport Takeover in Germany
September 21, 2023
Led by a towering "monkey," PETA Germany activists descended on airports in Düsseldorf and Frankfurt to demand that EGYPTAIR stop shipping monkeys to laboratories for use in painful and deadly experiments.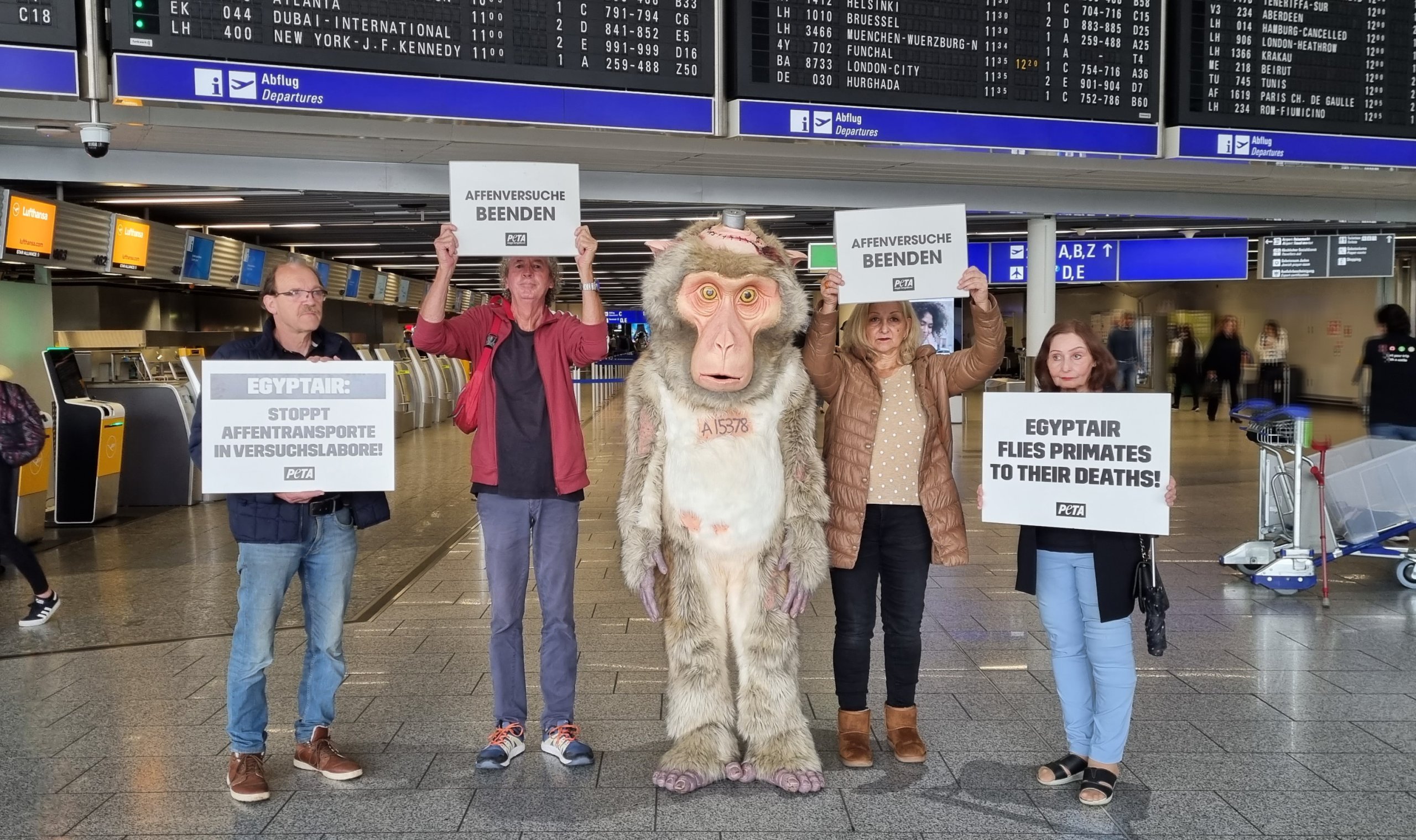 ---
Originally posted on July 7, 2022:
Every year, thousands of terrified, disoriented monkeys are crammed into crates and loaded into the pitch-black cargo holds of EGYPTAIR planes to be transported to laboratories around the globe. Once there, they'll be mutilated, poisoned, deprived of food and water, forcibly immobilized in restraint devices, infected with painful and deadly diseases, psychologically tormented, and killed.
EGYPTAIR is one of the last remaining major airlines to continue to transport monkeys for the barbaric primate experimentation industry. It refuses to stop, despite the failure of the enterprise to lead to cures and treatments for humans. PETA is waging a campaign to convince EGYPTAIR that cruelty doesn't fly—and you can help.
City of (Monkey) Love: PETA Protests in Paris!
July 26, 2022
Just days after the International Union for Conservation of Nature announced that the conservation status of long-tailed and pig-tailed macaques had changed from "vulnerable" to "endangered," PETA activists gathered at Charles de Gaulle Airport in France to protest EGYPTAIR's continued participation in the cruel primate trade. PETA France created an Instagram reel for the occasion, further increasing the reach of this demonstration and amping up pressure on the airline.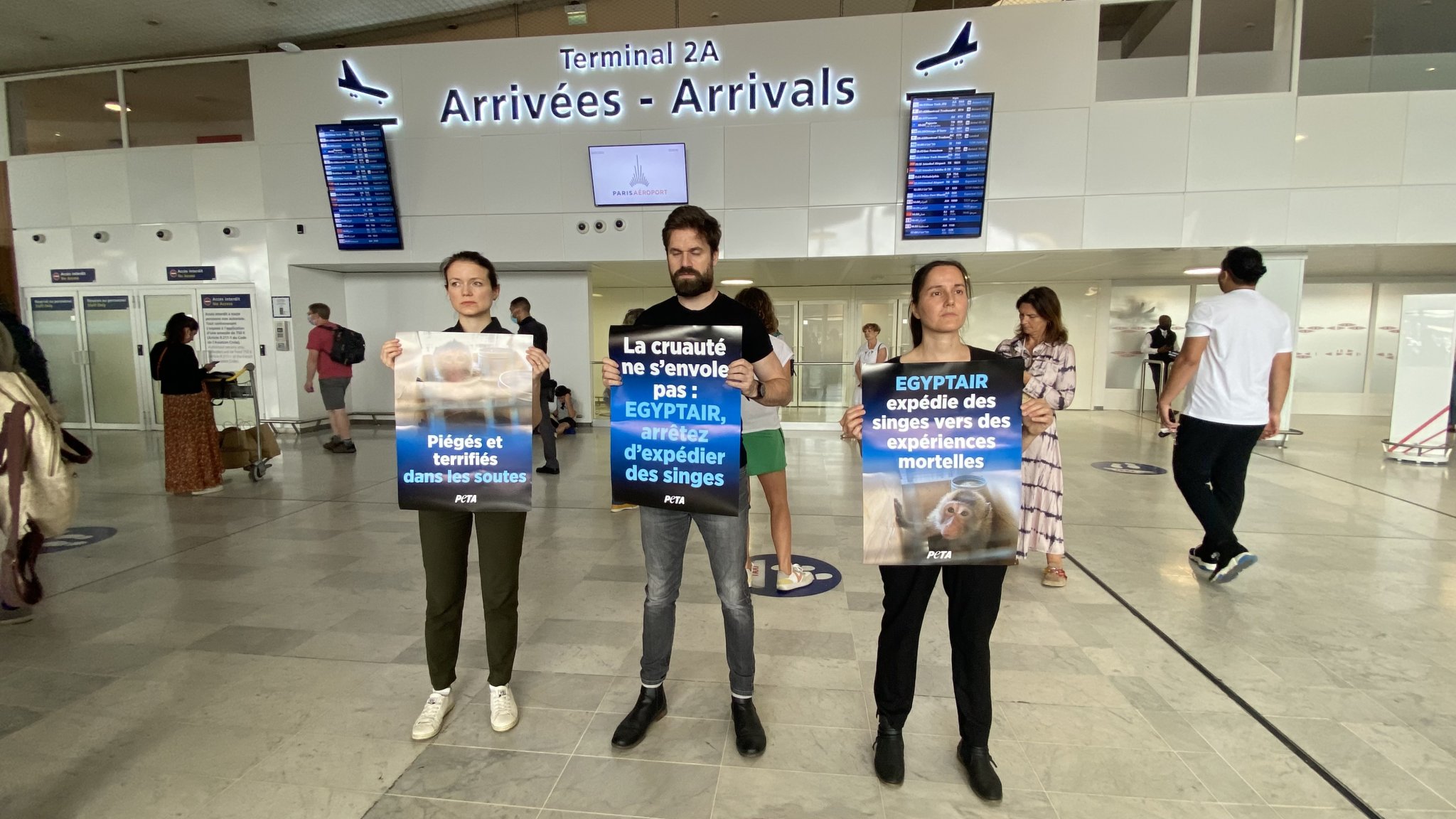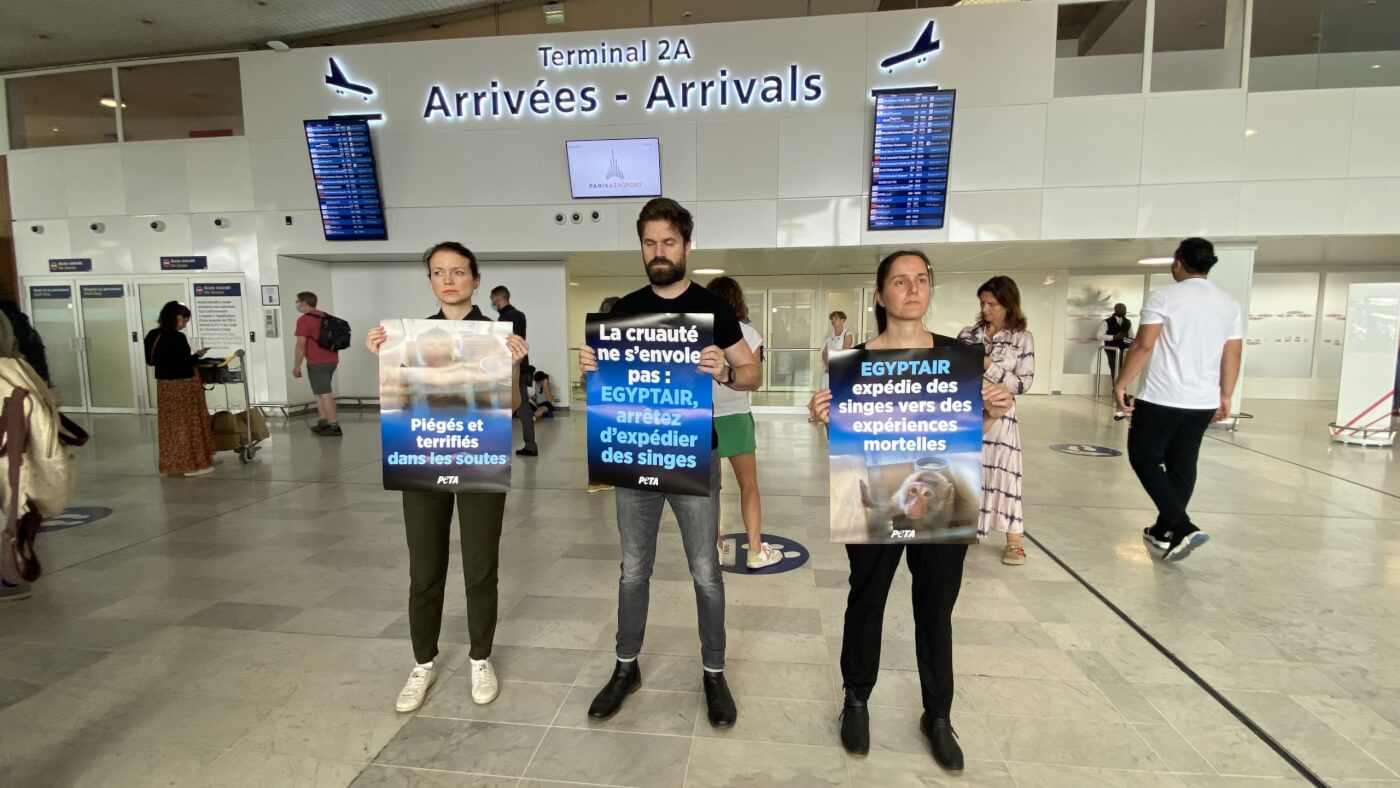 ---
Caged 'Monkey' in Manila Brings EGYPTAIR Cruelty to Light
July 7, 2022
Demonstrators took to the streets outside the Egyptian Embassy in Manila, Philippines, to let folks know that EGYPTAIR continues to ship monkeys to laboratories, where they'll be tormented and killed. People around the globe continue to protest the airline, and we won't stop until it stops transporting monkeys to labs!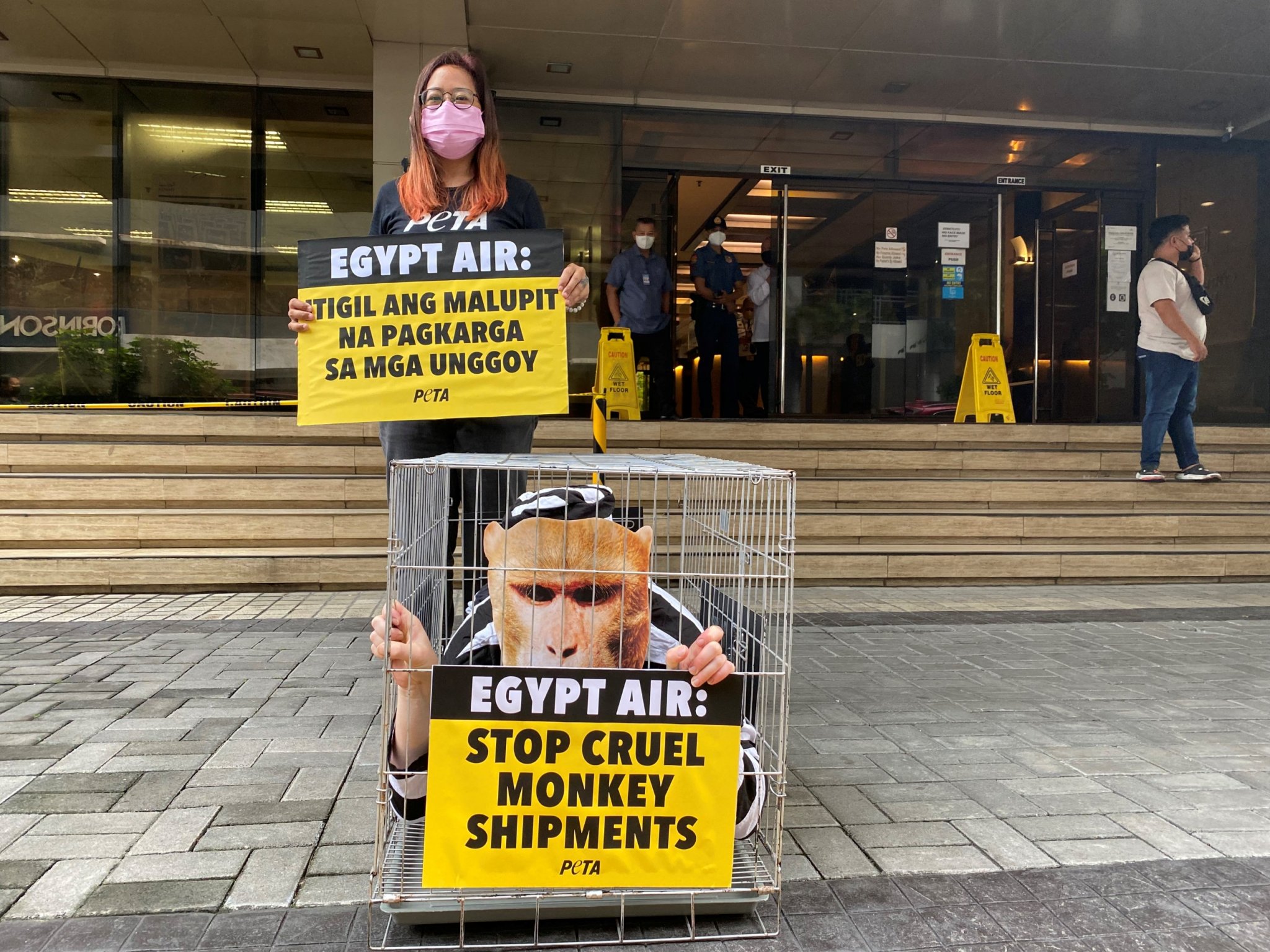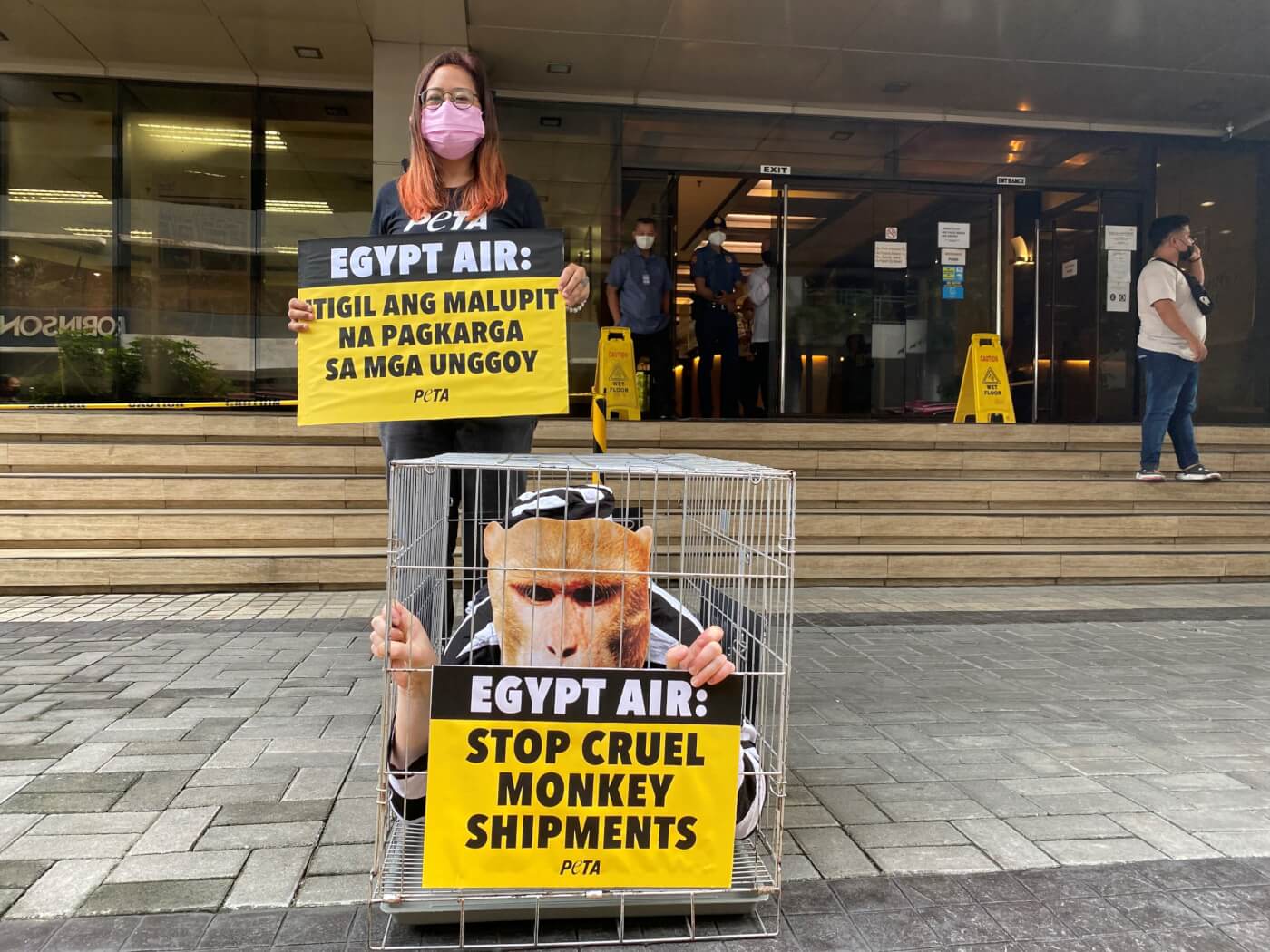 ---
PETA President Joins Protesters at Dulles Airport to Call out EGYPTAIR
July 5, 2022
PETA's striking monkey mascot led supporters to the EGYPTAIR terminal at Dulles International Airport, just as passengers for a flight to Cairo were arriving. PETA President Ingrid Newkirk handed out leaflets to the passengers who'd queued up at the ticket counter, while activists congregated just outside of the terminal with signs that read, "EGYPTAIR Ships Monkeys for Deadly Experiments."
---
PETA's 'Gifts' for EGYPTAIR Execs Offer a Not-So-Subtle Message!
July 1, 2022
EGYPTAIR executives in the U.S. & Egypt will be in for a surprise when they look on their front doorstep and find PETA's T-shirts & coffee mugs imploring them to stop monkey shipments. Every time EGYPTAIR's CEO reaches for his morning cup of coffee, he'll be reminded of the monkeys trapped in cramped crates on EGYPTAIR's cargo flights.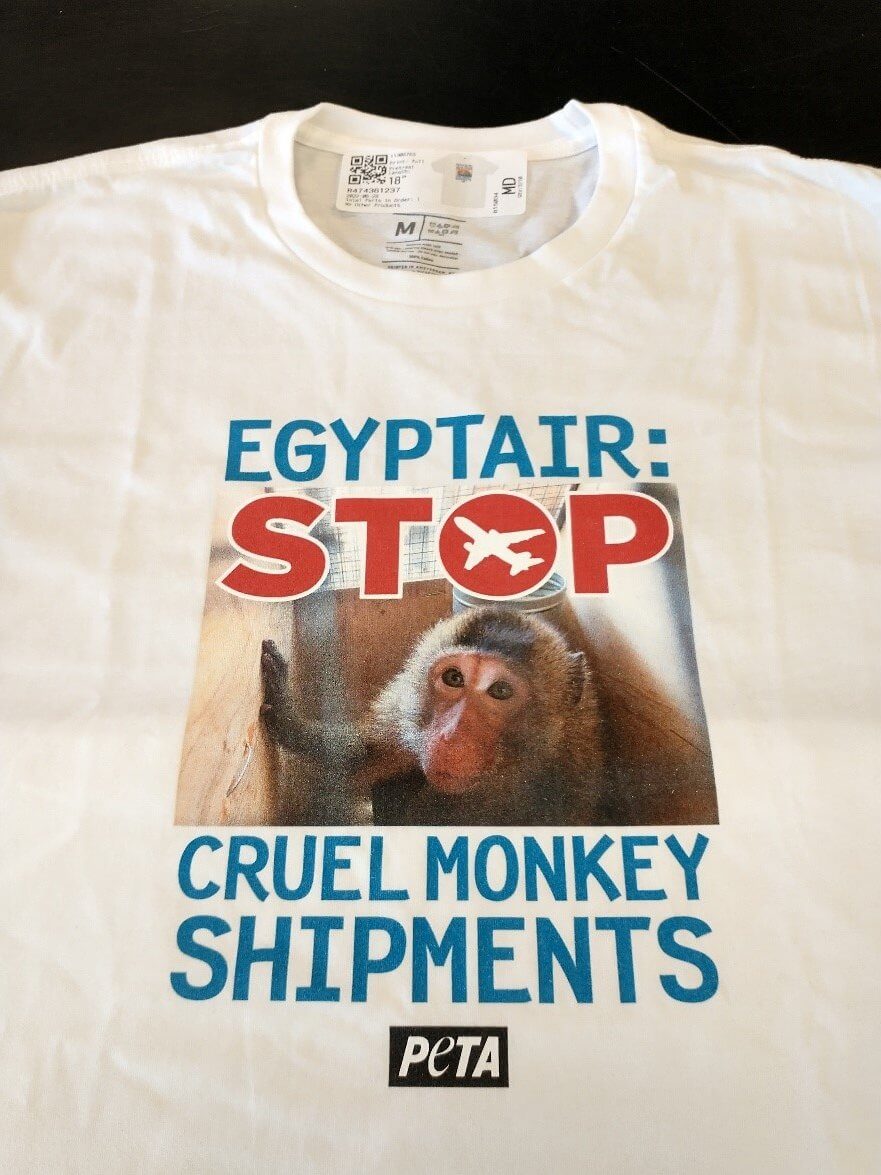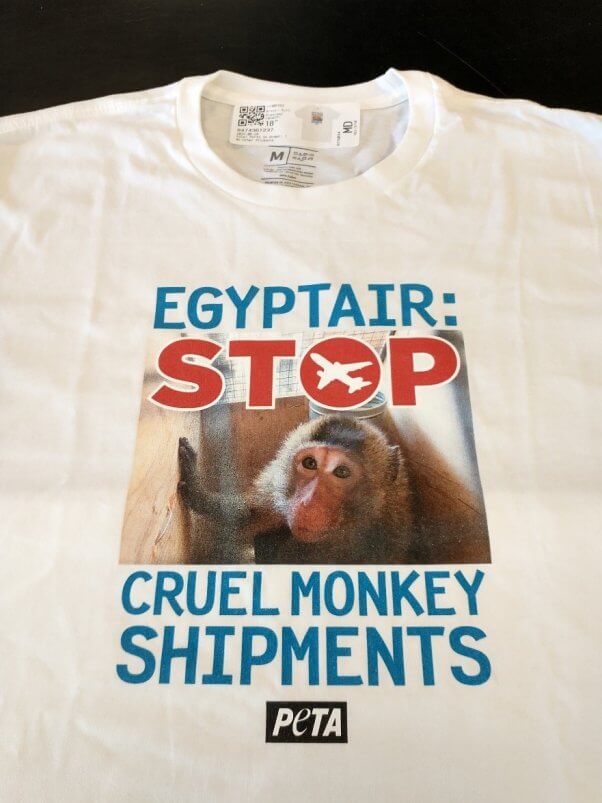 ---
'Monkey' Swoops Into Frankfurt Airport to Share Plane Truth: 'Primates Are Not Cargo!'
June 29, 2022
A larger-than-life "monkey" mascot joined PETA supporters at Frankfurt Airport in Germany to demand that EGYPTAIR stop transporting fellow primates to their deaths in laboratories.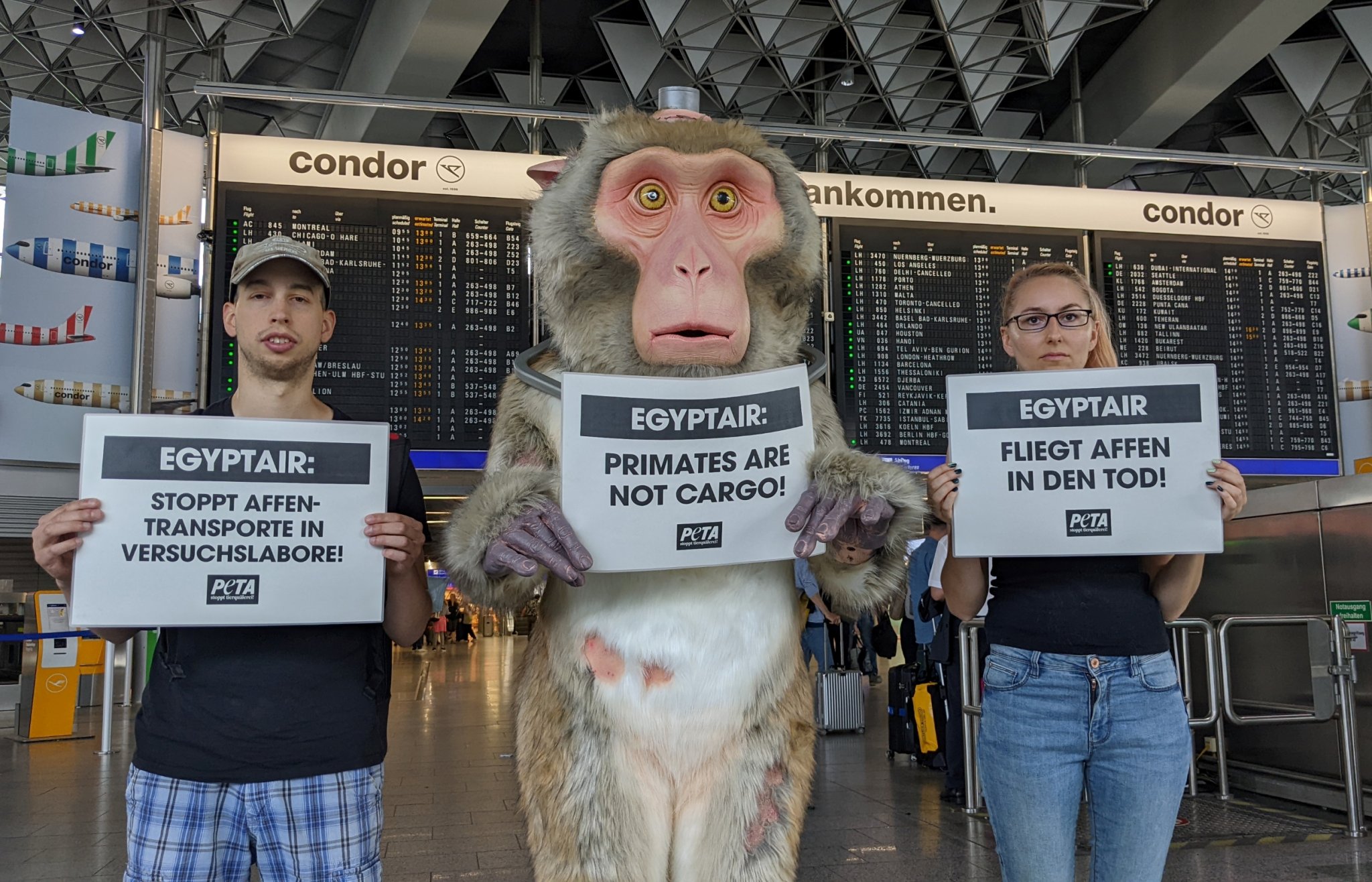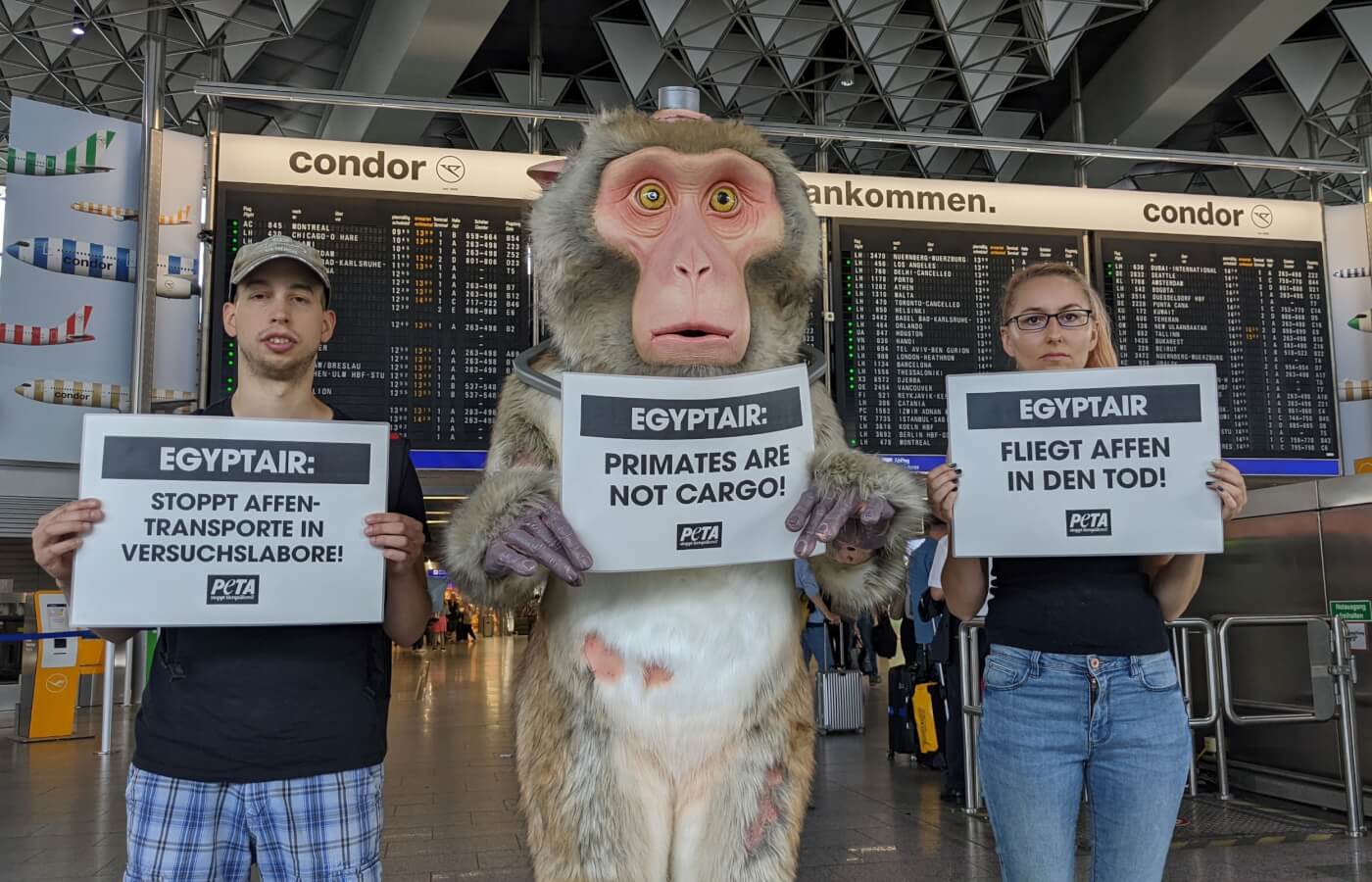 ---
London Calling: PETA Supporters Cause a Hubbub at Heathrow in Defense of Monkeys
June 29, 2022
Joined by a despondent "monkey" slumped in a restraint chair, PETA supporters descended on the EGYPTAIR terminal at London's Heathrow Airport to deliver this message: "Cruelty Doesn't Fly: EGYPTAIR, Ban Monkey Shipments!"
The pressure on @EGYPTAIR to stop sending monkeys to labs is INTERNATIONAL ✈️

PETA supporters & mutilated "monkeys" arrived at EgyptAir terminals at Heathrow & Frankfurt airports with this important message pic.twitter.com/Vg4Ucx25fC

— PETA (@peta) July 3, 2022
---
PETA Takes to Facebook to Warn Travelers of EGYPTAIR Cruelty
June 27, 2022
More than 736,000 people saw PETA's Facebook ad, cautioning would-be flyers: "Don't Fly While Primates Die. EGYPTAIR Ships Monkeys to Their Deaths in Laboratories." That's enough to fill the U.S.'s largest football stadium almost 7 times over! Many thousands of people all over the world now know not to fly EGYPTAIR until the company stops this cruel practice.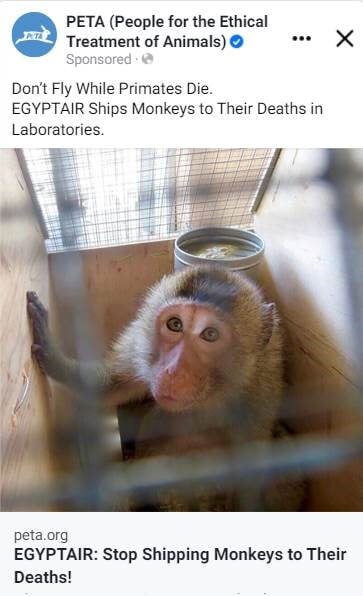 ---
Esteemed Egyptian Surgeon Implores EGYPTAIR to Promote Conservation and Compassion
June 26, 2022
Dr. Abdelhakim Elkholy, a Cairo-based surgeon and the director of the Egyptian Life Support Training Center, added his compassionate voice to ours. He leads Egypt's national Advanced Trauma Life Support program—which, thanks to a collaboration with PETA, now trains doctors using superior TraumaMan simulators instead of animals. He recently wrote the following to EGYPTAIR officials:
EGYPTAIR Cargo is shipping hundreds of long-tailed macaques to the U.S., where they are doomed to pain, suffering, and death in laboratories. These monkeys suffer tremendously before, during, and after these flights. … As the national flagship airline of Egypt, EGYPTAIR represents our country. Please, show that Egypt is on the side of conservation and compassion, and help encourage EGYPTAIR Holding Company to reconsider participating in these cruel monkey shipments.
---
Turmoil in the Terminal! PETA Supporters Converge at JFK Airport for Passionate Protest
June 23, 2022
A crowd of chanting PETA supporters couldn't be missed as they unfurled a large banner outside the EGYPTAIR departures area at John F. Kennedy International Airport, calling on the airline to ban shipments of monkeys. The pack of primate defenders later took their reality check to EGYPTAIR's check-in counter, where long lines of people awaiting the next step in their travels absorbed the message. The peaceful protest coincided with reports that a shipment of hundreds of laboratory-bound monkeys was en route from Cambodia.