Update (August 17, 2023): PETA continues to sound the alarm about the threat posed by the importation of lab-bound monkeys into the U.S.—and the feds' utter failure to protect public health.
We recently revealed that monkeys infected with tuberculosis (TB)—a deadly disease transmissible to humans—had been imported into the U.S. and eventually ended up in a Michigan laboratory.
Now we've uncovered documents showing that laboratories in nine additional states (see the list below) recently received shipments of monkeys who either had no proof of any TB test or had results that were too old to protect public health. Simply put, these states were clueless as to whether these monkeys were carrying TB.
We've urged the relevant state veterinarians to halt the movement of monkeys into their jurisdictions and immediately quarantine all those who have come into their states in the last 18 months.
The Centers for Disease Control and Prevention (CDC) could stop this madness today by shutting down the monkey-abduction pipeline that's led TB-infected and -exposed animals to enter this country. But the agency continues to ignore its mandate to—as its name says—control and prevent disease.
Please take action and tell the CDC to ban the importation of monkeys into the U.S.
---
PETA has uncovered documents revealing what we've been warning about for months: Stressed-out monkeys imported from overseas have brought a deadly disease transmissible to humans with them.
A Michigan laboratory has confirmed to us that several imported monkeys were found to have tuberculosis (TB), a deadly disease.
At least three monkeys at Northern Biomedical Research tested positive for TB, and other monkeys are under quarantine. Two humans in that lab also tested positive for TB and were referred for treatment, according to the state's Department of Health and Human Services, as reported by MLive.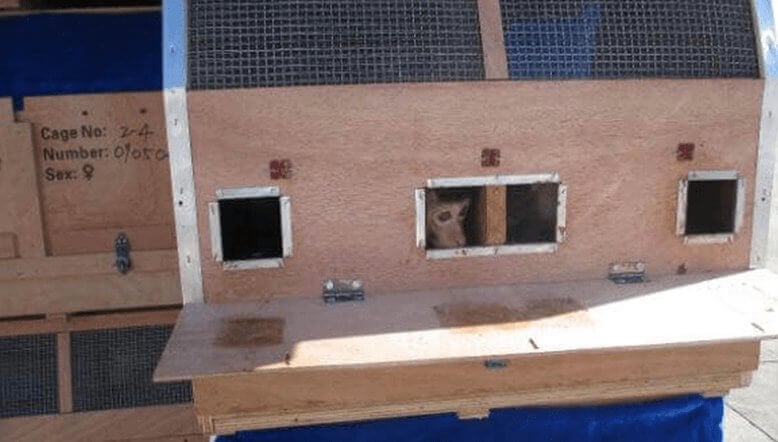 The imported monkeys were flown to Florida and had been through a 31-day quarantine mandated by the Centers for Disease Control and Prevention (CDC), but the disease wasn't detected—probably because the test the CDC uses is notoriously inadequate. The monkeys were cleared and trucked more than 1,200 miles through at least five states to Northern Biomedical, which is located just east of Lake Michigan. We don't know how many more monkeys were in the shipment or where they went.
The primates involved are long-tailed macaques, an endangered species. They were "wild-caught," an industry euphemism meaning they were likely abducted from their forest homes—in this case in Mauritius, an Indian Ocean island nation off the southeastern coast of Africa.
PETA's Response
PETA has rushed letters to state veterinarians and public health officials nationwide, urging them to prohibit monkeys from entering their states and to initiate a TB quarantine in all facilities that have received monkeys over the past six months. We have also renewed our call to the CDC to do its job, protect the public, and permanently ban the importation of monkeys for use in laboratories. Thirty-nine states have primate laboratories or breeding facilities that supply labs.
Spreading the Mauritius Outbreak
A large monkey factory farm in Mauritius, the second largest exporting country of monkeys destined for laboratories, is currently experiencing a massive tuberculosis outbreak.
PETA, along with other partner animal advocacy groups, has warned that numerous TB-affected monkeys imported from Mauritius within the past six to 12 months are likely already scattered across sites in the U.S., France, Spain, and the U.K., all importers of monkeys from the island nation.
Any facility that has received primates from Mauritius recently, either directly or from a dealer that obtains them from there, may be harboring infected monkeys.
Monkeys with TB aren't treated. They're killed.
Asleep at the Wheel
The CDC is aware of the TB outbreak in Mauritius, but it has so far declined to end monkey imports from that country. Astonishingly, the agency recently defied federal recommendations to assess comprehensively and conduct surveillance of the disease risks associated with imported primates.
The CDC's own documentation reveals an increase in the number of TB-infected monkeys arriving in the U.S. since 2021, according to records obtained by PETA, and we have urged the agency's National Center for Emerging and Zoonotic Infectious Diseases to take action to mitigate the risk to the public posed by imported monkeys.
What You Can Do
Not only is confining hundreds of monkeys in crowded, unnatural conditions cruel, it also inevitably spreads diseases and confounds research. The CDC, which clearly possesses neither the tools nor the inclination to handle this easily fixable problem, is recklessly ignoring a significant public health threat.
The solution is simple: End the international trade in primates for laboratory use.
Please take action and tell the CDC to end its involvement in the reckless, cruel, and unnecessary international monkey trade.