Massive victory for monkeys! Following more than a decade of intense campaigning by PETA U.S., international PETA entities, other animal protection groups, and grassroots activists around the world, Air France has announced that it will end its transport of monkeys to laboratories as soon as its current contracts end.
Air France Will No Longer Fly Monkeys to Their Deaths
Air France is the latest large commercial airline to join the list of forward-thinking airlines that have stopped cramming crates of terrified monkeys into their cargo holds to fly the animals to their deaths.
In addition to organizing colorful demonstrations around the globe, PETA U.S. took the fight to Air France's boardrooms through shareholder activism and engaged in discussions with the company's leadership. When we were shut out of the conversation, we disrupted executives' speeches at conferences and ran bold advertisements, such as large billboards at airports. We worked with celebrities who voiced their concerns to Air France, including Dr. Jane Goodall, rock icon Peter Gabriel, and James Cromwell, who caged himself at LAX. Actor and YouTube star Grégory Guillotin joined a protest organized by PETA France on a flight from Paris to Marseille. And PETA entities in Europe went all out, carrying out countless demonstrations and disruptions and engaging celebrities on that side of the pond.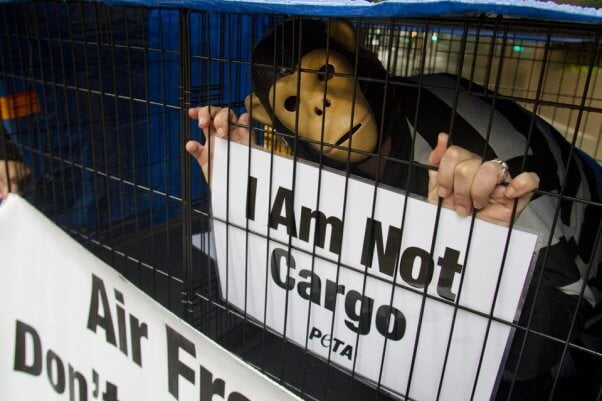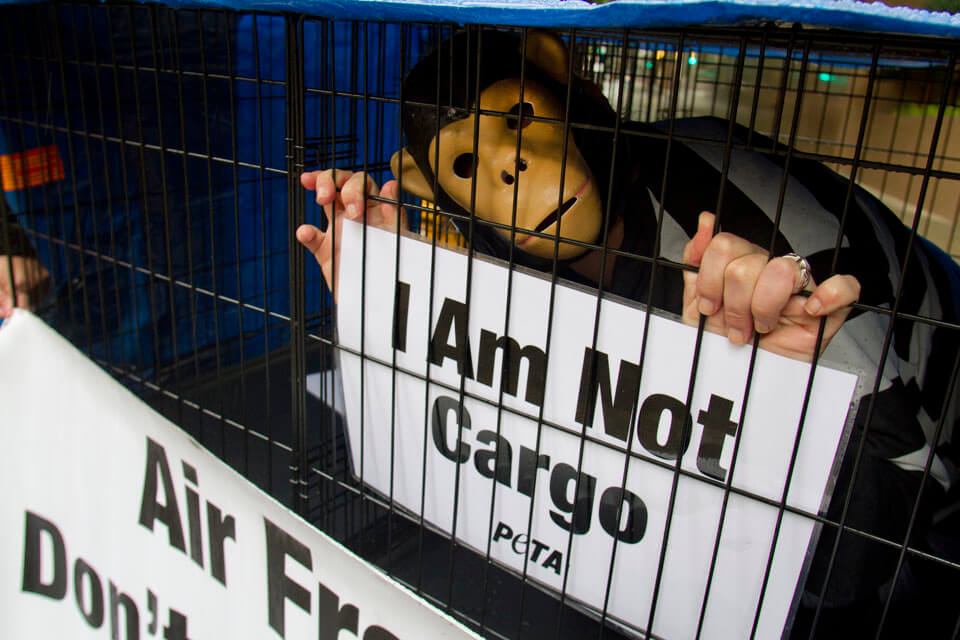 Other animal protection groups played a major role in this huge victory, including our friends at Stop Camarles, One Voice, and Action for Primates.
Air France's announcement means that more primates will remain in nature with their families instead of being trapped and imprisoned on decrepit breeding farms and inside terrifying laboratories. This brings us one step closer to shutting down the trafficking of monkeys for failed experiments in this age of state-of-the-art, modern methods like organs-on-chips.