Vegan
Tofu Scramble Burritos with Beans and Soy Chorizo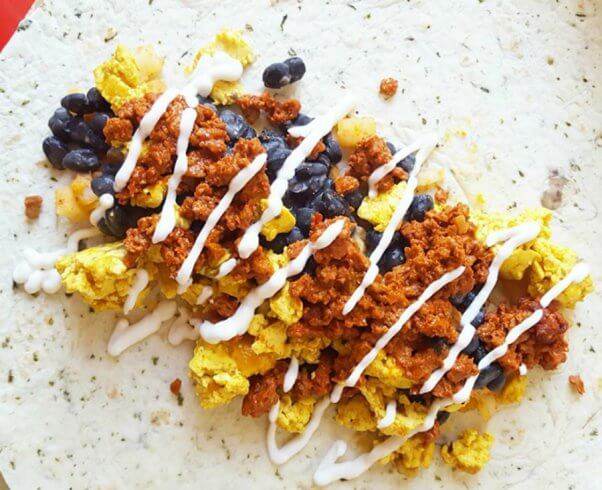 Print
Ingredients
1 cup

uncooked brown rice

1/3 cup

red salsa

1 tsp.

taco seasoning

1 cup

frozen potatoes or hash browns

1 cup

canned black beans, drained

8-oz. pkg.

soy chorizo

1 block

firm tofu, drained and crumbled into bite-sized pieces

2 Tbsp.

vegetable oil

1 Tbsp.

nutritional yeast

1/4 tsp.

turmeric powder

Salt and pepper, to taste

1/4 cup

vegan cheese shreds (optional)

4

large wheat tortillas

1/4 cup

Vegenaise
Instructions
Preheat the oven to 350°F.
Bring 2 cups of water to a boil. Add the brown rice, reduce the heat, and let simmer, covered, for 45 minutes. Then let the rice sit, covered, for another 15 minutes. (Or cook the brown rice in a rice cooker with 2 cups of water.)
Stir the salsa and ½ teaspoonful taco seasoning into the cooked rice.
Bake the frozen potatoes in the oven until cooked through (about 15 minutes).
Place the beans in a small pot and cook on the stovetop over medium heat for 5 minutes.
Heat the soy chorizo in a small frying pan for 5 minutes. Add water as needed to prevent sticking.
Oil another frying pan and cook the tofu over medium heat. Add the nutritional yeast, turmeric, remaining ½ teaspoonful taco seasoning, and salt and pepper. Simmer until the tofu is warm and excess liquid has evaporated. Optional: Add the vegan cheese shreds and simmer until melted.
Warm the tortillas in the oven or microwave, if desired. Layer ½ cup cooked rice, ¼ cup black beans, ¼ cup soy chorizo, ¼ cup potatoes, and ½ cup tofu scramble on each tortilla, roll into a burrito, and drizzle with 1 tablespoonful Vegenaise. Serve and enjoy!
Makes 4 servings