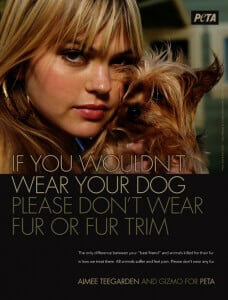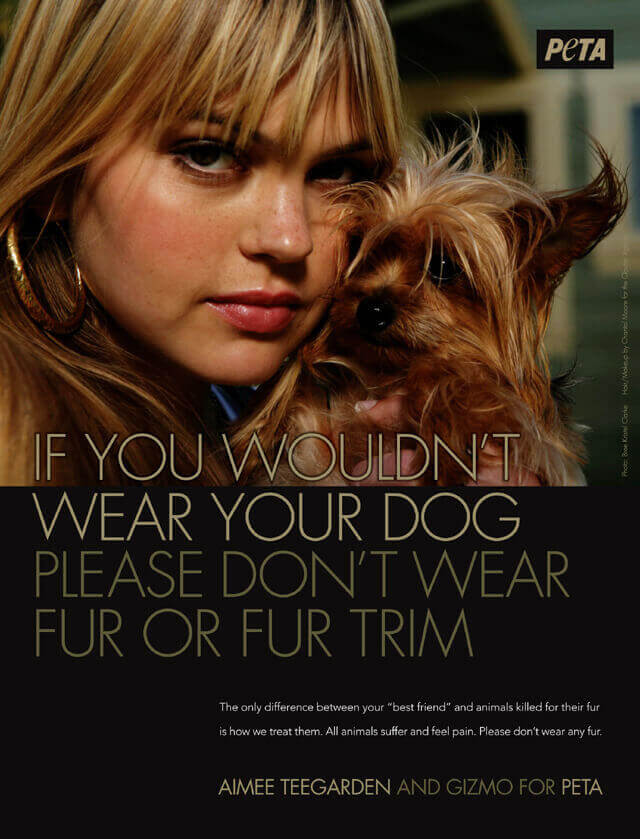 On the hit NBC drama Friday Night Lights, Aimee Teegarden plays Julie Taylor, the daughter of high school football coach Eric Taylor. Julie tries to distance herself from the role of coach's little girl—which isn't always easy when you start dating the star quarterback. In real life, one thing Aimee has no problem distancing herself from is fur.
As a lifelong fur foe and vegetarian, Aimee jumped at the chance to pose with her canine companion Gizmo in an anti-fur ad with the tagline "If you wouldn't wear your dog, please don't wear fur or fur trim."
Aimee realizes that there is nothing trendy or fashionable about killing animals for fur. "Fur is just not the way to go," says Aimee. "[Y]ou can't go around killing something just because it's smaller than you are. And it's definitely not a fashion statement."
Aimee couldn't be more right. On fur farms around the world, minks, foxes, rabbits, and even dogs and cats are kept in tiny cages and receive little, if any, veterinary care. At the end of their miserable lives, they are strangled, beaten, electrocuted, and often skinned alive for their fur.
If you wouldn't want any of this happening to your dog, please consider what Aimee says and don't wear any fur. Click here to sign PETA's pledge to go fur-free today!