We all know the old cliché that men who love babies are charming and sweet. The same can be said for a man and his dog. But men who love cats are too often overlooked and underappreciated. Here we celebrate 16 famous men who have admitted their love of cats!
1. Dave Franco prefers hanging out at home with his cats to partying!
2. Ricky Gervais loves his cat Ollie. He's even got his own Facebook page.
Have a peaceful night pic.twitter.com/o92TjC9XF1

— Ricky Gervais (@rickygervais) July 29, 2014
3. Morrissey, a longtime friend of PETA, posed for one of our favorite ads and loves cats so much that someone started a Tumblr about it!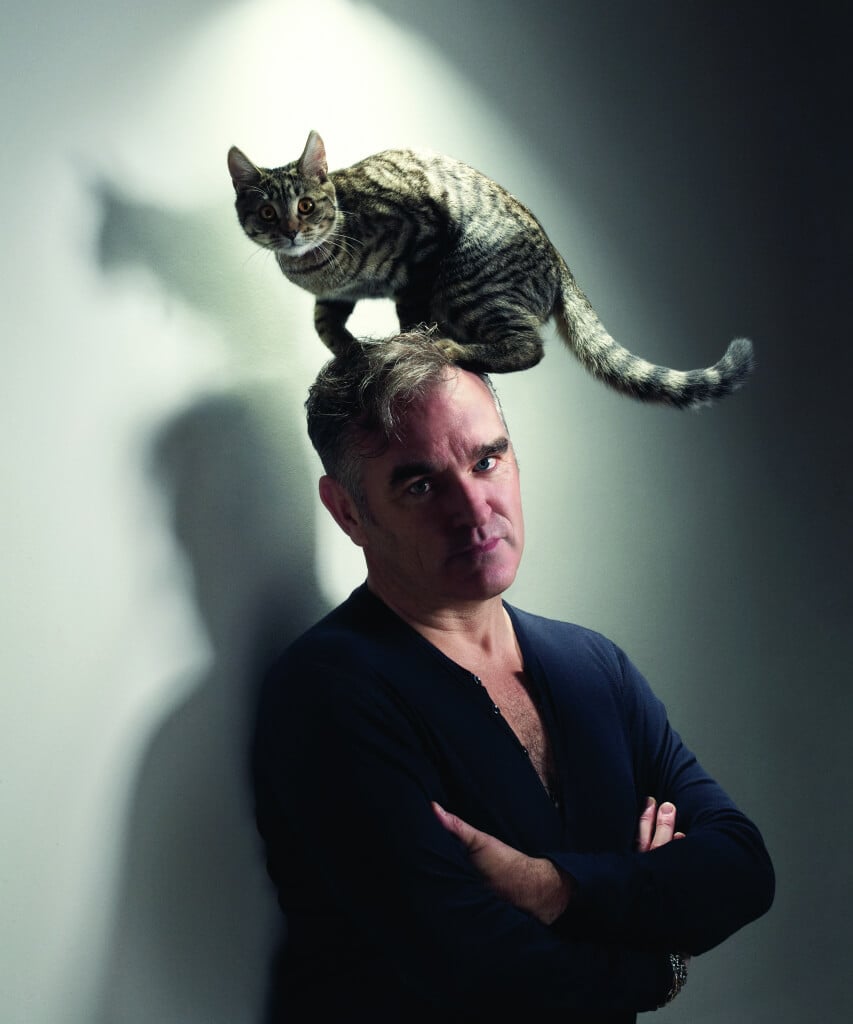 4. Speaking of the iconic singer, Russell Brand has a cat named MORRISSEY!
Uncomplicated relationship with narcissistic freeloader who's scratching himself on my belly pic.twitter.com/zgRwfHE35g

— Russell Brand (@rustyrockets) May 13, 2013
5. Marc Maron not only took part in a super-funny PETA ad but also included one of his cats on the cover of his book.
6. Jesse Eisenberg fosters abandoned and homeless cats.
7.  Norman Reedus' cat, Eye in the Dark, has his own Twitter account.
http://twitter.com/NormansCat/status/496804598842007553
8. Nyjer Morgan adopted Slick Willie, "one of [his] best friends," from an animal shelter, and told PETA all about it.
9. Ian Somerhalder's cat, Moke, makes himself comfortable wherever he wants, and Ian refers to himself as "Moke's dad."
In honor of #PetsAtWork day, look who is in the recycling basket in my office… pic.twitter.com/ecl8kmeQp1

— Ian Somerhalder (@iansomerhalder) June 21, 2013
10. Christopher Walken wrote an intro to a book about cats.
11. James Franco names his cats after literary characters, and he and brother Dave got their love of cats from their mom, Betsy.
My cat Frida and her buddy. http://t.co/RQIxVzv3

— Betsy Franco (@FrancosMom) July 3, 2012
12. Ian Anderson of Jethro Tull made an entire page on his band's website dedicated to his writings about cats.
13. Ryan Adams and his wife, Mandy Moore, adopted two cats.
Welcome Addison and Maddie to the Adams' Family! TY @LAAnimalRescue for allowing us to give them a home. pic.twitter.com/yjoHffAeml

— Mandy Moore (@TheMandyMoore) July 14, 2013
14. Tom Hardy found a stray kitten and kept him in a hotel room until he found the baby a home!
15. Gilles Marini thinks teaching his children to love animals makes them better people and finds cat purrs soothing.
Who said we cannot all live in peace! #Cat #Dog #frenchbulldog #PersianCashmere #Love #Retweet pic.twitter.com/NYdj3mEBah

— Gilles Marini (@GillesMarini) February 18, 2014
16. Macklemore's kitten, Cairo, is on Instagram with more than 95,000 followers, posting photos with her proud papa.
How can these 16 guys be wrong? For info about taking care of your cat companion, find out more about caring for cats at PETA.org. And if you love any of these men for loving cats, share on Facebook or Twitter.